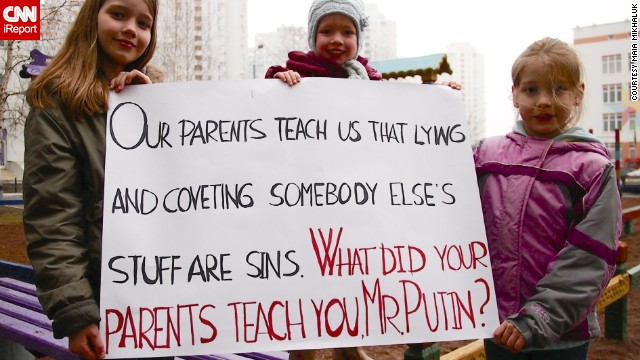 Ukrainian children in Kiev show off a sign they made in response to the Crimea referendum.
Maia Mikhaluk
is a freelance photographer and one of the protesters who has been documenting the unrest in Ukraine since February 18. In these photos, she offers us a glimpse of the faces inside Maidan, the central square in Kiev where the majority of the demonstrations took place.
Maia Mikhaluk
said that the people of Ukraine had a chance to live out the words of their national anthem: "We'll lay our bodies and souls for our freedom."
Euromaidan
had become a battlefield.
Mikhaluk said that since the evening of February 18, a once peaceful
A protester washes his hands in Kiev's Independence Square.
spring cleaning
, like taking care of our home together!" Mikhaluk said.
Independence Square after a week of protests."This sunny day felt like
During the demonstrations and afterward, people passed out sandwiches for protesters who were camped out in the city square.
A woman tends to the wounds of a Ukrainian soldier.
piano
in downtown Kiev 10 days after protests there.
A young girl plays
flowers
and grieving for the heroes who laid their lives for free Ukraine. The streets are like rivers of flowers,'" Mikhaluk said.
"People are still coming with
Mikhaluk says Ukrainians were still mourning when the upper house of Russia's Parliament approved Russia's use of military intervention in Ukraine.
Meanwhile, Ukrainians have started cleaning Kiev after several months of protesting.
A young family lights candles in memory of those who died protesting in Maidan Nezalezhnosti, the central square of Kiev.
"Most weddings in Kiev now find their way to Maidan, as newlyweds come to give their gratitude and give honor to the heroes," Mikhaluk said.
"People in Ukraine are very concerned, scared -- war has not been a part of reality of the lives of our generation,"
A young Ukrainian boy cheers in support of his country.
A young couple embraces in Kiev's main square where people have gathered to show their support for their country.
"No civil war in Ukraine, Mr. Putin! It must be getting harder to justify the presence of military force to protect somebody when nobody is in danger,"
Ukraine crisis: One woman's story
Ukraine crisis: One woman's story
Ukraine crisis: One woman's story
Ukraine crisis: One woman's story
Ukraine crisis: One woman's story
Ukraine crisis: One woman's story
Ukraine crisis: One woman's story
Ukraine crisis: One woman's story
Ukraine crisis: One woman's story
Ukraine crisis: One woman's story
Ukraine crisis: One woman's story
Ukraine crisis: One woman's story
Ukraine crisis: One woman's story
Ukraine crisis: One woman's story
Ukraine crisis: One woman's story
Ukraine crisis: One woman's story
Ukraine crisis: One woman's story
Ukraine crisis: One woman's story