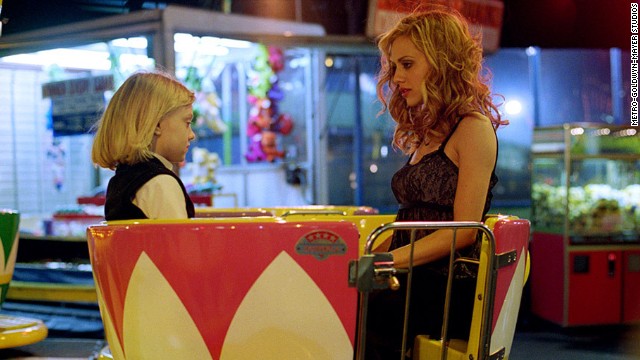 In need of a good laugh? Netflix has added "Uptown Girls," a surprisingly endearing 2003 comedy starring the late Brittany Murphy and a young Dakota Fanning, to its streaming service. Here's what else you can look for on Netflix in March:
The fourth season of FX's animated adult comedy "Archer" is coming to Netflix in its full raucous glory on March 8.
Here's what you need to know about "The Starving Games," a "Hunger Games" parody movie: It stars a tough heroine named Kantmiss, it's every bit as funny as you hope it is, and it comes to Netflix on March 8.
If you've yet to watch Scott Aukerman and Reggie Watts host their podcast-turned-TV show "Comedy Bang! Bang!," sit and stay a while when season 2 arrives March 13 on Netflix. The witty hosts get celebrities like Andy Samberg, Zoe Saldana, Cobie Smulders and Aziz Ansari to join in their role-playing fun.
Saoirse Ronan stars in the 2013 dramatic thriller "How I Live Now," which is about a young American woman who, while vacationing in rural England, falls in love with both the idyllic setting and an area chap named Eddie. Those feelings are put in jeopardy when World War III goes from speculation to reality. Directed by Kevin Macdonald, "How I Live Now" comes to Netflix on March 13.
The 1999 thriller "Brokedown Palace" stars Claire Danes and Kate Beckinsale as best friends whose vacation to Thailand quickly turns into an arresting nightmare.
The late Philip Seymour Hoffman, right, finds acclaim in 2005 as "Capote." He is seen here with Clifton Collins Jr.
Nobody puts baby in a corner! So Netflix is trotting out the beloved "Dirty Dancing" starring Jennifer Grey and Patrick Swayze in 1987.
World War I is the setting for the 2006 drama "Flyboys." It stars Keith McErlean, James Franco and David Ellison.
The 2008 film "How to Lose Friends & Alienate People" stars Simon Pegg.
Will Ferrell does plenty of "Kicking & Screaming" in this 2005 movie.
"Linsanity" is the 2013 documentary about basketball player Jeremy Lin.
Fans will be happy with the addition of "Pokémon the Movie: Black: Victini and Reshiram" from 2011.
"Robin Hood: Men in Tights" starring Cary Elwes in 1993 is a bit of a spoofy romp.
Gregory Peck and Audrey Hepburn star in "Roman Holiday" from 1953.
Heather Donahue acts in "The Blair Witch Project." The 1999 horror film may change the way you view the woods.
"The Ice Storm" from 1997 stars Joan Allen, Kevin Kline and a young Christina Ricci .
Anthony Franciosa pulls a gun on Paul Newman in the 1958 classic "The Long, Hot Summer."
Anthony Hopkins eats it up as Dr. Hannibal Lecter in 1991's "The Silence of the Lambs."
Before "Game of Thrones" came knocking, Peter Dinklage, left, finds fame in 2003 starring in "The Station Agent" with Bobby Cannavale.
2008's "Valkyrie" stars Carice van Houten and Tom Cruise.
"Just remember, the sweet is never as sweet without the sour" in Tom Cruise's "Vanilla Sky" from 2001.
Sandra Bullock and Peter Gallagher star in 1995's "While You Were Sleeping."
January Jones stars in the 2013 film "Sweetwater."
Daryl Sabara and Alexa PenaVega return in their original roles in the sequel "Spy Kids 3-D: Game Over," from 2003 (click the arrow to continue with the gallery).
Want to catch up on "Rectify?" Season 1 starring Adelaide Clemens and Aden Young is being released.
2008's "Star Wars: The Clone Wars" should thrill fans of the franchise.
The 2012 reality series "Breaking Amish" finds Kate, Jeremiah, Sabrina, Abe and Rebecca venturing out.
"Turbo" is the little snail who can in this 2013 film with Ryan Reynolds supplying the voice of Turbo.
The action centers around a singing competition in 2006's "American Dreamz" which stars Hugh Grant and mandy Moore.
Matthew McConaughey plays the title character in the 2012 drama "Mud" which received wide release in 2013.
Ashton Kutcher tackles a titan as the late Steve Jobs in the 2013 film "Jobs."
Jared Leto and Diane Kruger star in the fantasy romance 2013 film "Mr. Nobody."
Christine Ebersole, Robert De Niro, Diane Keaton, Ana Ayora, Patricia Rae and Katherine Heigl star in the ensemble comedy "The Big Wedding" in 2013.
Fun times with Season 2 of Cartoon Networks "Adventure Time." The animated series is about a boy and his magical talking dog.
Johnny Bravo is the beefcake, pompadour wearing main character of the animated series "Johnny Bravo." Oh, and he talks like Elvis. Season 2 is being released.
Fans will be mad for Season 6 of "Mad Men" starring Jon Hamm and John Slattery.
New to Netflix in March
New to Netflix in March
New to Netflix in March
New to Netflix in March
New to Netflix in March
New to Netflix in March
New to Netflix in March
New to Netflix in March
New to Netflix in March
New to Netflix in March
New to Netflix in March
New to Netflix in March
New to Netflix in March
New to Netflix in March
New to Netflix in March
New to Netflix in March
New to Netflix in March
New to Netflix in March
New to Netflix in March
New to Netflix in March
New to Netflix in March
New to Netflix in March
New to Netflix in March
New to Netflix in March
New to Netflix in March
New to Netflix in March
New to Netflix in March
New to Netflix in March
New to Netflix in March
New to Netflix in March
New to Netflix in March
New to Netflix in March
New to Netflix in March
New to Netflix in March
New to Netflix in March
New to Netflix in March
New to Netflix in March