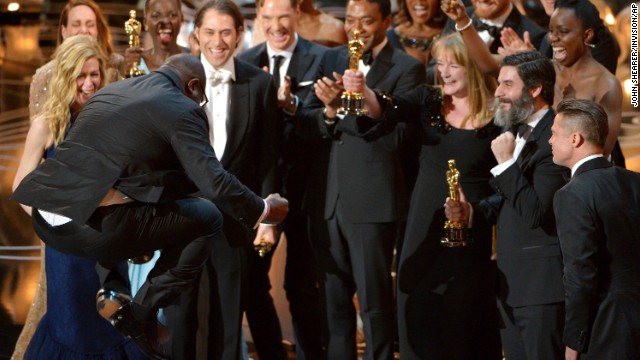 Director Steve McQueen, left, celebrates with the cast and crew of "12 Years a Slave" as they accept the Academy Award for best picture on Sunday, March 2.
Brad Pitt passes a slice of pizza to Meryl Streep after host Ellen DeGeneres took orders from the crowd.
Leonardo DiCaprio, left, congratulates Matthew McConaughey for winning the best actor Oscar for "Dallas Buyers Club." DiCaprio, who starred in "The Wolf of Wall Street," was also up for the award.
Cate Blanchett reacts after winning best actress for her role in "Blue Jasmine."
Angelina Jolie and Sidney Poitier present Alfonso Cuaron with the best director Oscar for "Gravity."
Pink sings "Over the Rainbow" while scenes from "The Wizard of Oz" are projected in the background. The performance was a tribute to the film's 75th anniversary.
DeGeneres channels Glinda the Good Witch from "The Wizard of Oz."
Glenn Close presents the annual "In Memoriam" tribute.
Bette Midler sings "Wind Beneath My Wings" during the "In Memoriam" segment.
Lupita Nyong'o hugs McQueen after winning best supporting actress for her role in "12 Years a Slave."
Harold Ramis
, his "Ghostbusters" co-star who died last month at the age of 69.
Amy Adams greets Bill Murray on stage. While reading the names of those nominated for best achievement in cinematography, Murray also mentioned director
DeGeneres tweeted
. "Best photo ever." It reportedly became the most retweeted post of all time.
DeGeneres takes a moment during the show to orchestrate a selfie with a group of stars. Bradley Cooper, seen in the foreground, was holding the phone at the time. "If only Bradley's arm was longer,"
U2 performs its Oscar-nominated song "Ordinary Love" from the movie "Mandela: Long Walk To Freedom."
Darlene Love sings while accepting the award for best documentary feature ("20 Feet from Stardom").
Karen O of the Yeah Yeah Yeahs and Ezra Koenig of Vampire Weekend perform a duet of "The Moon Song."
DeGeneres gives Cooper scratch-off lottery tickets -- a "consolation prize" because he didn't win the Oscar for best supporting actor.
Nyong'o dances with Pharrell Williams during his performance of "Happy."
Jared Leto shakes hands with an audience member after winning the best supporting actor Oscar for his role in "Dallas Buyers Club."
Anne Hathaway presents the award for best supporting actor.
takes a selfie
on stage near the start of the show.
DeGeneres
2014 Oscars: Show highlights
2014 Oscars: Show highlights
2014 Oscars: Show highlights
2014 Oscars: Show highlights
2014 Oscars: Show highlights
2014 Oscars: Show highlights
2014 Oscars: Show highlights
2014 Oscars: Show highlights
2014 Oscars: Show highlights
2014 Oscars: Show highlights
2014 Oscars: Show highlights
2014 Oscars: Show highlights
2014 Oscars: Show highlights
2014 Oscars: Show highlights
2014 Oscars: Show highlights
2014 Oscars: Show highlights
2014 Oscars: Show highlights
2014 Oscars: Show highlights
2014 Oscars: Show highlights
2014 Oscars: Show highlights