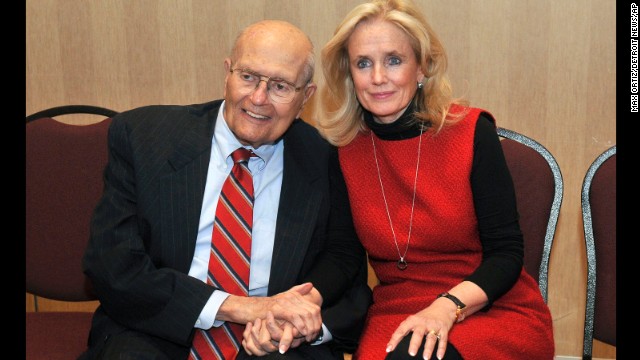 Debbie Dingell announced Friday, February 28, that she would run for the seat held for 58 years by her husband, Rep. John Dingell, D-Michigan, who announced earlier that he was retiring. Click through the images for other American political families.
Liz Cheney, daughter of former Vice President Dick Cheney, announced in July that she was running for Senate in Wyoming in 2014. Her bid set up an intra-GOP battle with Sen. Mike Enzi, a three-time incumbent. She dropped her Senate bid in January 2014.
The night after John F. Kennedy won the 1960 presidential election this family portrait was made in Hyannis Port, Massachusetts, on November 9, 1960. Sitting, from left, Eunice Shriver (on chair arm), Rose Kennedy, Joseph Kennedy, Jacqueline Kennedy, head turned away from camera, and Ted Kennedy. Back row, from left, Ethel Kennedy, Stephen Smith, Jean Smith, President John F. Kennedy, Robert F. Kennedy, Pat Lawford, Sargent Shriver, Joan Kennedy, and Peter Lawford.
Sen. Prescott Bush, center, is the father of former President George H.W. Bush, left, and grandfather of former President George W. Bush, far left.
The Bush family is a bona fide modern American political dynasty. Former President George W. Bush and former Florida Gov. Jeb Bush are the sons of former President George H.W. Bush. George P. Bush, Jeb's son, is running for a statewide office in Texas. George H.W. Bush is the son of Prescott Bush, a senator from Connecticut. Here, the former presidents and Jeb, right, pose for a photo at the christening of the aircraft carrier USS George H.W. Bush.
George P. Bush speaks during the 2011 Republican Leadership Conference in New Orleans on June 18, 2011. The grandson of former President George H.W. Bush is a candidate for commissioner of the Texas General Land Office in 2014
Former President Jimmy Carter spends time with his grandson Jason, wife Rosalynn, and daughter Amy on July 15, 1976. Jason Carter is a Democratic member of the Georgia State Senate.
John Adams was the second president of the United States.. His son John Quincy Adams was the sixth President.
John Quincy Adams.
New Orleans Mayor Mitch Landrieu and his sister, Louisiana Sen. Mary Landrieu, are interviewed during a special edition of "Meet The Press" in New Orleans on August 29, 2010.
Secretary of State Hillary Clinton and former President Bill Clinton attend a dinner for Kennedy honorees at the Department of State in Washington on December 1, 2012.
Former Sen. Sam Nunn, his wife Colleen, daughter Michelle, and his grandchildren Vinson and Elizabeth, left, walk the beach at Sea Island, Georgia, on January 4, 2007. Michelle Nunn is a candidate for Georgia's Senate seat in 2014.
Sen. Mark Udall, D-Colorado, and his cousin Sen. Tom Udall, D-New Mexico, attend a weekly Senate policy luncheon in Washington on May 15, 2012.
Former Arkansas attorney general, Sen. Mark Pryor, holds a news conference in Washington on July 25, 2006. Pryor is the son of former Arkansas Sen. David Pryor.
Former Sen. David Pryor.
Father-and-son New York governors, Andrew, left, and Mario Cuomo appear at a rally in 2006. CNN anchor Chris Cuomo is another of Mario Cuomo's sons.
Delaware Attorney General Beau Biden embraces his father, Vice President Joe Biden, at the Democratic National Convention in 2008.
U.S. House Minority Leader Nancy Pelosi, D-California, is the daughter of Thomas D'Alesandro Jr., who was Baltimore's mayor and also represented the Baltimore area in Congress. D'Alesandro, center, attends Pelosi's swearing-in in 1978.
George W. Romney announces his intention to run for governor of Michigan, with his son Mitt and his wife Lenore in 1962. The elder Romney went on to run for president in 1968, and his son Mitt served as governor of Massachusetts befor winning the GOP nomination for president in 2012.
The Kennedy clan experienced a two-year absence on Capitol Hill beginning in 2011 with the departure of Rep. Patrick Kennedy, D-Rhode Island, shown here with his father, Sen. Edward Kennedy, at President Barack Obama's inauguration in 2009. The hiatus ended when Rep. Joseph P. Kennedy III, D-Massachusetts, was sworn in this year. He is the son of former Rep. Joe Kennedy and the grandson of the late Sen. Robert Kennedy.
Then-Rep. Harold Ford, D-Tennessee, left, and his son, Harold Jr. shake hands with supporters in this 1996 photo. Harold Ford Sr. announced earlier that year that he was retiring from the seat he had held for 22 years and Harold Ford Jr. won the seat that fall.
Former Rep. Jesse Jackson Jr. is the son of longtime civil rights activist the Rev. Jesse Jackson, who sought the Democratic nomination for president in 1984 and 1988.
Democratic New York state Sen. Jose M. Serrano is the son of U.S. Rep. Jose E. Serrano.
U.S. Sen. Lisa Murkowski, R-Alaska, is the daughter of Frank Murkowski, who also represented Alaska in the Senate and was later the state's governor.
William Taft was the 27th president of the United States and served from 1909-1913. Since Taft's presidency, three of his relatives have represented Ohio in the U.S. Senate.
Sen. Robert A. Taft is one of three Tafts to represent Ohio in the U.S. Senate.
Sen. Robert Taft Jr. attends a hearing in Washington on December 12, 1973. He is one of three Tafts to represent Ohio in the U.S. Senate.
Sen. Kingsley Taft is one of three Taft's to represent Ohio in the U.S. Senate.
Photos: Political families
Political families
Photos: Political families
Photos: Political families
Political families
Photos: Political families
Photos: Political families
Photos: Political families
Photos: Political families
Photos: Political families
Photos: Political families
Photos: Political families
Photos: Political families
Photos: Political families
Photos: Political families
Political families
Political families
Political families
Political families
Political families
Political families
Political families
Political families
Political families
Photos: Political families
Photos: Political families
Photos: Political families
Photos: Political families