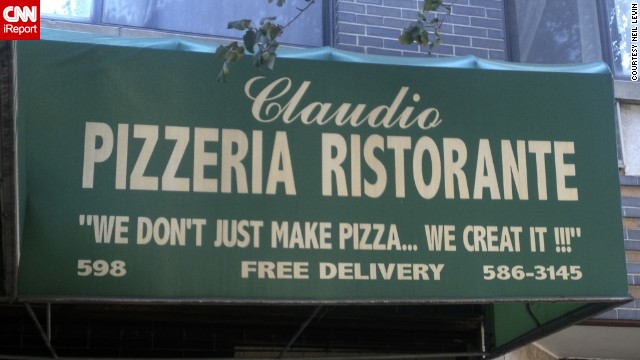 "Come on. No one from the writer to the person who took the order to the printer to the installer to the customers noticed this word was misspelled?" asks Neil Levin, who spotted this
misspelled sign
with a handful of punctuation mistakes in New York City. P. S.: One exclamation mark is enough! Click through for more submissions from sharp-eyed readers:
spelling fail
. "Why would you label a very common object?" asked Robertson. "Obviously someone took the time to make a label." Score one point for the intern.
Julie Robertson's daughter had an internship at a professional office last summer, but she wasn't enjoying it much. That is until she spotted this
fairground ball fields
where Terri Fallin's son plays baseball. "I want to sneak in at night with paint to make corrections. ... I offered money to personally have new signage, with no luck."
How many errors do you see? This is at the Nevada, Missouri,
this sign
for "figure licking" food at a restaurant on Chatham Bay, Union Island, in the Grenadines.
"Several mental images came to mind, none very appetizing," when Robert Tanner saw
"Start the new? Start the new what? Alaskain Slamon? Is this a World of Warcraft character? I wanted to go in and say, 'I'm here to start the new, and I'd like to start it with your Alaskain Slamon,'" said KC Thornton, an English professor who was thoroughly amused by
this sign
in Valdosta, Georgia.
this sign
in the parking lot of a convenience store chain in Waycross, Georgia.
"Don't leave your vehicle Un-At-Ted-N'-Ded here! Yet, if you do, you can choose DAY or NIGHT! You decide when you want to be prosecuted!" Thornton found
Thornton keeps a collection of misspellings, miscommunications and all-around English language misses.
is
allowed in a
"parting" lot
? Kate VanHook in Orlando says she's "confused and amazed at how official signs for businesses, streets, products, etc. make it past quality control."
What
this sign
next to a fountain in Kingston, Washington. "'Off' is the wrong preposition for this sign, unless people were walking on the water in the fountain," she said. "Grammar reveals your level of competence and your attention to detail."
Debbie Kuhlmann laughed when she spotted
handwritten sign
with the same spelling error, which made it all the more funny," she said. Jokes aside, Hunt says she gives people leeway with their grammar. "I'm sure I make mistakes myself and don't pretend to be perfect."
"Mmmm ... Thank God, because I'm starving!" thought Katie Hunt after stopping at this gas station in Hopedale, Massachusetts. "Each of the four pumps at this gas station had a
this grammar error
. "I smiled as I knew it was just a human error," she said. Poor grammar and usage don't really bother her, as traveling has taught her that communication is more important than proper grammar.
Marie Sager was hiking in Sai Yok National Park in Thailand when she spotted
painted sign
in a Chicago parking lot. The teacher admits that bad grammar drives her "crazy."
Much to the chagrin of her children, Lorri Thrower got out of her car and stopped to take a photo of this
Worst grammar and spelling fails
Worst grammar and spelling fails
Worst grammar and spelling fails
Worst grammar and spelling fails
Worst grammar and spelling fails
Worst grammar and spelling fails
Worst grammar and spelling fails
Worst grammar and spelling fails
Worst grammar and spelling fails
Worst grammar and spelling fails
Worst grammar and spelling fails
Worst grammar and spelling fails
Worst grammar and spelling fails
STORY HIGHLIGHTS
National Grammar Day is celebrated on March 4
For copy editors, spotting errors and correcting them is their job
What are the best grammar and spelling fails you've seen?
Share your photos with CNN iReport
Editor's note: We're resurfacing this ode to good grammar in honor of the release of "Weird Al" Yankovic's new single "Word Crimes." Watch the hilarious music video below.
(CNN) -- Going to a restaurant is supposed to be a relaxing experience. But for Katherine Dillinger, there was one thing that was guaranteed to stress her out: Seeing "Caesar salad" misspelled on the menu.
"It would just drive me ballistic," Dillinger said.
After years of practice, she's learning to relax. "Now, I just shrug it off. I still notice it, but it doesn't drive me crazy like it used to."
Many of us have a tendency to notice bad grammar and misspellings, as evidenced in the gallery above. But for copy editors, the people who read and edit stories for grammar, style and substance, fixing errors is their job.
In honor of National Grammar Day, we sat down with Dillinger, one of the funniest grammar gatekeepers on the copy desk. She has been a copy editor for 15 years, six of which she's spent at CNN.com in Atlanta. The interview has been edited for clarity and brevity.
CNN: What made you want to become a copy editor?
Dillinger: I wanted to be a writer first, actually, but I took a reporting class in college and hated it. I didn't like going up to people, saying, "Your house just burned down. How did it feel?" At the same time, I was taking an editing class. It came easily, I enjoyed it, and it seemed like fun.
CNN: What are the most common errors you come across in your job?
Dillinger: Where to start? It's probably punctuation errors, specifically comma errors with independent and dependent clauses. Spell check means most people usually don't make spelling errors unless they just don't pay any attention at all. Most people get verb tenses correct. And capitalization ... people love to capitalize things they shouldn't.
CNN: What are your biggest grammar pet peeves?
Dillinger: Misuse of the em dash when you should have a colon instead drives me crazy! And I really hate the word "probe," just in general. I have a bunch, but those are my two main ones.
I'm constantly taking em dashes out of stories. Learn the colon! There are proper ways to use a colon. I shake my fist at you.
CNN: Could you ever be close friends with someone who makes lots of grammatical mistakes?
Dillinger: I used to date somebody who did, back in college. He was as bad a writer as you could get. I used to type his papers for him and edit as I was going. You learn to live past it, I guess.
CNN: Have you ever made a mistake? What's your most memorable one?
Dillinger: Oh, God, I've made so many. That's the nature of the business. When I was in Austin (on the copy desk of the local newspaper), there was a month where I just made one after another. It was terrible. It's your job not to do those things.
I've put incorrect information into stories. It kills you every time you do it, too. Luckily, none of them has been libelous or gotten me called up to the publisher.
CNN: What's the best grammar fail you've seen? Extra points if it made you laugh.
Dillinger: Where they misspell the team name on a jersey. Those always crack me up. It's not a grammar fail; it's more of a spelling fail.
CNN: The grammar rule that must never be broken is ________
Dillinger: You can make an argument that, within reason, you can break almost any grammar rule. You learn over the years that it's OK to break the rules. It's all in how you were taught. You go by what this story says to you. If this story splits an infinitive but it works, then I would split the infinitive! How the story sounds is sometimes more important than being totally adherent to every grammar rule.
CNN: How will you be celebrating National Grammar Day?
Dillinger: Every day is grammar day when you're a copy editor.
Is grammar really important to you? What's your biggest grammar pet peeve? All grammarians are welcome to discuss this in the comments below.