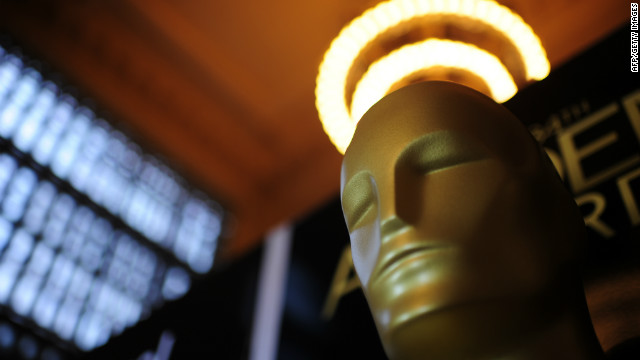 Oddsmakers have been trying to read the tea leaves for years when it comes to the Academy Awards. But once in a while Oscar throws us a curveball. Here are some of the show's biggest shockers through the years:
Clark Gable and Claudette Colbert star in "It Happened One Night," which in 1935 wins all five major Academy Awards: best picture, best director, best actor, best actress and best screenplay.
Robert Donat and Louise Hampton star in "Goodbye, Mr. Chips." It is surprising when Donat beats out strong contenders -- including Clark Gable for "Gone With The Wind" and Laurence Olivier for "Wuthering Heights" -- to win the best actor Academy Award in 1940.
In 1942 Roddy McDowall (left) and Walter Pidgeon's "How Green Was My Valley" surprisingly bests what's now considered one of the best films of all time: "Citizen Kane."
In 1952 "An American in Paris" starring Gene Kelly and Leslie Caron overtakes "A Streetcar Named Desire" and becomes only the second color film to win a best picture Oscar. "Gone with the Wind" was the first.
In 1969 the Academy makes history with a tie: Barbra Streisand is named best actress for her role in "Funny Girl" and Katharine Hepburn for her role in "The Lion In Winter." Streisand is seen here beside British director Anthony Harvey, who accepts the award on Hepburn's behalf.
"Midnight Cowboy," starring Dustin Hoffman and Jon Voight, turns some audiences off with its liberal helpings of sex, seediness and its X rating. But that doesn't stop the Oscars from awarding it best picture, best director for John Schlesinger and best adapted screenplay for Waldo Salt at the ceremony held in 1970.
George C. Scott lives up to his tough guy role in the film "Patton" when in 1971 he refuses both the Oscar nomination and the win for best actor. Scott scorns the Academy as contrived and degrading and Goldie Hawn ends up presenting the award to Frank McCarthy on Scott's behalf.
In 1973 Marlon Brandon refuses the best actor Oscar for his role in "The Godfather" by sending Sacheen Littlefeather (Native American actress Maria Cruz) to read his written statement.
Oscar presenter David Niven isn't quite sure what's happening behind him as a streaker crosses the stage near the end of the 1974 Academy Awards. The streaker later identifies himself as Robert Opel.
"I know it was you Fredo. You broke my heart!" John Cazale broke lots of moviegoers' hearts as the fragile and vulnerable Fredo Corleone in "The Godfather: Part II." In what struck many as a massive snub, Cazale was never nominated for the role, though he has the distinction of being the only actor to have every feature film he appeared in (a total of five) be nominated for best picture.
In 1977 "Rocky" knocks out the critical darlings "All the President's Men," "Bound for Glory," "Network" and "Taxi Driver" to win best picture.
"Star Wars" was both massive and cutting edge in 1977 (the more things change, the more they stay the same). Yet at the Oscars ceremony in 1978, Woody Allen's "Annie Hall" takes best picture.
"Apocalypse Now" achieved instant acclaim upon its release in 1979, but one of the film's stars, Martin Sheen, right, with Marlon Brando, was not nominated for his role as Capt. Benjamin L. Willard. The horror.
"Ordinary People" comes out of nowhere to beat Martin Scorsese's "Raging Bull" for best picture in 1981.
It's a bit shocking when "Chariots of Fire" wins best picture at the Academy Awards held in 1982. Especially since the film "Reds" had already won for best director and "On Golden Pond" won in the acting categories. That didn't happen again until years later with "Crash."
"Do the Right Thing," with Bill Nunn, left, and Spike Lee, was one of the most buzzed about movies of 1989 and has been called "one of the best American films of all time" by The New York Times. With only two nominations -- best supporting actor for Danny Aiello and best screenplay -- it came up empty-handed at the Oscars. Director
during his acceptance speech.
Not bad for a septuagenarian.
When Jack Palance wins best supporting actor in 1992 for "City Slickers" he thrills the crowd by dropping to the floor and performing one-handed push-ups
Even Juliette Binoche is shocked to win an Oscar for best supporting actress in 1997 for her performance in "The English Patient." It was Lauren Bacall's first ever nomination for "'The Mirror Has Two Faces," and she was favored to win.
In 1999 "Shakespeare in Love" starring Gwyneth Paltrow and Joseph Fiennes is well liked enough, but few expect it to beat "Saving Private Ryan" for best picture. It did.
Many are also stunned when in 1999 Gwyenth Paltrow won the Oscar for best actress for her role in "Shakespeare in Love," beating out Cate Blanchett who was in the running for the title role as the monarch "Elizabeth."
It was a once in a lifetime opportunity and Adrien Brody knew it. When he wins the best actor Oscar for his role in "The Pianist" in 2003, Brody grabs presenter Halle Berry for a massive kiss seen the world round. Viewers are already surprised enough that Brody beat out Jack Nicholson, who was up for "About Schmidt."
Who would have believed that a rap group would beat Dolly Parton for best original song at the Academy Awards? But it happens in 2006 when Three 6 Mafia won for "It's Hard Out Here For a Pimp" from the film "Hustle & Flow."
Only Jennifer Lawrence can make tripping on her way to receive the best actress award for "Silver Linings Playbook" during the Oscars in 2013 look like a magazine ad, but the fall is a definite shocker.
Oscars' biggest upsets, shockers and snubs
Oscars' biggest upsets, shockers and snubs
Oscars' biggest upsets, shockers and snubs
Oscars' biggest upsets, shockers and snubs
Oscars' biggest upsets, shockers and snubs
Oscars' biggest upsets, shockers and snubs
Oscars' biggest upsets, shockers and snubs
Oscars' biggest upsets, shockers and snubs
Oscars' biggest upsets, shockers and snubs
Oscars' biggest upsets, shockers and snubs
Oscars' biggest upsets, shockers and snubs
Oscars' biggest upsets, shockers and snubs
Oscars' biggest upsets, shockers and snubs
Oscars' biggest upsets, shockers and snubs
Oscars' biggest upsets, shockers and snubs
Oscars' biggest upsets, shockers and snubs
Oscars' biggest upsets, shockers and snubs
Oscars' biggest upsets, shockers and snubs
Oscars' biggest upsets, shockers and snubs
Oscars' biggest upsets, shockers and snubs
Oscars' biggest upsets, shockers and snubs
Oscars' biggest upsets, shockers and snubs
Oscars' biggest upsets, shockers and snubs
Oscars' biggest upsets, shockers and snubs
Oscars' biggest upsets, shockers and snubs
Oscars' biggest upsets, shockers and snubs