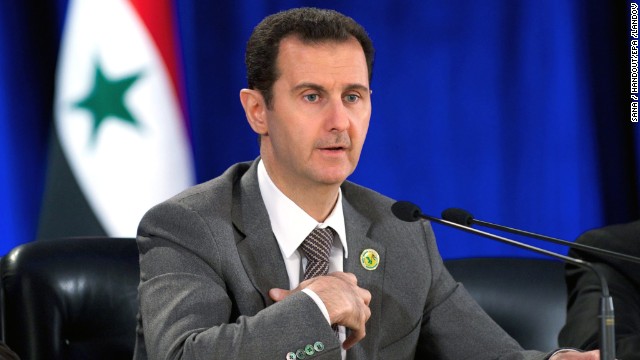 A handout photo released by Syria's Arab News Agency shows Syrian President Bashar al-Assad speaking during a meeting in Damascus, Syria, on Saturday, March 8, to mark the 51st anniversary of the 1963 revolution, when Baath Party supporters in the Syrian army seized power. Al-Assad said the country will go on with reconciliation efforts along with its fight against terrorism. The United Nations estimates more than 100,000 people have been killed
since the Syrian conflict began
in March 2011.
Syrians inspect the rubble of destroyed buildings in Aleppo, Syria, following a reported airstrike by Syrian government forces on Friday, March 7, during Friday prayers.
People dig through the rubble of a building in Damascus, Syria, that was allegedly hit by government airstrikes on Thursday, February 27.
A boy walks ahead of men carrying the body of his mother in Aleppo, Syria, on Saturday, February 22. According to activists, the woman was killed when explosive barrels were thrown by forces loyal to Syrian President Bashar al-Assad.
A man holds a baby who survived what activists say was an airstrike by al-Assad loyalists Friday, February 14, in Aleppo.
In this photo provided by the anti-government activist group Aleppo Media Center, Syrian men help survivors out of a building in Aleppo after it was bombed, allegedly by a Syrian regime warplane on Saturday, February 8.
Syrians gather at a site hit by barrel bombs, allegedly dropped by a regime helicopter on the opposition-controlled Mesekin Hananu district of Aleppo on February 8.
In this handout photo released by the official Syrian Arab News Agency on February 8, civilians wave national flags in Damascus as they take part in a rally in support of President al-Assad.
A man stands next to debris in the road following a reported airstrike by Syrian government forces in Aleppo on February 8.
Medical personnel look for survivors after a reported airstrike in Aleppo on Saturday, February 1.
Syrians carry a dead body following an airstrike on February 1.
A man walks amid debris and dust on January 31.
An injured man is covered in dust after an airstrike on January 29.
A man tries to fix electrical wires in Aleppo on January 27.
Rebels and civilians check out a crater that activists say resulted from a Syrian government airstrike on an Aleppo bus station on Tuesday, January 21.
Men rush to a site that Syrian government forces reportedly hit in Aleppo on January 21.
Buildings lie in ruins in Aleppo on Sunday, January 19, after reported air raids by Syrian government planes.
A Syrian child collects items from a garbage pile in Douma, northeast of the capital, on Saturday, January 18.
A piece of exploded mortar lies in a street in Daraya, a city southwest of Damascus, on Friday, January 17.
Syrian civil war in 2014
Syrian civil war in 2014
Syrian civil war in 2014
Syrian civil war in 2014
Syrian civil war in 2014
Syrian civil war in 2014
Syrian civil war in 2014
Syrian civil war in 2014
Syrian civil war in 2014
Syrian civil war in 2014
Syrian civil war in 2014
Syrian civil war in 2014
Syrian civil war in 2014
Syrian civil war in 2014
Syrian civil war in 2014
Syrian civil war in 2014
Syrian civil war in 2014
Syrian civil war in 2014
Syrian civil war in 2014