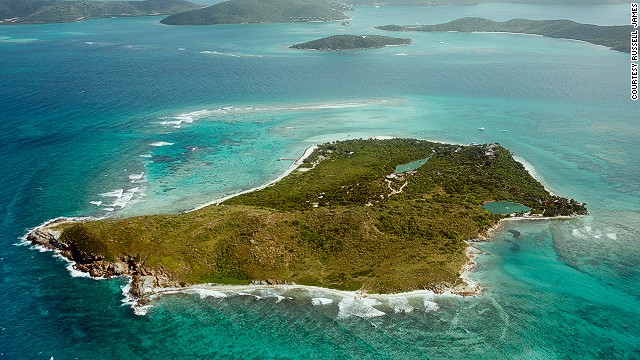 Necker Island is Richard Branson's private resort in the British Virgin Islands. The billionaire entrepreneur opened up his home to Australian fashion and celebrity photographer Russell James for his new book, "A Virgin Island."
Branson (right) relaxes with James. They met by chance on a flight between Sydney and Los Angeles in 2009.
Featuring over 150 deluxe photographs, James' book reveals Necker Island's idyllic beaches and spectacular tropical wildlife.
Branson purchased the island for $180,000 in 1979 and opened a luxury resort there facility in 1984. The entire island can be rented out for the princely sum of $64,000 a night.
Famous guests over the years include Nelson Mandela, Diana Princess of Wales, Eddie Murphy, Robert De Niro and former U.S. president Jimmy Carter.
A statue balances on the edge of a cliff on Necker. In February 2014 the island hosted a summit of financiers, politicians, energy companies and lawyers in an attempt to encourage green energy practices in the Caribbean.
Google co-founder Larry Page hired out Necker for his wedding in 2007. The island is so small, however, that he had to house some guests on the nearby Virgin Gorda.
Branson has invested in restoring Necker's wildlife to its former glory. When he arrived, previously prominent species of plants and animals had disappeared.
Giant tortoises, white and scarlet ibis, parrots, flamingos and rock iguanas have all been reintroduced.
Although private visitors can hire the island, Branson still resides on Necker for around two months each year and considers it one of his primary residences.
A fire destroyed much of the infrastructure on Necker in 2011 after one of its residences was struck by lightning, but the island has since been restored to its former glory.
Branson credits Necker for inspiring him to come up with the idea for his space tourism venture, Virgin Galactic. "One clear night as I gazed at the stars, I thought, 'Wouldn't it be wonderful for people to travel through space,' " he says in the photo book's introduction.
A Virgin Island Collector´s Edition XXL by Russell James, is published by teNeues, www.teneues.com Photo © Russell James
Richard Branson's celebrity island
Richard Branson's celebrity island
Richard Branson's celebrity island
Richard Branson's celebrity island
Richard Branson's celebrity island
Richard Branson's celebrity island
Richard Branson's celebrity island
Richard Branson's celebrity island
Richard Branson's celebrity island
Richard Branson's celebrity island
Richard Branson's celebrity island
Richard Branson's celebrity island
Treasure island for rich and famous