STORY HIGHLIGHTS
Jason Collins is the first openly gay player in major U.S. sport history
Collin's has played in Brooklyn Nets wins since signing a 10-day contract
He is one of a group of high-profile athletes to have come out in recent times
Robbie Rogers announced he was gay last year, Michael Sam recently came out
"Unguarded with Rachel Nichols" airs Fridays at 2230 ET on CNN. Each week, the show features an in-depth interview with one of the biggest names in sports.
(CNN) -- When Jason Collins pulls on his No. 98 Brooklyn Nets jersey, he's not just representing a basketball team.
As the first openly gay player in major U.S. sports, he's also paying tribute to Matthew Shepard, the victim of one of the most infamous hate crimes in recent American history.
Shepard, a gay University of Wyoming student, was beaten to death in 1998.
"I was very fortunate to speak with Matthew's mother, Judy," Collins told CNN's "Unguarded with Rachel Nichols."
"She had some great advice I don't think she would mind me sharing. Typically I like to keep private conversations private but her message was: 'Let the haters hate. Just keep living your life and keep going out there and being yourself.' "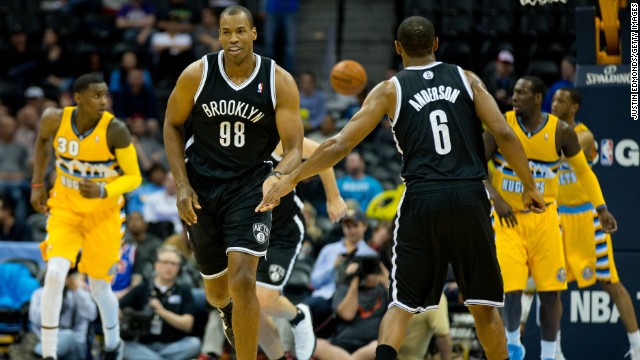 After signing a 10-day contract to play for the Brooklyn Nets, Jason Collins (wearing the No. 98 jersey) became the first openly gay player in U.S. major sport. His first game for the Nets was a 108-102 win over the Los Angeles Lakers. Collins played in another win on Thursday, as the Nets won at the Denver Nuggets.
Collins' No. 98 shirt has been the best-selling jersey in the NBA since his return to the league. The number is a tribute to Matthew Shepard, a gay student at the University of Wyoming who was beaten to death in 1998. Shepard's parents, mother Judy pictured here, traveled to Denver to meet with Collins.
Since coming out in April 2013, Collins' profile has risen dramatically. The pinnacle of his new-found fame came in January, when he was a guest of Michelle Obama for the State of the Union address.
Collins made his NBA debut for the New Jersey Nets in 2001, spending seven seasons with the team. He has since played for six other NBA franchises.
Footballer Robbie Rogers has experienced similar media attention since coming out in February 2013. After announcing his homosexuality, Collins sought the advice of Major League Soccer star Rogers on how to handle his new-found fame.
Collins and Rogers are part of an increasing group of openly gay U.S. athletes. Football prospect Michael Sam told the world about his sexuality after he had finished his college career. If he is drafted by an NFL franchise, he'll become the first openly gay player in the league's history.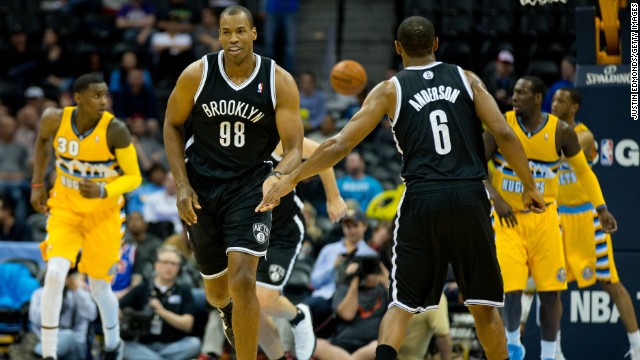 Jason Collins' return to the NBA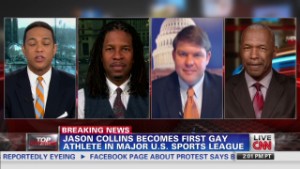 Jason Collins: First Out Athlete in NBA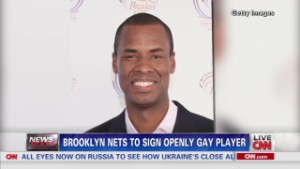 Brooklyn Nets signs Jason Collins
It's a powerful message and it's proving effective -- earlier this week Collins' No. 98 jersey became the best-selling in the NBA.
Not bad when you consider that Collins -- who had been without a team after coming out at the end of last season -- has only signed a 10-day contract with the Nets.
"It's really cool to see the support that's out there," he said. "It's cool to see that people are going out there and buying the jersey and wearing it with pride.
"So I hope that continues and I'll keep wearing the jersey and keep going out there and trying to do my job."
Collins has been doing his job since making his NBA debut in 2001.
He spent seven years with the New Jersey Nets, the former name of his current employer, before going on to play for Memphis Grizzlies, Minnesota Timberwolves, Atlanta Hawks, Boston Celtics and Washington Wizards.
The center's first game of 2014 couldn't have gone any better.
The 35-year-old played 10 minutes during a 108-102 win at the Los Angeles Lakers -- his hometown team -- and was given a warm ovation by the Staples Center crowd.
The reception he received is an indication of Collins' newfound prominence.
Since coming out in a cover story for an issue of Sports Illustrated in April 2013, he has become part of a band of high-profile U.S. athletes who have gone public about their homosexuality -- and they have been supporting each other.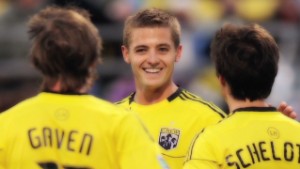 Robbie Rogers: Gay slurs 'scarred me'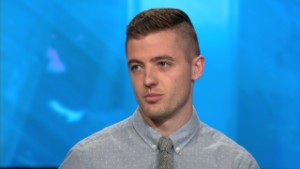 Rogers: Couldn't play soccer as openly gay
U.S. international Robbie Rogers, who plays for Major League Soccer's Los Angeles Galaxy, announced he was gay two months before Collins. After telling the world about his sexuality, Collins went to Rogers for advice on how to handle the media.
NFL prospect Michael Sam revealed he was gay this month after completing his college career. If drafted by a franchise, he will become the league's first openly gay player.
"I've met some other athletes who are in the same position as I am," explained Collins. "We're sort of like a fraternity just trying to help each other, just trying to keep inspiring each other, whether it be Robbie Rogers or Michael Sam, the list goes on and on.
"And it's really great to you know hear each other's stories and keep inspiring each other to work," added Collins, who was a guest of First Lady Michelle Obama at the State of the Union address in January.
A free agent since July, Collins' determination to get back in the NBA was such that he went on a five-mile run the morning before his trip to the House of Representatives.
"I've grown so much as an individual, I've come across so many great people, great organizations, heard so many great stories, inspiring stories," he said.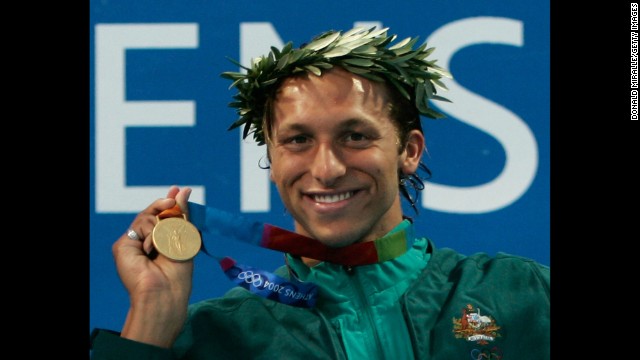 Swimmer Ian Thorpe, seen here in 2004 with one of his five Olympic gold medals, told an Australian news outlet that he is gay in an interview that aired on Sunday, July 13. Click through to see other openly gay athletes.
Former Missouri defensive end Michael Sam told ESPN and The New York Times that he is gay on February 9. Sam later became the first openly gay player to be drafted by a NFL team when he was taken by the St. Louis Rams in the seventh round.
Robbie Rogers became the first openly gay male athlete to play in a professional American sporting match when he took the field for Major League Soccer's Los Angeles Galaxy during a match against the Seattle Sounders on May 26.
"I didn't set out to be the first openly gay athlete playing in a major American team sport. But since I am, I'm happy to start the conversation," NBA player Jason Collins said in a Sports Illustrated article.
Sheryl Swoopes, a retired WNBA star and coach of the Loyola University Chicago's women's basketball team, came out in 2005.
Brittney Griner, selected No. 1 in the 2013 WNBA draft by the Phoenix Mercury, is openly gay.
In an exclusive interview with CNN, former San Francisco 49ers player Kwame Harris came out as gay after rumors circulated in the media.
Rugby player Gareth Thomas of Wales spoke about being gay to a British news channel in 2009.
Justin Fashanu became the first openly gay soccer player in Europe when he came out in 1990. Eight years later, he took his own life.
Tennis great Martina Navratilova came out in 1981.
After his retirement in 2007, basketball player John Amaechi announced he was gay.
After retiring from professional football in 1972, David Kopay acknowledged to the Washington Star that he was gay.
Villanova University's Will Sheridan came out to his teammates in 2003.
In 2012, U.S. women's soccer player Megan Rapinoe confirmed in Out magazine that she was a lesbian.
Champion figure skater Johnny Weir confirmed in his 2011 memoir, "Welcome to My World," that he was gay.
Australia's Matthew Mitcham came out in an interview with the Sydney Morning Herald in 2008.
In 2012, Orlando Cruz became the first active professional fighter to publicly announce that he was gay.
Openly gay British dressage rider Carl Hester helped his team win gold at the 2012 Olympics.
English cricketer Steven Davies announced he was gay in 2011.
Germany's Judith Arndt won the silver medal in cycling at the 2012 Olympics.
Billy Bean, a former Major League Baseball player, discussed being gay in a 1999 New York Times article.
Tennis legend Billie Jean King was outed by a former female partner in 1981.
In 2002, professional football player Esera Tuaolo came out on HBO's "Real Sports."
French tennis player Amelie Mauresmo came out in 1999.
Greg Louganis, who won four Olympic golds for the United States during his diving career, has been openly gay since 1995.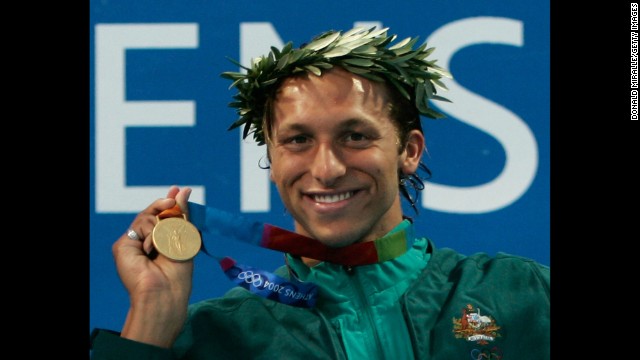 Photos: Openly gay athletes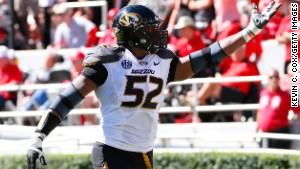 College football star reveals he's gay
"I feel like with my actions I've had a positive impact on someone else's life."
While Collins' return to the NBA has been a success, it could well be short-lived.
His temporary contract means he could be out of the league again by the end of next week, but he remains hopeful of extending his professional career.
"You know anything can happen -- anything's possible," he said. "You continue to work hard, that's what I did over the past 10 months ... Always having that positive mindset that good things will happen if you prepare for it.
"It's the same environment. Everything is the same. Like I said before, 12 years in the NBA, not a problem, not an issue. Year 13, not a problem, not an issue, same old, same old."
For the man who is changing the face of the U.S. basketball, Collins is convinced everything looks just like it did before.
Read: Obama 'couldn't be prouder' of Collins
Read: Here's to Collins - and the NBA
Follow us at @WorldSportCNN and like us on Facebook