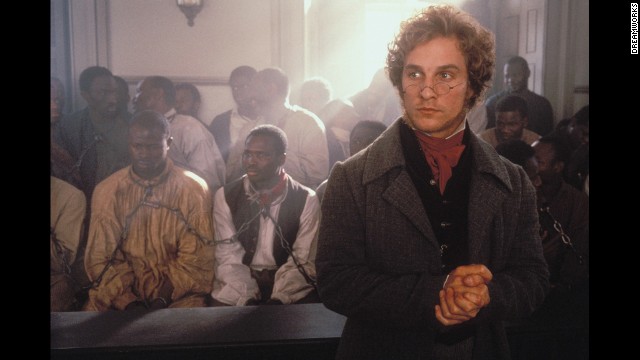 Actor Matthew McConaughey is heavily favored to win the best actor Oscar on Sunday for his role in "Dallas Buyers Club." Here is a look at McConaughey's career, starting with the 1997 film "Amistad," pictured.
The 1993 film "Dazed and Confused" is one of the star's most beloved movies. McConaughey, in the foreground here with Rory Cochrane, quoted his stoner character when he accepted a Golden Globe in January: "Alright, alright, alright."
McConaughey and Renee Zellweger are horrified in "The Return of the Texas Chainsaw Massacre" in 1994.
McConaughey hits the courtroom in the 1996 film "A Time to Kill."
McConaughey plays a sheriff in a small Texas town in the 1996 movie "Lone Star."
McConaughey and Jodie Foster explore other worlds in the 1997 movie "Contact."
McConaughey and Jennifer Lopez enjoy hijinks and love in the 2001 romantic comedy "The Wedding Planner."
McConaughey and Kate Hudson find love in 2003's "How to Lose a Guy in 10 Days."
With 2006's "Failure to Launch," the actor further cemented his reputation as the romantic leading man.
McConaughey is a triumphant coach in 2006's "We Are Marshall."
In 2009, he played a man haunted by his former loves in "Ghosts of Girlfriends Past."
The actor went indie -- and dark -- as a lawman/hit man in the 2011 film "Killer Joe."
"The Lincoln Lawyer" in 2011 kept McConaughey deep in the drama as a conflicted attorney.
A buff McConaughey shows off both his pecs and his dance moves in 2012's "Magic Mike."
McConaughey plays big brother to Zac Efron in the 2012 film "The Paperboy."
McConaughey played a fugitive in the coming-of-age drama "Mud" in 2012.
Critics have fallen head over heels for McConaughey's turn as Ron Woodroof, an electrician who battles to get the AIDS medicine he needs in "Dallas Buyers Club."
The actor's time is brief but memorable in the 2013 film "The Wolf of Wall Street."
McConaughey has found success on the small screen this year, playing intense lawman Rust Cohle in HBO's "True Detective."
Matthew McConaughey's road to the Oscars
Matthew McConaughey's road to the Oscars
Matthew McConaughey's road to the Oscars
Matthew McConaughey's road to the Oscars
Matthew McConaughey's road to the Oscars
Matthew McConaughey's road to the Oscars
Matthew McConaughey's road to the Oscars
Matthew McConaughey's road to the Oscars
Matthew McConaughey's road to the Oscars
Matthew McConaughey's road to the Oscars
Matthew McConaughey's road to the Oscars
Matthew McConaughey's road to the Oscars
Matthew McConaughey's road to the Oscars
Matthew McConaughey's road to the Oscars
Matthew McConaughey's road to the Oscars
Matthew McConaughey's road to the Oscars
Matthew McConaughey's road to the Oscars
Matthew McConaughey's road to the Oscars
Matthew McConaughey's road to the Oscars