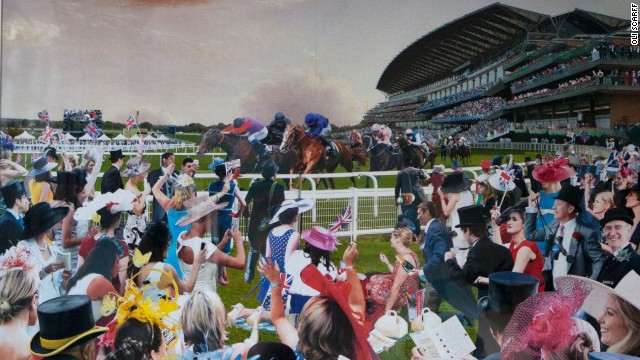 David Mach has brought to life the magic of British racecourse Royal Ascot over the past few decades in a colorful collage made up of 200 photographs.
The picture boasts a series of key figures in the work, some of whom were on show for its unveiling at London's Royal Academy of Arts.
Scottish artist Mach was approached to do the work courtesy of his previous creative collages on a vast array of subjects.
However, his equine experience is limited to a 15-foot horse statue he created and which is for sale. Here he is on board the statuesque steed.
Mach's last artwork with a remotely royal theme involved a collage of a woman in a bikini made up entirely of postcards of Britain's Queen Elizabeth.
His work has proved varied, such as "Die Harder," which depicts Jesus' crucifixion and is made entirely of metal coat hangers.
Continuing that creative vein is "Silver Streak," a giant-sized gorilla -- also made from 3,000 coat hangers -- housed in a museum in Glasgow.
A domino effect appears to occur with his "Out of Order" artwork in London, of old red phone boxes piled up on top of one another.
In 1997 he made a train out of 185,000 bricks, weighing 15,000 tons, coming out of a hillside near the northern English town of Darlington.
A work titled "Bangers 'N' Mash" on display in Glasgow depicts wrecked cars filled with magazines.
History completed
Life meets art
Collage creator
Riding high
Queen's bikini?
Made of metal
Scotland's King Kong
'Out of Order'
'Darlington Train'
Media crash
STORY HIGHLIGHTS
Artwork highlights the unique magic and mystique of racing at Royal Ascot
It captures the essence of Ascot in a collage of 200 collated photographs
Artist David Mach relishes the "pomp and pageantry, strawberries and foibles"
Mach's family equine interests lie less in horse racing and more in rodeo
(CNN) -- It's like an imaginary movie momentarily on pause. Under a reddened English summer afternoon sky, taking center stage is Estimate, the royal horse that romped to victory at last year's Ascot Gold Cup.
Following Estimate in this fantasy snapshot of the past few decades of the most quintessentially of British racing days are such legendary horses as Black Caviar, Frankel, Dawn Approach and Yeats.
Delighted punters gyrate and gesticulate behind the rails in the artwork along with many key figures of Royal Ascot, such as Queen Elizabeth and the late Henry Cecil, legendary trainer of a record 75 victories at the course, brought to life in a collage of 200 photographs
Aptly named "The Great British Drama," the collage depicts the world's biggest racing event, during which 300,000 punters converge on the affluent English village from June 17-21 every year as competitors battle for the $8 million prize purse on offer.
"I love the idea of Royal Ascot, the pomp and pageantry, the strawberries and foibles," says its creator, Scottish artist David Mach.
"It's somehow an event that brings everyone together. I quite like that idea and tried to get a sense of that in the collage.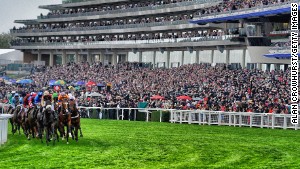 Queen partners with QIPCO at Royal Ascot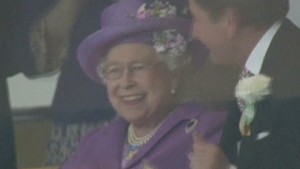 Queen joyous at Royal Ascot win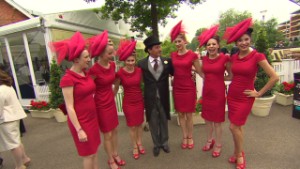 Fashion and glamor at Royal Ascot
"It's not quite a snapshot of Britain today but there are elements. You have a poor guy bristling with hatred for the rich guy, or both of them together cuddling. It's a great leveler as they throw their hats in the air after they've won, whether having bet £2 or £2,000, a shared delight.
"It's such a British thing, it's part of what I love about being British."
Mach, however, seems to be the antithesis of Royal Ascot.
In contrast to all the top hats and customs of the occasion, he is much more unorthodox, his artwork usually more risque than Ascot perhaps is used to, and his entertaining, humorous conversation is littered with language that can most euphemistically be described as "colorful."
Plus there's the fact he is not exactly a racegoer. He has been to another English racecourse, Goodwood, on two occasions and, despite visiting Ascot to prepare for the collage, his first racing experience there will be this year.
Read: Royal Ascot agrees Qatari sponsorship deal
Growing up, he had no great love for horse racing despite a shared passion by his parents.
"I'm not interested in betting at all. I'm not sure if that's down to my parents who, on a Saturday morning, used to say, 'David, will you go to the betting shop for us.' I'd usually put on something like 10 pence each way for them," he recalls.
"I remember one year my Mum putting money on a complete outsider. I remember thinking, 'That's not going to win,' but she insisted I put money on it."
The horse in question was Foinavon, a shock 100-1 winner of the Grand National in 1967 courtesy of a mass pileup at the 23rd fence. Foinavon and jockey John Buckingham were far enough back in the field to avoid the melee and romp home to the most surprising win in the race's history.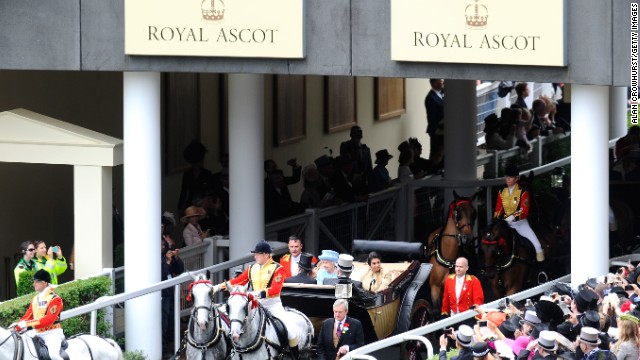 Queen Elizabeth II is patron of Royal Ascot and, as an avid racing enthusiast and owner, makes regular appearances at the famous British meeting in mid-June.
The British monarch receives the winning trophy for the Ascot Gold Cup last year after her horse Estimate won the prestigious race.
Wimbledon's Centre Court is unfettered by advertising boards but the All-England Club does have partnership deals with official suppliers for the tennis grand slam event.
Tom Queally partners Frankel to victory in the unbeaten wonder horse's final race in the Champions Stakes, sponsored by QIPCO, at Ascot in October 2012.
Frankel is covered by a QIPCO-branded horse blanket after winning the Sussex Stakes at Glorious Goodwood in 2012.
Silvestre De Sousa celebrates after he rides Farhh to win The QIPCO Champion Stakes at Ascot last year.
QIPCO branding dominates the British Champions Day meeting at Ascot every October as part of a long-term deal with organizers.
Winning double? Qatari-owned Treve wins the 2013 Prix de l'Arc de Triomphe at Longchamp, which will be sponsored by the Qatar Racing and Equestrian Club until 2022.
Paris Saint-Germain's coach Carlo Ancelotti rides in a golf buggy with Qatari Crown Prince Sheikh Tamim bin Hamad al-Thani, the French football club's owner.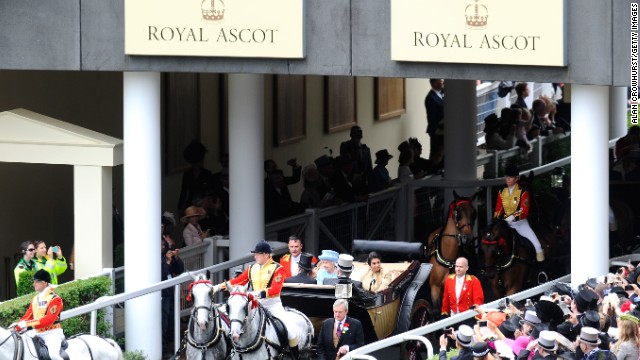 Royal Ascot gets Qatari sponsors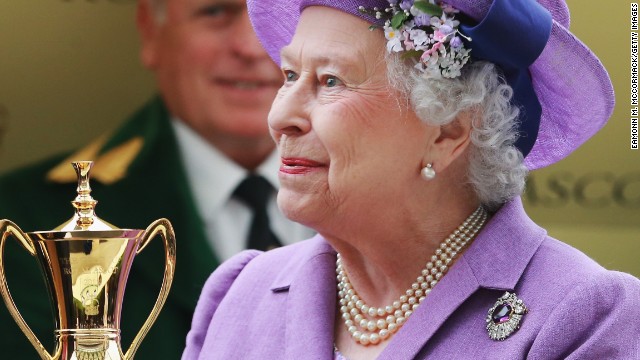 Queen Elizabeth II is all smiles after receiving the Gold Cup following her horse Estimate's triumph at Royal Ascot.
The latest addition to the British royal family, Prince George of Cambridge, was gifted a teddy dressed in the queen's silks, by a leading horse racing organization.
Britain's monarch shares a private moment with her connections and jockey Ryan Moore after the historic victory in June 2013. Her only daughter Princess Anne, who represented Britain at the 1976 Olympics in equestrian, is to her left.
Estimate's Gold Cup win was the first for a British monarch in the race's 207-year history.
Prince Charles, the heir to the British throne, and his wife the Duchess of Cornwall attend the Melbourne Cup -- Australia's most famous race -- in 2012.
Also a keen horseman, Charles is pictured here taking part in a steeplechase event in 1990.
The late Queen Mother pats one of her winning horses Bella Macrae after a race at Sandown Park in 2001. She was 100 years of age and still actively involved in the sport before her passing the following year.
In 1956, the Queen Mother's horse Devon Loch famously fell while leading the prestigious Grand National steeplechase, unseating jockey Dick Francis just yards from victory.
Here Queen Elizabeth is flanked by her mother and her late sister Princess Margaret (right) at the Epsom Derby in 1955.
Britain's royals have strong links to racing. A horse owned by King George V is escorted home after winning the Steward's Cup at Royal Ascot in 1911.
Queen Elizabeth II and her husband the Duke of Edinburgh enjoy the racing at Longchamps in Paris in 1972.
More recently, they are seen here at the Epsom Derby. It is the one English Classic the Queen has failed to win as an owner.
Queen Elizabeth II with her racing manager John Warren (left) and trainer Roger Charlton at Newbury racecourse in April 2013. Her horse Sign Manual was among the winners at the meeting.
The Queen's latest daughter-in-law -- Catherine, Duchess of Cambridge -- has also joined in the family passion. She is seen here at the Cheltenham Festival steeplechase meeting in March 2013.
The royal family's love of horses is likely to be passed on to the latest addition -- baby Prince George, who was presented to the world by his proud parents William and Catherine in July.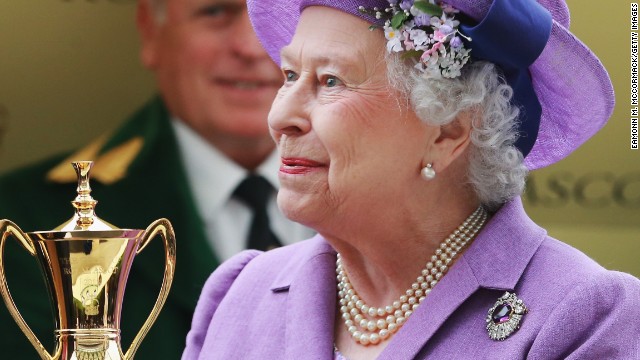 All the Queen's horses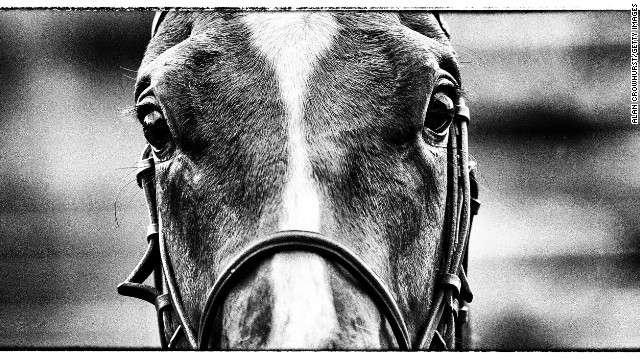 Alan Crowhurst has been training his camera lens on horses for 30 years. Here, the British photojournalist explains how he goes about capturing all the varied action at a day at the races.
As Crowhurst's images reveal, a race meeting is as much about the drama off the track as it is on it. The photographer was at Longchamp in Paris for the Prix de l'Arc de Triomphe -- European racing's richest prize -- on Sunday to capture the windmills and hats as well as the racing.
Crowhurst started taking pictures as a way of making money rather than losing it. "I used to gamble when I started work ... but then I bought a camera. I loved the idea that I gave up gambling but could still go to the races and take pictures instead," he told CNN.
Royal Ascot, Ascot, Berkshire, UK: "At the start, I'll probably go to the pre-parade ring just to have a look to see if there are any shadows. I'll just watch the horses go round (trying to capture) something you might not notice," Crowhurst says.
Royal Ascot, Ascot, Berkshire, UK: Jockeys leave the weighing room during day two of Royal Ascot. "Before the race, depending on where I am, I'll have a wander around the weighing rooms, among people looking at newspapers ... just little things that you wouldn't possibly have time to do during the races," Crowhurst says.
Royal Ascot, Ascot, Berkshire, UK: Everything is on Crowhurst's radar. A steward clasps stable lad's armbands.
Royal Ascot, Ascot, Berkshire, UK: Top hats and tails are the order of the day for men attending Royal Ascot. The five-day meeting takes place every June and is one of the UK's most prestigious sporting events.
Royal Ascot, Ascot, Berkshire, UK: "I like Royal Ascot a lot because there are so many people and so many things to see. It's like shooting fish in a barrel," says Crowhurst.
Royal Ascot, Ascot, Berkshire, UK: A vintage piece of Americana parked amid Ascot's starched shirts and racing silks.
Royal Ascot, Ascot, Berkshire, UK: Runners pass the grandstand in the Ascot Stakes during day one of Royal Ascot. "You can't really go too far wrong. It's always nice colors, smart clothing," added Crowhurst.
Royal Ascot, Ascot, Berkshire, UK: A packed grandstand watches a tightly-bunched group of runners during a race at Royal Ascot in June.
Ascot, Berkshire, UK: Irish jockey Johnny Murtagh riding Novellist celebrates winning The King George VI and Queen Elizabeth Stakes at Ascot. "For the bigger races, I usually position myself after the winning line. I like looking head on because you might get a reaction from the jockey -- a wave of the whip, a punch of the air," says Crowhurst.
Royal Ascot, Ascot, Berkshire, UK: Jockey Jospeh O'Brien riding Leading Light in the winning enclosure after the Queen's Vase during day four of Royal Ascot.
The Grand National, Aintree, Liverpool, UK: A bookmaker taking bets on the Grand National in April. The first official running of the world's most famous handicap steeplechase took place in 1839.
Aintree, Liverpool, UK: Runners making their way past the grandstand at Aintree. Crowhurst prefers jump racing because of its unpredictable nature. A horse that is 10 lengths clear can always fall at the last, he says.
Aintree, Liverpool, UK: Horses and jockeys negotiate the famous Bechers Brook fence during The John Smith's Foxhunters Steeple Chase. Crowhust took four cameras to Aintree in April, this year. "I had three remote cameras and one in hand which sets off the other three. They're only jumping once, so you've got to make the most of the oportunity," he says. "You get nice shapes in jumping as well when (the horses) stretch."
Cheltenham, Gloucestershire, UK: This curious image of a racegoer at Cheltenham taken in November 2012 is one of Crowhurst's favorites. "I just happened to see him," Crowhurst says of the man whose head is all but invisible behind his cupped hands and binoculars.
Cheltenham, Gloucestershire, UK: Barry Geraghty rides Bobs Worth to victory at the Gold Cup in March 2013. Cheltenham racecourse is Crowhurst's favorite place to take pictures of jump racing. "The sun's the right way, you get good horses and good quality races and it's out in the country -- you can shoot against the Coltwolds."
Punchestown, Ireland: Runners make their way through "Joe's Water Splash'"at Punchestown racecourse in April.
"If it's there, I'll try and do something different. The beauty of working for Getty (Images) is that they allow you to do it," says Crowhurst. To view more of Alan Crowhurst's portfolio click here.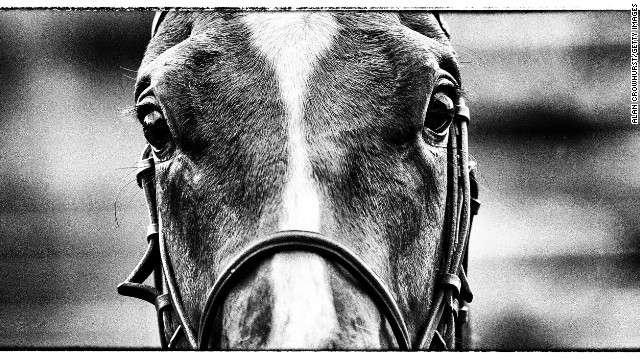 Photo finish: A day at the races
The bet's winnings paid for a family holiday.
If anything, Mach's greater association with horses is in the rather less conventional world of rodeo, courtesy of relatives in Canada.
"Rodeo's been my only real experience of horses," he says, "and that's pretty exciting. We've all seen it on TV or film and that doesn't do it justice.
"My God almighty, that is dangerous. My wife's cousin's husband is called Burt the Bull rider and, to do what he does, you just have to be an absolute lunatic."
As for his artwork, Mach's only previous equine creation of note is a 15-foot sculpture of a bucking stallion, which is at a show in Asia and is also available for sale.
The Ascot handiwork will be on show at the racecourse following its recent unveiling at London's Royal Academy of Arts.
It took Mach about two months to make, a painstaking process in patience of leafing through thousands of Ascot-related images.
"Basically an agency approached me via Ascot first asking me to put together a collage together, which is what I do anyway, so in some ways it was my idea anyway," he says.
"Actually the whole conversation was pretty funny. I'd never been asked to do a collage with a dress code.
"It was a bit like dressing dollies, really. In some cases a face might be right but the body not, so it was a case of being clever to match the right look for the entire picture. There's a danger that it can be quite stiff, but what I was looking for was an exact moment in time on pause."
So how did he narrow it down to just 200 pictures? "That wasn't easy as obviously the people at Ascot had clear ideas of what they wanted included and I was like, 'You want the whole f***ing universe but it's only five feet by four!' "
Mach has never been afraid to be bold with his art. A sculptor and installation artist previously nominated for the prestigious Turner Prize, he has produced a myriad of artwork including heads of famous people such as Ghandi, Charlie Chaplin and Marilyn Monroe created solely with matchsticks, which he then set alight.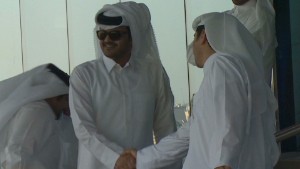 Family rivalry fuels royal horsing empire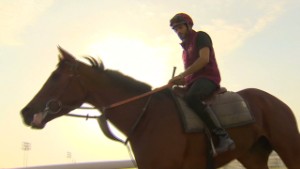 Is this Qatar's first superstar jockey?
Then there's Golgotha, three enormous figures of threaded steel nailed to metallic crosses recasting the suffering of Jesus.
For his most recent work, Mach has had to rein in his natural, often controversial, instincts.
"Ascot by its nature is still a bit cheeky -- it's a saucy day -- so there's elements of that in there," he says.
"But there was also an avoidance of it being at all vulgar on my part. But I think it works, I think it's fun and that it highlights a fun day."
Mach has since ventured to more abstract work since Ascot. "I'm working on the maddest log cabin you've ever seen," he says.
"It's like that of the artist Salvador Dali's long-lost cousin Ebenezer Dali -- it's surreal beyond belief, made of huge pieces of driftwood from my local beach in Scotland with a frontier man with a raccoon hat and a Dali mustache."
It is a leap of faith from the cross section of society that is Royal Ascot in the British summer, an event where 400 helicopters and 1,000 limousines converge each year.
It's a one-of-a-kind event, one of the few occasions when the public can get close to the Queen on her daily course procession and her walk to the paddock from the stands, an event where the race card is designed to fit into a lady's clutch bag, and the only course in the world with a bell ringing to signify each race reaching the final bend.
Trying to squeeze all that into one piece of art was no mean feat, Mach admits.
"I absolutely love being British and this is Britain at its best isn't it?" he says, although less as a question and more a statement of fact.
"I get quite emotional discussing that. Horse racing is a sport that combines and consumes us all at the same time. It's over the top and celebratory. It's Britain at its can-do best."
Read: All the queen's horses - a monarch's passion