STORY HIGHLIGHTS
The united cry of innocence may be crumbling, as Raffaele Sollecito changes his tone
He finds Knox's behavior, the morning Meredith Kercher was found dead, odd
His lawyer advises that his case must be considered separately from hers
Sollecito still says the evidence exonerates them both
(CNN) -- "We are innocent." For six years, that has been the cry that has united Amanda Knox and her Italian ex-boyfriend, as they have faced trials in the murder of Knox's former roommate Meredith Kercher.
But that unity may be crumbling, as she and Raffaele Sollecito prepare to appeal their convictions before Italy's Supreme Court next year.
Knox, who is living in the United States, appears to be sticking by the maxim.
Just over two weeks ago, she posted it in a photo to her Facebook page in Italian: "Siamo innocente."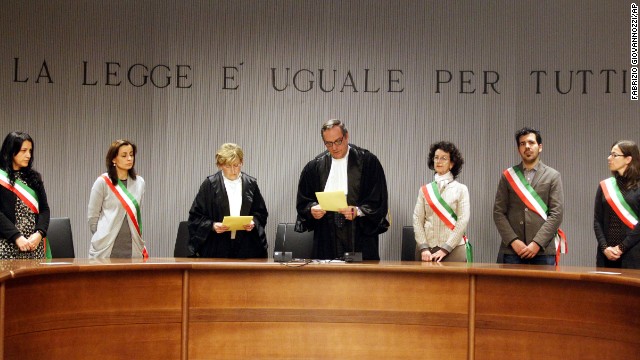 Appeals Court Judge Alessandro Nencini, center, reads out the verdict for the murder of British student Meredith Kercher in Florence, Italy, on Thursday, January 30, 2014. The appeals court upheld the convictions of U.S. student Amanda Knox and her ex-boyfriend Raffaele Sollecito for the 2007 murder of her British roommate. Knox was sentenced to 28 1/2 years in prison, raising the specter of a long legal battle over her extradition. Sollecito's sentence was 25 years.
Sollecito, left, and his father Francesco leave after attending the final hearing before the verdict on January 30. After nearly 12 hours of deliberation, the court reinstated the guilty verdict first handed down against Knox and Sollecito in 2009.
Patrick Lumumba, the Congolese bartender Knox originally accused of Kercher's murder, talks to the press outside the courthouse during a break form the appeal trial of Knox and Sollecito on September 30.
Knox appears on NBC's "Today" show. Knox spent four years in jail because of murder charges in the death of her roommate Meredith Kercher while studying abroad in Perugia, Italy.
Knox and her former boyfriend Sollecito were convicted in 2009 to 25 years in prison (Sollecito got 26 years). The conviction was overturned in 2011 for "lack of evidence." But Italy's Supreme Court decided last year to retry the case, saying the jury that acquitted them didn't consider all the evidence and that discrepancies in testimony needed to be answered.
Meredith Kercher, a 21-year-old British exchange student, was found dead with her throat slit in an apartment she shared with Knox on November 2, 2007.
When Knox was detained for questioning in 2007, she implicated Lumumba, the owner of a bar where Knox worked. Lumumba was taken into custody and released after two weeks in prison when his alibi was corroborated. He later won a libel suit against Knox.
Sollecito, Knox's boyfriend at the time of the murder, was convicted in December 2009 with Knox and released when their cases were overturned. Prosecutors testified that police scientists found Sollecito's genetic material on a bra clasp of Kercher's found in her room, while his defense claimed there wasn't enough DNA for a positive ID.
Rudy Hermann Guede, an Ivory Coast native raised in Perugia, was convicted separately from Knox and Sollecito and is now serving 16 years. Guede admitted to being with Kercher on the night she died, but said he didn't kill her. Both Knox and Sollecito argued that he was the killer, and Guede suggested the couple took Kercher's life.
Meredith Kercher's family lawyer Francesco Maresca, left, argued in court in 2011 that the multiple stab wounds implied more than one aggressor killed Kercher. Pictured from left are Maresca, Kercher's father John, sister Stephanie, brother Lyle and brother John at a press conference in 2008.
Carlo Dalla Vedova, one lawyer on Knox's defense team, argued in court that "the only possible decision to take is that of absolving Amanda Knox" in his closing argument for her appeal hearing.
Carlo Pacelli represented Patrick Lumumba in his civil suit case. He called Knox two-faced and a "she-devil."
Giulia Bongiorno, the lead lawyer on Raffaele Sollecito's defense team, compared Knox to Jessica Rabbit on the movie "Who Framed Roger Rabbit?" Knox is not bad, just "drawn that way," Bongiorno said in her closing statements in the 2011 trial.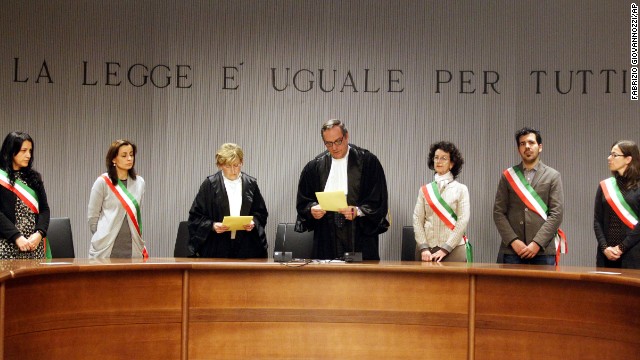 Photos: The Knox-Sollecito retrial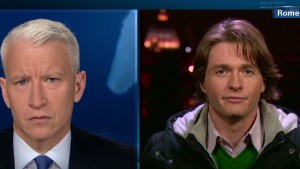 Sollecito: 'I still have to fight'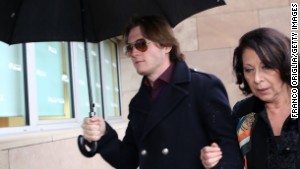 Sollecito: I am not responsible for this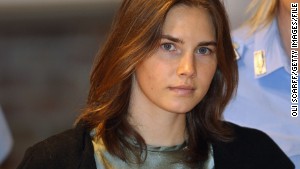 Will Amanda Knox go back to Italy?
But Sollecito, who is still in Italy, no longer seems so adamant about it, as the prospect of a long prison term stares him in the face.
He was sentenced to 25, Knox to 28 years in prison.
Yes, but
Though he still says that the evidence exonerates them both, he is using more selective language.
"There is nothing against me and nothing very strong against Amanda," Sollecito recently told CNN. "And in my case, I really did nothing wrong, and I don't want to pay for someone else's peculiar behavior."
Knox's behavior on the morning Kercher was found stabbed to death in the apartment she and Knox shared seems to be a new hitch for Sollecito.
That was early November 2007, and he and Knox had only been dating for a week.
Sollecito expanded on his doubts in a new interview with Italian television this week that aired in part on NBC.
Knox had spent the night with him but went back to her place to shower, he said. When she returned, she was "very agitated."
She told him that it looked like someone had broken in and that there was blood in the bathroom, Sollecito said. But rather than call the police, she showered and returned to his place.
He finds it odd, he now says.
"Certainly I asked her questions," he said. "Why did you take a shower? Why did she spend so much time there?"
He didn't get any real answers from her, he said in the interview.
Lawyer's advice
Sollecito's apparent distancing from Knox echoes the position of his lawyer, John Kelly.
"It's imperative that the Italian courts consider Raffaele's case separate from Amanda's case," he said. "By necessity, he has to distance himself and his case from Amanda and her case."
In a note on her Facebook page, Knox acknowledges Sollecito's new stance and appears to back it up.
She said he's a scapegoat.
"The only reason he has been dragged into this is because he happens to be my alibi," she wrote.
Since Kercher's death, Knox and Sollecito have gone through a legal odyssey that led to a conviction that was overturned, followed by a second conviction.
Another man, drifter and drug dealer Rudy Guede from the Ivory Coast is currently serving 16 years for Kercher's murder. He was tried separately from Knox and Sollecito.
He admitted having sex with the young British woman but said someone else killed her while he was in the bathroom.
READ: Amanda Knox's ex-boyfriend says he'll face new 'ordeal'
READ: Amanda Knox retrial verdict: Six things to know
READ: What's next for Amanda Knox?