Supreme Court spectator interrupts justices
updated 7:53 PM EST, Thu February 27, 2014
STORY HIGHLIGHTS
Man seated in courtroom began talking loudly about campaign finance reform
Spectator outbursts are rare at Supreme Court
The justices ignored the incident, and the man was led out by security
Washington (CNN) -- The Supreme Court was the scene of an unusual disturbance during its public session on Wednesday, when a man interrupted an oral argument.
The incident occurred near the end of debate between the nine justices on the bench and counsel, in a case over attorney fees in patent disputes.
A man in a suit and dark tie rose from near the back of the marbled courtroom, and began loudly talking.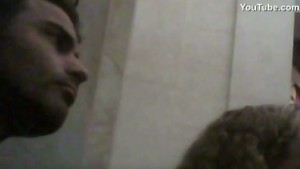 Why Supreme Court video is important
Witnesses said he spoke about the need to keep campaign finance reform laws in place to regulate election spending and contributions.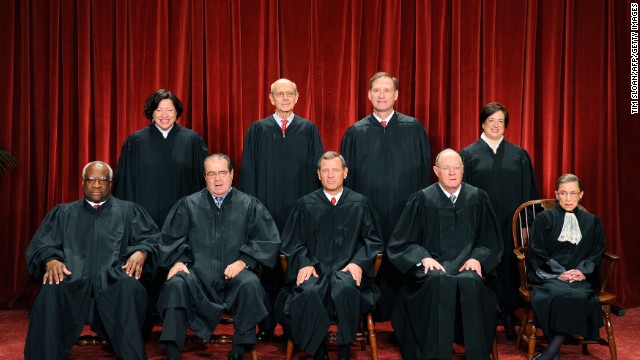 The justices of the U.S. Supreme Court sit for their official photograph on October 8, 2010, at the Supreme Court. Front row, from left: Clarence Thomas, Antonin Scalia, Chief Justice John G. Roberts, Anthony M. Kennedy and Ruth Bader Ginsburg. Back row, from left: Sonia Sotomayor, Stephen Breyer, Samuel Alito Jr. and Elena Kagan.
In 2005, Chief Justice John G. Roberts was nominated by President George W. Bush to succeed Justice Sandra Day O'Connor as an associate justice. After Chief Justice William Rehnquist died, however, Bush named Roberts to the chief justice post. The court has moved to the right during his tenure, although Roberts supplied the key vote to uphold President Barack Obama's Affordable Care Act.
Justice Antonin Scalia was appointed by President Ronald Reagan in 1986 to fill the seat vacated by Justice William Rehnquist when he was elevated to chief justice. A constitutional originalist -- and a colorful orator -- Scalia is a member of the court's conservative wing. He is currently the court's longest-serving justice.
Justice Anthony M. Kennedy was appointed to the court by President Ronald Reagan in 1988. He is a conservative justice but has provided crucial swing votes in many cases, writing the majority opinion, for example, in Lawrence v. Texas, which struck down that state's sodomy law.
Justice Clarence Thomas is the second African-American to serve on the court, succeeding Justice Thurgood Marshall when he was appointed by President George H. W. Bush in 1991. He is a conservative, a strict constructionist who supports states' rights.
Justice Ruth Bader Ginsburg is the second woman to serve on the Supreme Court. Appointed by President Bill Clinton in 1993, she is a strong voice in the court's liberal minority.
Justice Stephen G. Breyer was appointed to the court in 1994 by President Bill Clinton. He is considered a member of the court's liberal minority.
Justice Samuel A. Alito Jr. was appointed by President George W. Bush in 2006 and is known as one of the most conservative justices to serve on the court in modern times.
Justice Sonia Sotomayor is the court's first Hispanic and third female justice. She was appointed by President Barack Obama in 2009 and is regarded as a resolutely liberal member of the court.
Justice Elena Kagan is the fourth female justice and a member of the court's liberal wing. She was appointed in 2010, at the age of 50, by President Barack Obama and is the court's youngest member.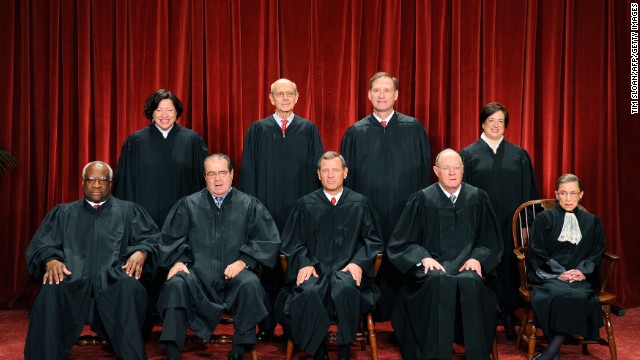 Photos: Today's Supreme Court
"Money is not speech," he reportedly said. "Overturn 'Citizens United!'" referring to a 2010 high court decision loosening a century of federal restrictions on corporate spending by "independent" groups like businesses and unions.
He was only able say a few words before police escorted him from the courtroom, and did not resist.
Supreme Court spokeswoman Kathy Arberg identified the man as Noah Newkirk of Los Angeles.
Newkirk has been charged with violating federal law that makes it a crime to "harangue" or utter "loud threatening or abusive language in the Supreme Court Building."
The justices ignored the incident.
The court's official written transcript of the argument made no mention of the remarks.
Such outbursts are rare.
Court officials say the last time it happened was eight years ago, during an oral argument over a federal law restricting a certain type of later-term abortion procedure.
A similar interruption occurred about two decades ago.
The courtroom has about 330 seats available to the public. Court security instructs spectators before each public session to remain seated, not to speak, or demonstrate.
Signs also are not allowed, nor are any electronics or cameras.
Protester loses appeal in military protest case