Sochi 2014: The coolest gear on show
updated 11:48 AM EST, Mon February 24, 2014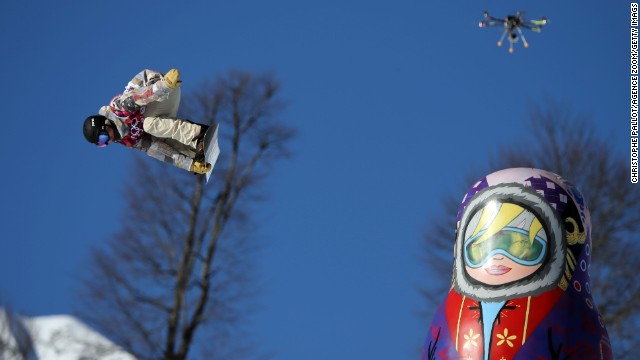 Ever wondered how they shoot those amazing snowboard videos? See the hexacopter top right.
The athletes also helped -- snowboard cross winner Eva Samkova provided insight into her sport by wearing a camera on her helmet. The painted mustache apparently brings her good luck -- well, it certainly worked this time.
Can you spot the photographer? Sweden's John Eklund might not have made it onto the podium, but his reflective goggles caught some attention in the Rosa Khutor Extreme Park.
Olympic competition offers great chances to show off your patriotism. Russia's hockey star Alexander Ovechkin did so with custom-made skates featuring the Winter Games host's flag.
When he heard that the temperature might rise as high as 18 degrees during the men's cross-country 15 km race, Norway's Chris Andre Jespersen took a radical step and competed in cutoff sports tights. He finished sixth.
Not sure if it's because his name's anagram is "Fair Brain" or if it's a fashion statement, but Canadian skeleton racer John Fairbairn's helmet was one of the coolest pieces of headgear at the Sochi Games.
Fairbairn's was just one example of the stylish helmets on show.
Katie Uhlaender of the United States shows a bald eagle design on her helmet before her skeleton training run.
After 2010, it was hard to believe anyone could out-do the Norway curling team's pants. Four years later, Norway won the pants competition again.
While U.S. hockey goalkeeper Jessie Vetter looks down during a break in play, her helmet reveals a scary version of Lady Liberty.
Sometimes, the materials seem unreal. Here is Shaun White's snowboard, looking like it's made of rubber.
But high-tech materials don't always deliver. The U.S. speed skating team sported new high-tech suits from Under Armour, helped in the design by aerospace giant Lockheed Martin. But the Americans, including 2006 and 2010 gold medalist Shani Davis, came home empty-handed.
The American two-man bobsleighs were made by German car manufacturer BMW. The fiberglass, ergonomic sleigh with brand new steering system delivered, as Steven Holcomb and Steven Langton won bronze -- Team USA's first medal in this event for 62 years.
Luge shoes were definitely among the strangest equipment seen in Sochi. The lightweight, aerodynamic "booties" have firm, smooth outer soles and are not designed for walking, as the foot completely straightens out when the zipper is closed.
Drone cameras
Helmet cam
Reflective goggles
Ovechkin's skates
Skiing shorts
Inside out helmet?
Skeleton style
Bald eagle
Norwegian trousers
Lady Liberty
Bendy board
'Revolutionary' suits
The BMW sleigh
Luge booties
STORY HIGHLIGHTS
The Winter Olympics revealed a wide range of high-tech equipment
While some gear enhances athletes' performance, some are more focused on style
U.S. speed skating team suffered problems with its hi-tech bodysuits
TV companies used drones for aerial shots of mountain events
Follow us at @WorldSportCNN and like us on Facebook
(CNN) -- The Winter Olympics' motto was " Hot. Cool. Yours."
From eye-popping helmet designs to Formula One-influenced bobsleigh, the Sochi 2014 Games offered a bewildering array of technological innovation as well as some seriously "pimped up" athlete equipment.
As well as the funky headgear, who could forget the Norwegian curling team's pants, which were reminiscent of an abstract Mondrian painting?
Bobsleigh was in the vanguard of exploring new technological improvements, with a number of teams hooking up with leading F1 marques or car manufacturers.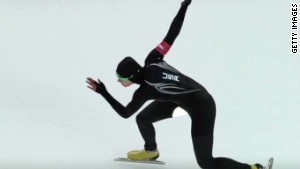 Under Armour: Don't blame our suits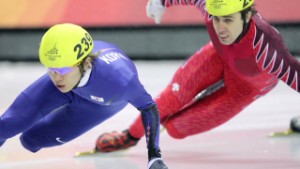 Tech takes speed skating to the next level
While the Italian National Olympic Committee worked with Ferrari, the U.S. two-men bobsleigh team benefited from its collaboration with BMW.
The result? The first American two-man bobsleigh medal in 62 years.
The U.S. speed skating team had less luck with its Mach 39 Under Armour suits, leaving the Winter Olympics without a medal for the first time since 1984.
Despite the criticism of the team's suits, last week U.S. Speed Skating renewed its partnership with Under Armour for another eight years.
"Look, we got beat up a little bit last week and speed skating is obviously getting beaten up," Under Armour chief executive Kevin Plank told CBS' "This Morning" show.
"So what we don't do is we don't retreat. We dust ourselves up and we come back bigger, better and stronger than we ever were before."
Television companies got in on the act using a hexacopter -- or remote piloted aircraft -- to transmit live video of snowboard and ski jump competitions to a screen near you.
Take a look at the gallery above to see the gear that made Sochi cool.