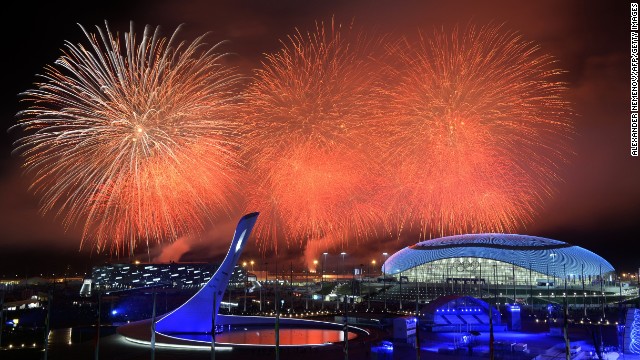 Fireworks explode over the Olympic park at the end of the closing ceremony for the Sochi Winter Olympics on Sunday, February 23.
The Olympic rings are lit by fireworks as the closing ceremony comes to an end.
South Korean artists perform during the closing ceremony. Pyeongchang, South Korea, will host the Winter Olympics in 2018.
The Olympic flag is handed over to Lee Seok-rai, mayor of Pyeongchang.
Olympic mascots the Hare, the Polar Bear and the Leopard stand by the extinguished Olympic flame.
A balloon floats through falling confetti during the ceremony.
The Bear mascot blows out the Olympic flame.
Dancers celebrate Russian ballet.
A dancer gleams during the closing ceremony.
A performer hangs from a wire in front of the Olympic rings.
International Olympic Committee President Thomas Bach, left, and Russian President Vladimir Putin helped close the Games.
A boat floats through the air.
The flags of the competing nations enter the arena.
Dancers deliver a nod to the malfunction of an Olympic ring during the opening ceremony.
The Olympic and Russian flags are raised as the Russian national anthem is sung.
Winter Olympics closing ceremony
Winter Olympics closing ceremony
Winter Olympics closing ceremony
Winter Olympics closing ceremony
Winter Olympics closing ceremony
Winter Olympics closing ceremony
Winter Olympics closing ceremony
Winter Olympics closing ceremony
Winter Olympics closing ceremony
Winter Olympics closing ceremony
Winter Olympics closing ceremony
Winter Olympics closing ceremony
Winter Olympics closing ceremony
Winter Olympics closing ceremony
Winter Olympics closing ceremony