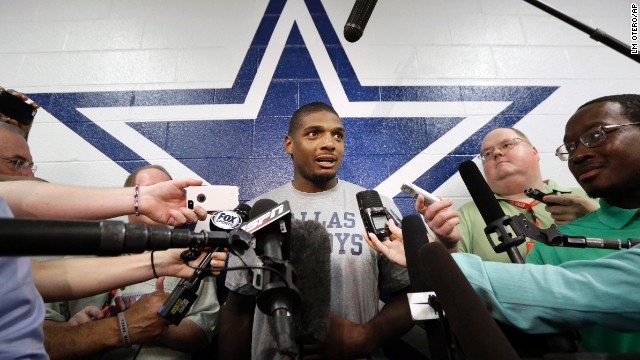 Michael Sam speaks to reporters Wednesday, September 3, after practicing at the Dallas Cowboys' headquarters in Irving, Texas. Sam, who made history as the first openly gay player to be drafted into the NFL,
did not make the St. Louis Rams' final 53-man roster
, but he was signed by the Cowboys to be on their practice squad.
Sam looks on prior to the NFL preseason game between the St. Louis Rams and the Miami Dolphins on August 28. "The most worthwhile things in life rarely come easy, this is a lesson I've always known," Sam tweeted after the Rams released him. "The journey continues."
Sam mocks Johnny Manziel's "money" celebration after sacking the Cleveland Browns quarterback during a preseason game August 23 in Cleveland. Sam, a defensive end, had three sacks in the preseason.
Sam accepts the Arthur Ashe Courage Award during the 2014 ESPYs on July 16. "Great things can happen when you have the courage to be yourself," Sam said while accepting the award, which is given to those who have shown strength in the face of adversity and stood up for their beliefs.
Cammisano tweeted
a photo of their kiss and said he was "so proud and happy."
Sam and his boyfriend, Vito Cammisano, kiss in San Diego after Sam was drafted on May 10. Sam was selected by the Rams in the seventh round with the 249th overall pick.
Sam hoists the Cotton Bowl trophy as the University of Missouri's football team is honored at halftime of a Missouri basketball game February 15 in Columbia, Missouri. Sam was instrumental in leading the Tigers to a 12-win season, an SEC Eastern Division title and a Cotton Bowl victory over Oklahoma State. He was named to many All-American teams, and he was selected as the SEC's co-defensive player of the year.
Sam runs the 40-yard dash February 2 during the NFL Scouting Combine in Indianapolis.
Sam runs onto the field January 25 before the NCAA Senior Bowl in Mobile, Alabama.
Sam reacts after Oklahoma State missed a field goal January 3 during the Cotton Bowl in Arlington, Texas.
Sam speaks to the media during a Cotton Bowl news conference on January 1.
Sam celebrates with fans November 9 after Missouri defeated the Kentucky Wildcats in Lexington, Kentucky.
Sam celebrates a sack October 19 during the first half of a game against the Florida Gators.
Sam returned a fumble for a touchdown October 12 against the Georgia Bulldogs in Athens, Georgia.
Sam and his Missouri teammates sing the school song September 21 after defeating Indiana in Bloomington, Indiana.
Michael Sam's journey
Michael Sam's journey
Michael Sam's journey
Michael Sam's journey
Michael Sam's journey
Michael Sam's journey
Michael Sam's journey
Michael Sam's journey
Michael Sam's journey
Michael Sam's journey
Michael Sam's journey
Michael Sam's journey
Michael Sam's journey
Michael Sam's journey
STORY HIGHLIGHTS
Michael Sam talks to reporters at the NFL Scouting Combine
He recently came out; could become NFL's first openly gay player
The Missouri star says he'd prefer to talk football, "but it is what it is"
Of gay slurs, he predicts, in time "everyone will adapt"
(CNN) -- There's Michael Sam, the football player. And Michael Sam, the man who could soon become the National Football League's first openly gay player.
Speaking Saturday at the NFL Combine, the University of Missouri star defensive end said he wished reporters would think of him in the former terms and ask him about schemes, his performance and his potential.
"But," Sam conceded, "it is what it is."
And so Sam patiently fielded question after question that, directly or indirectly, related to his sexuality and topics such as gay slurs, bullying and more.
The All-American defensive lineman from the University of Missouri publicly revealed that he's gay in an ESPN interview that aired on February 9. The revelation stirred a flurry of talk and debate about whether pro football players would accept a homosexual teammate, and whether Sam's announcement could hurt his chances of being drafted and ultimately making a team.
"I understand how big this is," Sam said then. "It's a big deal. No one has done this before. And it's kind of a nervous process, but I know what I want to be ... I want to be a football player in the NFL."
The NFL Scouting Combine in Indianapolis marks a chance for Sam, like any other prospect, to be evaluated and answer questions from representatives from the league's 32 clubs. While it started as a behind-the-scenes affair, the combine has transformed into a big event that's even broadcast extensively for millions of fans to track.
Facing the media is part of that process.
In his opening comments, Sam -- who has since spoken to many other news outlets besides ESPN -- lightly said that he'd "shown you guys enough the last couple of weeks. But I'm learning, with the media, that you guys want more."
So the questions came, like how he felt about gay slurs flying around among teammates.
Sam responded that he'd "been in locker rooms with all kinds of slurs (being) said," but didn't take it personally believing that those players using such language were probably "a little naive." But going forward, he expects this to become less of an issue.
"As time goes on," Sam said, "everyone will adapt."
What about joining the Miami Dolphins, which -- according to recently released Wells Report -- had been marred by harassment, offensive language and more involving its offensive line?
If Miami drafted him, Sam said he would be "excited," not fearful.
"I'm not afraid about going into that (kind of) environment," he added. "I know how to handle myself, I know how to communicate with my teammates, I know how to communicate with the coaches and the staff -- whomever I need to communicate with."
Repeatedly, Sam talked about his future in the NFL as a player, as much as being a gay role model. After all, this past season, he was named the top defensive player in the Southeastern Conference, considered the nation's best league. And teammates named him Missouri's most valuable player.
Still, there's no doubt that Sam has become a national figure not because of his play, but because he came out. Not all of the attention has been good, like reports that some teams might avoid drafting him now and that he might not be welcomed in NFL locker rooms.
Still, Sam insisted Saturday, "the positive outweighs the negative." He gave special thanks to members of the Missouri community -- stating "I am M-I-Z-Z-O-U, I'm a Tiger forever" -- while also expressing appreciation for many more people who he's never met.
"I'm kind of surprised, actually," Sam said. "There's a lot of support, there's a lot of people who want this."