STORY HIGHLIGHTS
NEW: At least 11 shells strike a Golan Heights village just past Israel's frontier with Syria
A Syrian government position near the village of Bir Ajam can be seen firing its weapons
Israel is treating some of the injured who cross from Syria to go to its hospitals
Israel's aid may help to keep more moderate Syrian rebels near the frontier
Golan Heights (CNN) -- Heavy shelling and gunfire echoed close to the Syrian-Israeli frontier at the Golan Heights on Friday as the long-running war between Syrian rebels and government forces raged in a strategic area.
Plumes of smoke rose from Syria's southern villages, only a few miles across Israel's northern frontier, and bursts of automatic weapons fire were audible from the rocky plateau of the occupied Golan.
In the space of a few hours Friday, a CNN team overlooking the village of Bir Ajam, less than a mile from the fence marking the frontier, saw at least 11 shells land on a community where earlier farmers had been seen and children heard playing.
A government artillery position about a mile and a half from the village was seen to fire, and heavy machine gun fire was also heard.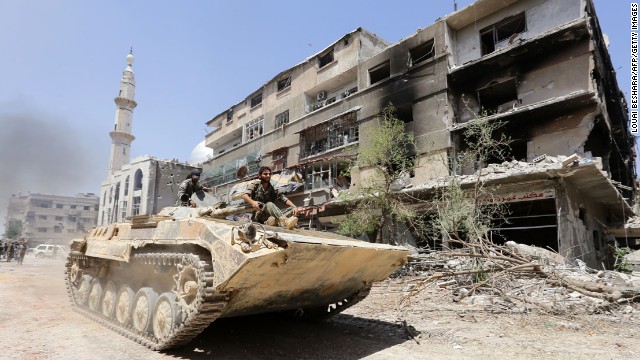 This image was taken during a government guided tour in Mleiha, Syria, one day after Syrian government forces retook the town after a monthslong battle with rebels, according to a military source and state television on Friday, August 15. The United Nations estimates more than 190,000 people have been killed in Syria since an uprising in March 2011 spiraled into civil war.
Residents inspect the rubble of destroyed buildings in Aleppo, Syria, after Syrian regime helicopters allegedly dropped barrel bombs there on Wednesday, August 13.
Smoke trails over Aleppo following barrel bombs that were allegedly dropped by the Syrian regime on an opposition-controlled area on Monday, August 11.
Photographs of victims of the Bashar al-Assad regime are displayed as a Syrian Army defector known as "Caesar," center, appears in disguise to speak before the House Foreign Affairs Committee in Washington. The briefing on Thursday, July 31, was called "Assad's Killing Machine Exposed: Implications for U.S. Policy." Caesar was apparently a witness to al-Assad's brutality and has smuggled more than 50,000 photographs depicting the torture and execution of more than 10,000 dissidents.
Syrian rebel fighters take up positions behind sandbags in Aleppo on Wednesday, July 30.
People carry an injured man away from the site of an airstrike, reportedly carried out by Syrian government forces, in Aleppo on Sunday, July 27.
Rebel fighters execute two men Friday, July 25, in Binnish, Syria. The men reportedly were charged by an Islamic religious court with detonating several car bombs.
A rebel fighter stands on a dust-covered street in Aleppo on Monday, July 21.
A man clears debris at the site of an alleged barrel-bomb attack in Aleppo on Tuesday, July 15.
A woman walks amid debris after an airstrike by government forces July 15 in Aleppo.
People walk on a dust-filled street after a reported barrel-bomb attack in Aleppo on Monday, July 7.
Apartments and other buildings lie in ruins on Tuesday, June 3, in Aleppo, a city that "has had the life bombed out of it," according to CNN's Nick Paton Walsh.
A man carries a girl injured in a reported barrel-bomb attack by government forces June 3 in Aleppo.
A rebel fighter loads an anti-tank cannon outside Latakia, Syria, on Sunday, June 1.
A rescue worker pulls a girl from rubble in Aleppo on June 1 after reported bombing by government forces.
A giant poster of Syrian President Bashar al-Assad is seen in Damascus, Syria, on Saturday, May 31, as the capital prepares for presidential elections.
Portraits of al-Assad dominate the cityscape in central Damascus on Tuesday, May 27. Al-Assad is firmly in power three years into the civil war, while the opposition remains weak and fragmented and extremists grow in numbers and influence.
The father of a 3-month-old girl weeps Monday, May 26, after she was pulled from rubble following a barrel-bomb strike in Aleppo.
A woman stands in a heavily damaged building in Aleppo on May 26.
An injured man lies in a hospital bed after alleged airstrikes by government forces in Aleppo on Sunday, May 18.
Buildings in Homs, Syria, lie in ruins Saturday, May 10, days after an evacuation truce went into effect. Thousands of displaced residents returned to the city.
Rescuers carry a man wounded by a mine in the Bustan al-Diwan neighborhood of Homs on May 10.
A Syrian woman carries a suitcase along a street in the Juret al-Shayah district of Homs on May 10.
Residents carry their belongings in the al-Hamidieh neighborhood of Homs on May 10.
A woman injured when a mine went off is carried in Homs on May 10.
Residents return to damaged dwellings in Homs on May 10.
Debris lies on a deserted street in Homs on Thursday, May 8.
A mosque is seen through shattered glass in Homs, where an evacuation truce went into effect on Wednesday, May 7.
A wounded man is treated at a makeshift hospital in Aleppo on Sunday, May 4.
Debris rises in what Free Syrian Army fighters said was an operation to strike a checkpoint and remove government forces in Maarat al-Numan, Syria, on Monday, May 5.
A man helps a woman through debris after reported airstrikes by government forces on Thursday, May 1, in the Halak neighborhood of Aleppo.
Syrians gather at the site of reported airstrikes in Aleppo on May 1. According to the Syrian Observatory for Human Rights, at least 33 civilians were killed in the attack.
A woman runs after two barrel bombs were thrown, reportedly by forces loyal to Syrian President Bashar al-Assad in Aleppo on May 1.
A boy runs in Aleppo on Sunday, April 27, after what activists said were explosive barrels thrown by forces loyal to al-Assad.
Security and emergency medical personnel work at the site of a car bomb explosion Monday, April 14, in the Ekremah neighborhood of Homs.
In this photo released by the state-run SANA news agency, Syrian forces take positions during clashes with rebels near the town of Rankous, Syria, on Sunday, April 13.
Flames engulf a vehicle following a car bomb Wednesday, April 9, in the Karm al-Loz neighborhood of Homs.
A man carries a child who was found in the rubble of an Aleppo building after it was reportedly bombed by government forces on Monday, March 18.
An elderly man and a child walk among debris in a residential block of Aleppo on March 18.
A woman with blood on her face carries a child following a reported airstrike by government forces Saturday, March 15, in Aleppo.
People attempt to comfort a man in Aleppo after a reported airstrike by government forces on Sunday, March 9.
Buildings in Homs lay in ruins on March 9.
Syrian forces fire a cannon and a heavy machine gun loaded on a truck as they fight rebels in the Syrian town of Zara on Saturday, March 8.
A handout photo released by SANA shows Syrian President Bashar al-Assad speaking March 8 during a meeting in Damascus to mark the 51st anniversary of the 1963 revolution, when Baath Party supporters in the Syrian army seized power. Al-Assad said the country will go on with reconciliation efforts along with its fight against terrorism.
Syrians inspect the rubble of destroyed buildings in Aleppo following a reported airstrike by Syrian government forces on Friday, March 7.
People dig through the rubble of a building in Damascus that was allegedly hit by government airstrikes on Thursday, February 27.
A boy walks ahead of men carrying the body of his mother in Aleppo on Saturday, February 22. According to activists, the woman was killed when explosive barrels were thrown by forces loyal to al-Assad.
A man holds a baby who survived what activists say was an airstrike by al-Assad loyalists Friday, February 14, in Aleppo.
In this photo provided by the anti-government activist group Aleppo Media Center, Syrian men help survivors out of a building in Aleppo after it was bombed, allegedly by a Syrian regime warplane on Saturday, February 8.
Syrians gather at a site hit by barrel bombs, allegedly dropped by a regime helicopter on the opposition-controlled Mesekin Hananu district of Aleppo on February 8.
In this handout photo released by the state-run SANA news agency on February 8, civilians wave national flags in Damascus as they take part in a rally in support of President al-Assad.
A man stands next to debris in the road following a reported airstrike by Syrian government forces in Aleppo on February 8.
Medical personnel look for survivors after a reported airstrike in Aleppo on Saturday, February 1.
Syrians carry a dead body following an airstrike on February 1.
A man walks amid debris and dust on January 31.
An injured man is covered in dust after an airstrike on January 29.
A man tries to fix electrical wires in Aleppo on January 27.
Rebels and civilians check out a crater that activists say resulted from a Syrian government airstrike on an Aleppo bus station on Tuesday, January 21.
Men rush to a site that Syrian government forces reportedly hit in Aleppo on January 21.
Buildings lie in ruins in Aleppo on Sunday, January 19, after reported air raids by Syrian government planes.
A child collects items from a garbage pile in Douma, Syria, northeast of the capital, on Saturday, January 18.
A piece of exploded mortar lies in a street in Daraya, a Syrian city southwest of Damascus, on Friday, January 17.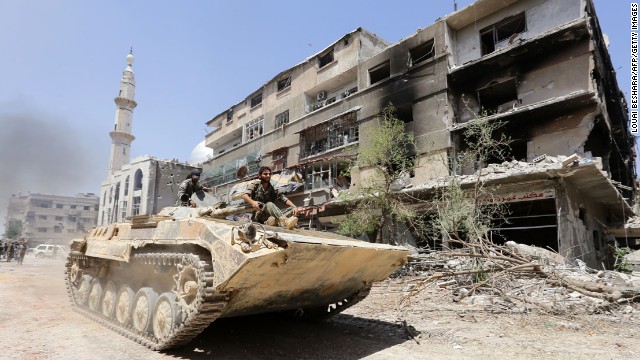 Photos: Syrian civil war in 2014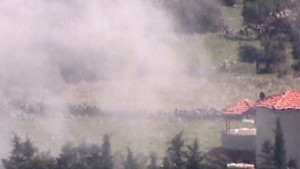 Watch shelling near Syrian-Israeli frontier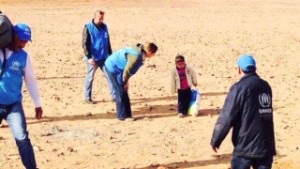 Young Syrians desperate to find loved ones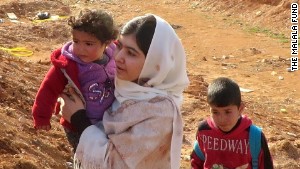 Malala: We risk losing Syria generation
The village is about five miles from Quneitra. The Quneitra crossing is the only access point between Syria and Israel and has previously been fiercely fought over by rebels and government forces.
The area being fought over by rebels and Syrian forces is strategically important because the Syrian capital, Damascus, lies only about 25 miles away.
If the rebels take control of the border area, they could potentially use it as a base to move toward the capital.
The border with Jordan is also not far away.
In recent months, reports have emerged -- denied by the Jordanian government -- that rebels are being trained in Jordan for operations just over the border in Syria against the forces of Syrian President Bashar al-Assad.
Netanyahu: Dividing line between good and bad
Israeli Prime Minister Benjamin Netanyahu visited the Golan Heights this week, underlining its importance to Israel.
"Here's the dividing line, on the Golan Heights, between the good and the bad," he said. "The bad is what is happening on the Syrian side of the border."
According to the United Nations, more than 100,000 people have died in the Syrian conflict, which began in March 2011 when government forces cracked down on peaceful protesters and then the conflict morphed into a civil war.
In the past year, Israeli authorities have treated injured people brought across the heavily fortified frontier between Syria and Israel.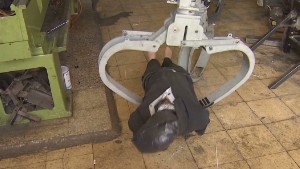 Could a robot will help sniper victims?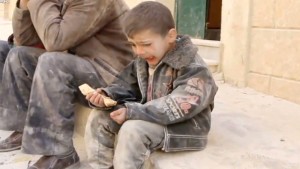 Children suffer Syrian barrel bomb attacks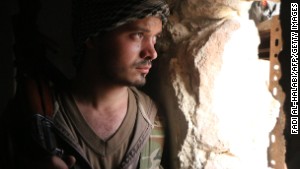 What are the U.S. options in Syria?
The injured, numbering dozens a month, are taken to Israeli medical facilities, including a field hospital specially set up just over the border.
On his visit to the area, Netanyahu toured the hospital, where children are among those being treated.
One patient, a 21-year-old Syrian man from Daraa who received three weeks of treatment for a leg injury may or may not have been a rebel.
Col. Tarif Bader, chief medical officer for the Israel Defense Forces' Northern Command, said it didn't matter to him whether the young man was a fighter, though he probably was.
When asked, the young man said he was not a rebel and returned to war-torn Syria later that day.
Does Israel have strategic aim?
Such help may surprise some observers, given the long history of enmity between Israel and Syria.
But the hospitals and other humanitarian aid may play a more sophisticated role for Israel: keeping radical rebels such as the Islamic State in Iraq and Syria away from the border by helping more moderate rebel groups.
Ehud Yaari, a longtime Israeli analyst and TV commentator who tracks radicals and Israel's response to them, said he saw a strategic plan in Israel's actions.
"Israel is just making sure that the villages along the frontier remain sort of friendly, at least, nonhostile, and they are not shooting at us," he said.
At the field hospital, Bader insists the army is simply helping people in need.
But Israel's approach may be helping to win over the minds of those across the frontier.
The young man from Daraa, asked if his view of Israel had changed, replied: "It turns out to be the best state. ... The regime used to make us hate it, but it turned out to be the best country."
The mountainous Golan was captured by Israel during the Six-Day War in 1967 against Egypt, Iraq, Jordan and Syria. A peace deal was reached between Israel and Syria in 1974, and a U.N. observer force monitors the cease-fire line. Israel annexed the Golan Heights in 1981.
Read: Kerry: Fresh barrel bomb attack shows Syrian regime's 'true colors'
Read: Syria: Why fascism is 'never lesser of two evils'
Read: CNN exclusive: Videos show brutality of radical group ISIS in Syria
CNN's Nic Robertson reported from the Golan Heights, and Laura Smith-Spark wrote in London. CNN's Saad Abedine contributed to this report.