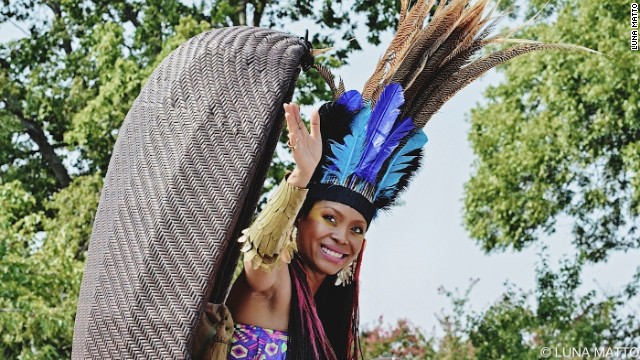 Cape Town International Jazz Festival is touted as "Africa's Grandest Gathering." Every year it boasts five stages and over 40 artists performing over two nights. Pictured is U.S. singer Erykah Badu, who will perform at the 2014 event.
Lake of Stars takes place annually on the shores of Lake Malawi and in Malawi's capital of Lilongwe. The festival has attracted many international artists such as BBC Radio 1's Mistajam, a champion of UK underground music
British dance DJ Goldierocks spins the revelers into a dancing frenzy at Lake of Stars.
Every year, The Marrakesh Popular Arts Festival features singers, dancers, theater troupes, fortune tellers, fire-swallowers, and snake charmers from all over Morocco and abroad.
The main events take place in the 16th century El Badi palace ruins and the Djemma el Fna (main town square). The festival blends wide range of genres including traditional Berber musicians.
Sauti za Busara, which translates as "Sounds of Wisdom," is also nicknamed "The Friendliest Festival on the Planet." Visitors can enjoy music performances as well as various shows and exhibitions held by local artists.
One of Uganda's best young folk artists Joel Sebunjo plays at Sauti za Busara. This year, the festival features more than 200 artists from 32 countries.
Sauti za Busara included a street carnival parade on the opening day, professional networking forum, and screenings of award-winning African music feature films.
Harare International Festival of the Arts (HIFA) is a six-day event that showcases the very best of local and international culture to celebrate the healing and constructive capacity of the arts.
HIFA features various genres including theater, dance, craft, design and music. Here American Opera singers are accompanied by an international orchestra and a locally assembled Festival Chorus.
HIFA is widely praised for bringing together socially and culturally disparate groups of Zimbabweans and sending a positive message about the country at a time of political uncertainty.
Since 2009, tourists from all over southern Africa and the world descend upon Victoria Falls for an exceptional New Year's party - Vic Falls Carnival.
In addition to concerts and shows, Vic Falls Carnival visitors can enjoy bungee jumping, elephant safari, and white water rafting.
Bushfire calls on visitors to "Bring their Fire" to the Festival and into their everyday lives, and to promote a collective response for positive change.
Bushfire festival helps nurture the Swazi arts and cultural scene. Organizers say they give 100% of the profits to orphans and to the non-profit rural community development project.
Cape Town Jazz Festival - South Africa
Lake Of Stars - Malawi
Lake Of Stars - Malawi
Marrakesh Popular Arts Festival - Morocco
Marrakesh Popular Arts Festival - Morocco
Sauti Za Busara - Tanzania
Sauti Za Busara - Tanzania
Sauti Za Busara - Tanzania
HIFA - Zimbabwe
HIFA - Zimbabwe
HIFA - Zimbabwe
Vic Falls Carnival - Zimbabwe
Vic Falls Carnival - Zimbabwe
Bushfire Festival - Swaziland
Bushfire Festival - Swaziland
STORY HIGHLIGHTS
"Fest Gurus" are on a mission to visit every major festival in Africa
They pick seven of the continent's must-see music festivals
Lake Of Stars -- in Malawi -- has been called the "world's finest festival"
Cape Town hosts one the world's biggest jazz festivals
Editor's note: Lorraine Bgoya and Mazuba Kapambwe host "The Fest Gurus" -- a travel/docu-reality web series that follows four young Africans with a festival bucket list. The latest episode -- The Fest Gurus X Hifa -- can be viewed here.
(CNN) -- One of the most exciting things about the African continent is its dynamic arts and culture scene. The celebration of this is even more amazing. The Fest Gurus have set out on a journey to visit every major festival on the continent to share their beauty and tell a different story about Africa through the exploration of its arts, culture and music.
Festivals are not just a good time but a key element in the development of the arts scene, one of Africa's hidden treasures. Here are seven of the continent's best.
Lake Of Stars - Malawi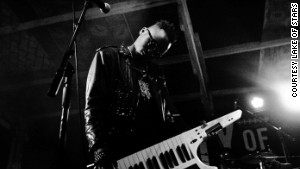 Sauti Sol performing at Lake of Stars spin-off City of Stars.
Every year for the past 10 years, Lake Malawi has played host to one of Africa's most respected festivals, the Lake of Stars. The Lake of Stars festival has been hailed variously as "simply the finest festival in the world" and "the world's most spectacular music festival" by major media outlets.
There's never a dull moment at this event; some performers have been known to do their sets from trees, while the minister of tourism even skydived into the festival. One of the most interesting aspects of the festival is that none of the international artists who perform are paid a fee. Past editions have included headliners The Noisettes, Oliver Mtukudzi, and FreshlyGround. Local Malawian music fuses with styles including Swedish electronic dance music at this festival. (26-28 September 2014)
HIFA - Zimbabwe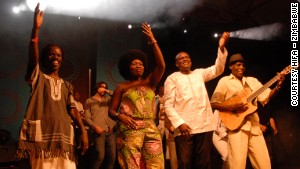 HIFA - Zimbabwe
The Harare International Festival of the Arts (HIFA) is touted as the "Glastonbury of African festivals."
Established in 1999, the festival takes place each year in late April or early May in Harare, the capital of Zimbabwe. The week-long festival encompasses five principal disciplines: theater, music, dance, fine art, and poetry. Attendees can take djembe drumming lessons, take in a poetry session, fashion show or catch their favorite artists performing.
HIFA is probably the most innovative in terms of social media use; last year, the festival had a screen that showed attendees' tweets. Another great thing about HIFA is that you pay per event, according to your interest, unlike other festivals where a standard price is paid for all events. (29 April - 4 May)
Read more: Mysterious stone kingdom of Great Zimbabwe
Cape Town International Jazz Festival - South Africa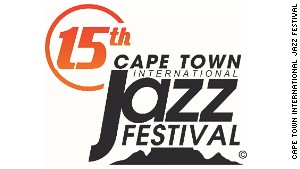 Cape Town International Jazz Festival
South Africa plays hosts to many of Africa's big festivals including Oppikoppi, Joburg Arts Fest and Grahamstown Festival. However, the Cape Town International Jazz Festival is one of the most popular and longest running.
Founded in 2000, it is recognized as the fourth-largest jazz festival in the world and the largest jazz festival on the African continent. The great thing about this festival is that it features performers across a variety of genres, so there's something for everyone. The action takes place across two huge stages. This year's crop of artists features Erykah Badu alongside local acts like Micasa, The Soil and more.
With the festival celebrating 15 years, and Cape Town being named the "World Design Capital of 2014," it's one not to be missed! (March 28-29 2014)
Read also: Cape Town draped in color for 'slave' carnival
Sauti Za Busara - Tanzania
The Sauti za Busara festival, which translates to "Sounds of Wisdom," is held every year in February in Stone Town, Zanzibar, Tanzania. Performance spaces include old forts, amphitheaters and other historic buildings. Besides live music shows, the festival includes several other activities such as movie screenings, fashion shows and networking events for those in the entertainment industry. (February 13-16 2014)
Marrakesh Popular Festival of the Arts - Morocco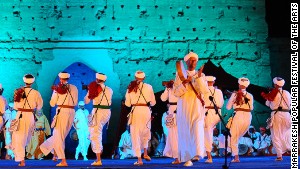 Marrakesh Popular Festival of the Arts
Like South Africa, Morocco hosts a large number of festivals. At the Marrakesh festival, expect to see snake charmers, fortune tellers, fire eaters and acrobats competing for your attention while you listen to traditional Moroccan music via Berber musicians, drummers and dancers. (2014 dates TBA)
Read also: Holy water washes away sins at Ethiopian festival
Bushfire Festival - Swaziland
When post people think of Swaziland, they think of King Mswati and the Reed Dance. However, the capital city Mbabane puts on a thriving music festival called based Bushfire. It was listed as one of "Nine Music Festivals You Actually Want to Attend This Summer" by MTV Iggy.
Like HIFA, Bushfire fest hosts an impressive lineup of international and local acts. The party never ends as guests have the option of camping at the festival location. Of the things that makes the fest unique is that all funds raised go back to the local communities. (30 May-1 June 2014)
Vic Falls Carnival - Zimbabwe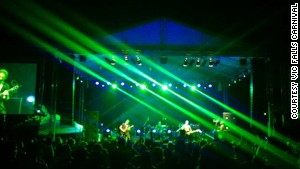 Vic Falls Carnival - Zimbabwe
Vic Falls carnival is the youngest festival on the list (it begun in 2011) and takes place in Victoria Falls Town, Zimbabwe. Performances take place during the evening so that guests can take advantage of the tourist capital by day by indulging in activities like white water rafting, paying a visit to the Victoria Falls, bungee jumping or visiting the museum.
Although held at the very end of December, southern Africa's rainy season, this three-day festival is the perfect way to welcome the New Year. Expect a mostly alternative/rock lineup with some local Zimbabwean acts and one or two artists from neighboring Zambia.
One of the unique aspects of Vic Falls fest is the journey there. A steam train picks up attendees in South Africa, while Namibians, Tswana's and Zambians can catch buses in their respective countries. On one night of the festival, guests are packed into the steam train which stops in the middle of a national park and hosts a DJ-fueled dance party. (2014 Dates TBA)
Read this: Voodoo dances and mystic trances: Five great African festivals
Read this: Lagos photo festival puts mega city in the spotlight