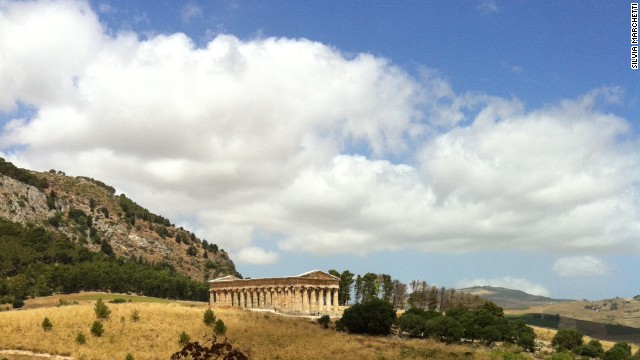 Off the tourist route, the solitude here helps transport you to ancient times.
Aperitifs, sunset and silence on the water.
No TV, no phone, no mini-bar, no air-con. No iPhones. No noise.
The farthest and wildest of the Aeolian Islands, Alicudi offers a no-frills, zero sound pollution break.
Once a malarial swamp, the Ninfa Gardens are now a paradise where the only sound is running water and whirring of wings.
"Sea silence" is the specialty on this tiny volcanic atoll between Sicily and Tunisia.
Segesta ruins (Sicily)
Stagnone Lagoon (Sicily)
Eremito Hotelito del Alma (Umbria)
Alicudi (Aeolian Islands )
The Gardens of Ninfa (Lazio)
Linosa, Pelagie Islands
STORY HIGHLIGHTS
Academy of Silence announces plan to map Italy's quietest places
One possible candidate is a hotel with no TVs or phones -- and single rooms only
Sicily's Stagnone Lagoon promises quality silence on the water
Almost abandoned Civita di Bagnoreggio is falling off a cliff -- but it's peaceful
(CNN) -- Many people have heard of the Slow Food movement -- the global organization founded in Italy to counter fast food and the "fast life."
Its adherents favor gastronomic tradition and the calm, contemplative enjoyment of cuisine and life in general.
Now another idea is taking hold in the wake of Slow Food -- the quest for a quiet Italy.
It's embodied in the establishment of a new Academy of Silence (Italian site only), in Tuscany, which seeks to gather a list of the quietest hotels, towns and other places in Italy.
We've collected 10 idyllic spots -- among the calmest, quietest and most powerfully relaxing in all Italy -- to suggest to the Academy as prime candidates for inclusion.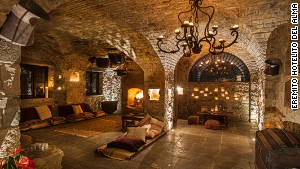 Take that outside -- iPhones are banned at Eremito Hotelito del Alma.
1. Eremito Hotelito del Alma (Parrano, Umbria)
No TV, no phone, no mini-bar, no air-con.
Go to bed when it's dark, wake up at dawn.
Candlelight only after sunset.
Phones to be used outside only.
This is also the first hotel in Italy with only single rooms -- so not the place for romance.
It still feels like the monastery it once was -- the monk's cells have been converted into rooms -- except now there's a spa, and great Umbrian food instead of bread and water.
There are even Gregorian chants -- listening to them makes lying in the heated rock pool all the more relaxing.
During the day, there's little to do except explore the surrounding 3,000 hectares of national reserve.
Or practice doing nothing.
Eremito Hotelito del Alma, Localitá Tarina, 2; +39 (0)76 389 1010; rooms from $208
2. Stargazing from the Rocca D'Orcia Tower (Siena, Tuscany)
A single, stone medieval tower sits atop a wooded hill, overhanging a precipice.
From this superb lookout, you'd once have been able to spot enemies approaching from miles around across the Val d'Orcia valley.
Now it's open to the public -- a noble family fell on hard times and sold it to the state.
Surrounding it are just a few stone houses and cobbled streets.
Maybe the odd cat.
On clear nights, standing atop the tower, thick star clusters illuminate hills, vineyards and Renaissance-era dwellings.
If Tuscany has anywhere more quiet and calm, someone's keeping silent about it.
La Rocchetta (Via della Chiesa, 8; +39 (0)55 228 0413; rooms from $40) is a B&B in the middle of the hamlet, right under the tower.
The Osteria Perillá (Borgo Maestro, 72; +39 (0)577 887 263; dishes from $20) serves traditional meals such as bean soup and pici, typical handmade pasta.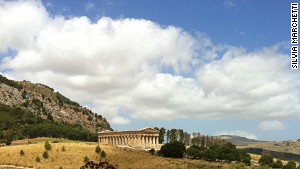 Segesta: Just you and ancient history.
3. Segesta ruins (Trapani, Sicily)
It's much easier to be transported to ancient times when you're contemplating ruins in virtual solitude.
Segesta's ruins are superb and all the better without the crowds at the Valley of Temples elsewhere in Sicily.
Legend says Segesta was built by Achilles' companion, the Greek warrior Aeneas, on returning home after burning Troy.
There's a temple, theater and sanctuary.
MORE: Italy's 20 regions, dish by delicious dish
Set in a remote part of Sicily, surrounded by fields, the archaeological site is nonetheless well-kept.
It's way off the traditional tourist route and one of the least visited ancient sites in Italy.
Baglio Segesta (Italian site only; Contrada Pispisa; +39 348 883 0124; rooms from $54) is a typical Sicilian rural estate close to the site.
4. The Gardens of Ninfa (Norma-Latium, Lazio)
Eden, if it existed, quite possibly looked like this.
There are cascades of multicolored plants, spouting fountains and rich bird life.
Running water is the only sound, and the odd tweet and whirr of wings.
Once a hellish, malaria-infested backwater, the Ninfa Gardens were turned into a 105-hectare oasis in the early 20th century by the Caetani Princes.
The Ninfa ("Nymph") River cuts through the space, which includes rare ruins of an entire medieval town.
Norma on the Lepini Hills, overlooking the Pontine Valley and the sea, is the closest city.
Hotel Villa del Cardinale (Via dei Colli 44, Norma; +39 (0)773 354 611; rooms from $38) has a well regarded restaurant with Latium specialties.
5. Stagnone Lagoon (Marsala, Sicily)
Separating you from the open sea -- the Mediterranean -- is an archipelago of small islands dotted with ancient windmills.
On the lagoon in a boat, you hold a glass of sweet Marsala wine.
In the background, there's an orange-pink sunset.
The only sounds come from things