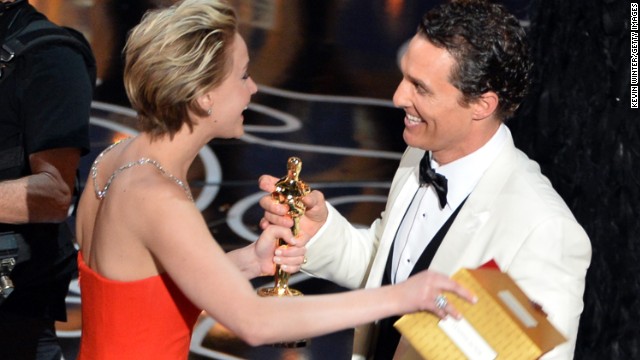 Matthew McConaughey accepts the best actor Oscar on Sunday, March 2, for his role in the film "Dallas Buyers Club." Find out which legends took home Oscars before McConaughey -- from German actor Emil Jannings in 1929 to three-time winner Daniel Day-Lewis in 2013:
The first best actor Oscar went to Emil Jannings at the academy's inaugural ceremony held in 1929. Jannings received the honors for two films: 1927's "The Way of All Flesh" and 1928's "The Last Command."
Warner Baxter, right, earned the best actor Oscar for his role as the Cisco Kid in "In Old Arizona" (1929). Baxter appears here with best actress winner Mary Pickford at the April 1930 awards ceremony, which recognized films made between August 1, 1928, and July 31, 1929. Baxter loved the role so much he reprised it twice more, in "The Cisco Kid" (1931) and again in "The Return of the Cisco Kid" (1939).
George Arliss won the best actor Oscar for "Disraeli," apparently also beating himself since he was nominated for that film and "The Green Goddess." In the early years of the Oscar, a single nomination could recognize more than one role. However, for reasons not entirely clear, the actor won solely for "Disraeli." Perhaps it was a glitch on behalf of the academy, or perhaps voters truly preferred his portrayal as the famed British prime minister. The November 1930 awards ceremony recognized work from 1929 and 1930.
Lionel Barrymore, here with "Min and Bill" best actress winner Marie Dressler, won the best actor Oscar for his work in "A Free Soul." Barrymore played an alcoholic lawyer whose daughter gets involved with a mobster he helped go free.
The previous year's Oscar winner Lionel Barrymore, left, presents Wallace Beery, right, with the best actor Oscar for "The Champ." Beery tied that year with Fredric March in "Dr. Jekyll and Mr. Hyde."
Fredric March, right, was honored the same year as Wallace Beery for "Dr. Jekyll and Mr. Hyde." Beery actually received one less vote than March, which it resulted in a tie winner according to academy rules of the day.
British actor Charles Laughton won the best actor Oscar for the title role "The Private Life of Henry VIII" (1933), beating out Leslie Howard in "Berkeley Square" (1933) and Paul Muni in "I Am a Fugitive From a Chain Gang" (1932). The sixth awards ceremony was held in March 1934 and recognized movies released from August 1, 1932, to December 31, 1933.
Clark Gable's status as a Hollywood icon was cemented when the box-office star won the best actor Oscar for Frank Capra's "It Happened One Night" (1934). The screwball comedy was a massive hit with academy voters at the February 1935 ceremony, sweeping the five big categories -- best picture, best director (Capra), best adapted screenplay and best actress (Claudette Colbert).
Victor McLaglen, left, beat out two earlier Oscar winners to claim the best actor prize for "The Informer." He was up against Charles Laughton and Clark Gable, both nominated for their roles in best picture winner "Mutiny on the Bounty." McLaglen appears with best actress winner Bette Davis and filmmaker D.W. Griffith of "The Birth of a Nation" fame at the March 1936 ceremony.
After two earlier best actor nominations, Paul Muni finally won for the title role in "The Story of Louis Pasteur," the first of several biographical films he made at Warner Bros.
Spencer Tracy, left, with co-star Freddie Bartholomew, won his first best actor Oscar as a Portuguese fisherman in "Captains Courageous." He beat out Oscar-winning actors Fredric March in "A Star Is Born" and Paul Muni in "The Life of Emile Zola." It was Tracy's second nomination.
Spencer Tracy takes home his second best actor Oscar for "Boys Town." He appears here with Bette Davis, best actress for "Jezebel," at the ceremony held in 1939.
Robert Donat's Oscar win for "Goodbye, Mr. Chips" was definitely a surprise. Donat earned the honors for his title role as a schoolteacher, beating out some strong performances, including Clark Gable in "Gone With the Wind," James Stewart in "Mr. Smith Goes to Washington" and Laurence Olivier in "Wuthering Heights."
After losing the Oscar a year earlier for his iconic role in "Mr. Smith Goes to Washington," James Stewart received the award playing a reporter who falls for Katharine Hepburn in "The Philadelphia Story." Stewart and best actress winner Ginger Rogers celebrate their wins at the ceremony held in 1941.
James Stewart, right, bestows pal Gary Cooper with the statuette for "Sergeant York." Cooper nabbed the win over Orson Welles, whose "Citizen Kane" also lost out on the best picture award but has become the epitome of a Hollywood classic.
Gary Cooper, right, congratulates James Cagney for his best actor win in "Yankee Doodle Dandy" at the Oscar ceremony held in 1943. Cooper, also a nominee for "The Pride of the Yankees," didn't seem to hold a grudge against Cagney.
Character actor Paul Lukas faced stiff competition from stars Humphrey Bogart ("Casablanca") and Gary Cooper ("For Whom the Bell Tolls"), but he was able to take home the Oscar for "Watch on the Rhine." Lukas and best actress winner Jennifer Jones celebrate at the ceremony held in 1944.
Bing Crosby, right, and co-star Barry Fitzgerald find a reason to celebrate after the 1945 awards ceremony. They won the best actor and best supporting actor awards, respectively, for "Going My Way."
Ray Milland had a prolific career for decades -- including a standout role in Alfred Hitchcock's "Dial M for Murder" -- but he received only one Oscar nomination. Luckily, he made it count, winning the best actor prize for his role as an alcoholic writer in "The Lost Weekend." Ingrid Bergman presents Milland with the prize at the 1946 ceremony.
Fredric March, right, Dana Andrews, center, and Harold Russell struck a chord with postwar audiences as servicemen returning home in "The Best Years of Our Lives." March picked up his second Oscar for the role.
Ronald Colman, far right, a star since the silent days, picked up the best actor Oscar as a jealous actor in "A Double Life." Coleman appears with the year's other winners at the 1948 ceremony -- from left, Darryl Zanuck, producer of best picture "Gentleman's Agreement," best actress Loretta Young, best supporting actor Edmund Gwenn and best supporting actress Celeste Holm.
Laurence Olivier's commitment to bringing Shakespeare's "Hamlet" to the screen paid off handsomely at the Oscars. Olivier walked away with the best actor Oscar in the title role, and "Hamlet" also won for best picture. Here Olivier appears with best actress winner Jane Wyman in 1949.
Broderick Crawford, second from left, pushed past Kirk Douglas, Gregory Peck, Richard Todd and John Wayne to win the best actor Oscar with "All the King's Men." Crawford appears with best supporting actress winner Mercedes McCambridge, far left, best actress winner Olivia de Havilland and best supporting actor winner Dean Jagger at the 1950 ceremony.
Puerto Rican-born José Ferrer became the first Hispanic to win an Oscar when he was named best actor for "Cyrano de Bergerac." Here he appears with Gloria Swanson, left, and Judy Holliday (best actress for "Born Yesterday") in 1951.
Claire Trevor can't resist giving Humphrey Bogart a kiss backstage at the 1952 Oscars ceremony after he won the best actor award for "The African Queen." Bogart beat out Marlon Brando in "A Streetcar Named Desire," Fredric March in "Death of a Salesman" and Montgomery Clift in "A Place in the Sun."
Gary Cooper won his second best actor award for the classic Western "High Noon" with Grace Kelly. Among Cooper's competitors were Kirk Douglas in "The Bad and the Beautiful," José Ferrer in "Moulin Rouge," Alec Guinness in "The Lavender Hill Mob" and Marlon Brando in "Viva Zapata!"
William Holden celebrates his best actor win for "Stalag 17" with best supporting actress winner Donna Reed at the Oscar ceremony in 1954. It was the actor's second nomination; his first was for Billy Wilder's 1950 classic "Sunset Boulevard."
Oscars host Bob Hope, right, might have tried, but there was no way Marlon Brando was parting with his best actor award at the 1955 ceremony. Brando had lost three years in a row before then, but the actor's luck finally changed with "On the Waterfront."
Ernest Borgnine faced heavy competition for best actor, beating out James Dean ("East of Eden"), Frank Sinatra ("The Man With the Golden Arm"), James Cagney ("Love Me or Leave Me") and Spencer Tracy ("Bad Day at Black Rock"). Backstage at the 1956 ceremony, Borgnine holds the Oscar for his portrayal of a lonely butcher in "Marty."
Yul Brynner repeated his stage success as the King of Siam, winning the best actor Oscar for "The King and I." He's pictured at the 1957 ceremony.
British actor Alec Guinness will always be known to "Star Wars" fans as Obi-Wan Kenobi, but he had an illustrious career on stage and screen long before the George Lucas blockbuster. After losing an earlier Oscar nomination, he finally won the best actor award as a World War II British officer in "The Bridge on the River Kwai."
David Niven, right, joins fellow Oscar winners Burl Ives and Susan Hayward at the 1959 ceremony after winning the best actor award for "Separate Tables." The actor fought off competition from Tony Curtis and Sidney Poitier, both up for "The Defiant Ones"; Paul Newman in "Cat on a Hot Tin Roof"; and Spencer Tracy in "The Old Man and the Sea."
Charlton Heston helped "Ben-Hur" to win a record 11 Academy Awards, shutting out Jack Lemmon, James Stewart, Paul Muni and Laurence Harvey as best actor. Heston appears with French actress Simone Signoret (best actress for "Room at the Top") at the 1960 ceremony.
Burt Lancaster was a winner two times over at the 1961 Oscar ceremony. He won the best actor prize for the title role in "Elmer Gantry," and he had glamorous Elizabeth Taylor, best actress winner for "Butterfield 8," by his side backstage.
Maximilian Schell
won the best actor Oscar over his "Judgment at Nuremberg" co-star Spencer Tracy. Schell had previously portrayed the character of German lawyer Hans Rolfe in a television version of "Judgment."
Gregory Peck's performance as lawyer Atticus Finch in the film of Harper Lee's novel, "To Kill a Mockingbird," was a standout to academy voters. He beat out some stiff competition for best actor: Peter O'Toole for "Lawrence of Arabia" and Burt Lancaster for "Birdman of Alcatraz." Here Peck and his wife, Veronique, attend an Oscar after-party in 1963.
Sidney Poitier became the first African-American to win the best actor Oscar -- for his work in "Lilies of the Field." Poitier had been nominated once before for "The Defiant Ones." Interestingly, Poitier was the only one of the four acting category winners present at the 1964 ceremony.
Who didn't fall in love with "My Fair Lady"? The academy sure did. Rex Harrison took the best actor prize for his role as Henry Higgins at the 1965 ceremony, and the musical won best picture honors, among others. But Audrey Hepburn's performance has Eliza Doolittle wasn't even nominated -- the Oscar went to Julie Andrews for "Mary Poppins."
Lee Marvin won the Oscar for his comic role in "Cat Ballou" over dramatic heavyweights such as Laurence Olivier in "Othello," Richard Burton in "The Spy Who Came in From the Cold," Rod Steiger in "The Pawnbroker" and Oskar Werner in "Ship of Fools." Here, Marvin appears with then-girlfriend Michelle Triola in 1966.
Paul Scofield also was up against some heavyweight actors, particularly Richard Burton in "Who's Afraid of Virginia Woolf?" But Scofield, here with Susannah York, won for his work as Thomas More in the period drama "A Man for All Seasons."
Sidney Poitier may have been the star of the detective drama "In the Heat of the Night," but he was snubbed in the Oscars race. It wasn't that academy voters didn't love the movie though: "In the Heat of the Night" won best picture as well as best actor for Poitier's co-star, Rod Steiger, here holding his Oscar at the 1968 ceremony.
Cliff Robertson's portrayal of a mentally challenged man in the drama "Charly" was enough to bowl over competition such as Peter O'Toole and Alan Arkin.
The best actor category was fierce the year John Wayne won the gold for "True Grit." In only his second nomination, the Hollywood legend beat out newcomers Dustin Hoffman and Jon Voight in "Midnight Cowboy" as well as Richard Burton in "Anne of the Thousand Days" and Peter O'Toole in "Goodbye, Mr. Chips." Barbra Streisand congratulates Wayne at the 1970 ceremony.
calling the politics
surrounding the ceremony "demeaning" and likening the Oscars to a "two-hour meat parade."
"Patton" features one of the most readily recognizable images in films -- that of George C. Scott's general standing in front of the American flag -- and it was as critically acclaimed as it was popular. But while "Patton" nabbed the best picture title and a best actor Oscar for Scott, the actor was having none of it. He refused to accept the prize,
Everyone wanted in on "The French Connection," and star Gene Hackman was rewarded handsomely with the best actor award at the 1972 ceremony.
An Oscar is an honor most stars would never refuse, but Marlon Brando did when the academy bestowed him with the best actor prize for "The Godfather" at the 1973 ceremony. Brando, who had won the award once before, said
The academy loved to nominate Jack Lemmon, but it wasn't always so quick to give him the prize. The star's luck changed when "Save the Tiger" earned him a best actor Oscar.
For Art Carney, there were two phrases that helped him secure the best actor Oscar for "Harry and Tonto." "Do it! You are old," words of wisdom that came from his agent.
After losing out four times as an Oscar nominee, Jack Nicholson triumphantly claimed his prize for "One Flew Over the Cuckoo's Nest."
"Network's" Peter Finch faced some tough competition for the best actor award. He was up against Robert De Niro in "Taxi Driver" and Sylvester Stallone in best picture winner "Rocky" as well as his "Network" co-star, William Holden. Finch died two months before the March 1977 ceremony and became the first actor to win an Oscar posthumously.
John Travolta in "Saturday Night Fever" and Woody Allen in "Annie Hall" have become prime examples of characters in '70s films, but Richard Dreyfuss' performance as a struggling actor in "The Goodbye Girl" stood out the most to academy voters at the time. Here the actor accepts his prize at the 1978 ceremony.
Jon Voight had been nominated for a best actor Oscar once before for 1969's "Midnight Cowboy," but it was the Vietnam War drama "Coming Home" that finally earned him the honors.
Like Jack Nicholson before him, Dustin Hoffman was forever the bridesmaid and never the bride. But after losing for "Midnight Cowboy," "The Graduate" and "Lenny," Hoffman got to accept the award at the 1980 ceremony, thanks to his work in best picture winner "Kramer vs. Kramer."
Robert De Niro faced movie greats such as Peter O'Toole and Jack Lemmon in the best actor category. De Niro had already won the best supporting actor Oscar for "The Godfather: Part II," and academy voters couldn't help but hand him the best actor prize for "Raging Bull" -- especially since he gained nearly 60 pounds to play Jake LaMotta as an aging boxer.
After being a movie legend for more than 40 years, Henry Fonda won his first competitive Oscar for "On Golden Pond." His co-star, Katharine Hepburn, also shined in the movie as his wife, picking up her fourth best actress prize.
Ben Kingsley's portrayal in "Gandhi" was the performance to beat in that year's best actor Oscar race, and neither Dustin Hoffman in "Tootsie" nor Paul Newman in "The Verdict" could compete.
Robert Duvall won the best actor prize for his performance as a country singer in "Tender Mercies."
F. Murray Abraham's performance as Salieri in "Amadeus" rocked academy voters, who named him best actor.
"Out of Africa" dominated the Oscars at the 1986 ceremony, but William Hurt picked up the best actor award for his portrayal of a gay imprisoned man in "Kiss of the Spider Woman."
Paul Newman's performance in "The Color of Money" struck Oscar gold. It was the actor's first competitive Oscar win, but he wasn't there to accept it -- he'd joked that, after showing up and losing six other times, he might finally nab the prize if he stayed away.
Gordon Gekko's creed of greed was very, very good to Michael Douglas. The star -- and son of another frequent Oscar nominee, Kirk Douglas -- earned his first Oscar nomination and first win for best actor for his role as the ruthless corporate raider in "Wall Street." Here Douglas appears with Marlee Matlin at the 1988 ceremony.
Awards came pouring in for "Rain Man" with Dustin Hoffman, left, as an autistic savant and Tom Cruise as his younger brother. Hoffman picked up his second best actor Oscar and received congratulations from Cruise at the 1989 ceremony. Cruise wasn't even nominated, but he was probably just fine with starring in the best picture winner.
Before Daniel Day-Lewis became so revered he could strike fear in the hearts of Oscar competitors, the British performer proved his mettle with the biopic "My Left Foot," earning his first best actor Oscar. It was no easy task: Day-Lewis was up against Morgan Freeman in "Driving Miss Daisy," Kenneth Branagh in "Henry V," Tom Cruise in "Born on the Fourth of July" and Robin Williams in "Dead Poets Society."
and the best actor prize for "Dances With Wolves," so Jeremy Irons took home the statuette for best actor for his role as Claus von Bülow in "Reversal of Fortune."
We suppose the academy couldn't justify giving Kevin Costner the best director, best picture
Anthony Hopkins absolutely killed as Hannibal Lecter in "The Silence of the Lambs," so it wasn't surprising that he secured the best actor Oscar for the role.
Before "Scent of a Woman," Al Pacino had been nominated for best actor four times and best supporting actor twice without winning. But the star's moment to accept the best actor Oscar finally came at the 1993 ceremony. Pacino may have won for "Scent of a Woman," but he also lost that year in the best supporting actor category for "Glengarry Glen Ross."
Little did anyone know that when Tom Hanks won the best actor Oscar for the legal drama "Philadelphia" he'd be back at the Oscars very soon, and in a very different role.
Tom Hanks proved his versatility when he won the best actor Oscar for the second year in a row. His prize this time was for his performance as the mentally challenged but indefatigable "Forrest Gump."
surely you've seen him swing from a "Wrecking Ball"
? -- but he was the man to beat at the 1996 Oscar ceremony. Cage won the best actor prize for "Leaving Las Vegas," his first nomination and first win.
Nicolas Cage may now be the butt of Internet jokes --
Some actors languish as nominees for years before winning an Oscar, but Geoffrey Rush won the best actor prize on his first try with "Shine."
By now, everyone knew what a powerhouse Jack Nicholson was, but he reminded moviegoers again with "As Good as It Gets," picking up yet another best actor Oscar.
Italian actor Roberto Benigni was unknown to American audiences before "Life Is Beautiful," but he stole the show at the 1999 Oscars ceremony. The academy gave him the best actor Oscar for "Life Is Beautiful," which also won the prize for best foreign-language film.
"American Beauty" was a cynical look at American middle class life with a new century arriving. Star Kevin Spacey received the best actor award for his portrayal of a middle-aged man who lusts after his teenage daughter's friend. The film also won best picture, director (Sam Mendes) and original screenplay (Alan Ball).
The academy fawned over Russell Crowe's "Gladiator," a sword and sandals epic that picked up honors for best picture, best costume design, best sound, best visual effects and best actor -- the first win for the Australian Crowe.
Denzel Washington has a reputation as a nice guy in Hollywood, so his transformation into the monstrous detective Alonzo in "Training Day" was incredible to watch. After already winning a best supporting actor statuette for "Glory," Washington took home the best actor award for "Training Day," making him the first African-American to win both.
Adrien Brody appeared so thrilled when he won best actor award for "The Pianist" he even got Oscar presenter Halle Berry caught up in the moment with a passionate kiss at the 2003 ceremony. "I bet they didn't tell you that was in the gift bag," he joked when he finished. It was his first nomination and win.
The Oscar race for best actor was a tough one when Sean Penn faced off with Jude Law for "Cold Mountain" and Bill Murray for "Lost in Translation," among others. In the end, it was Penn's work in "Mystic River" that earned him his first Academy Award.
Before "Ray," Jamie Foxx was known primarily as a comedian -- the kind who would star in a popcorn flick like "Booty Call." But after his portrayal of singer Ray Charles in a musical biography, people realized he had been underestimated as an actor. The academy started paying attention, too, and gave Foxx two nominations for the 2005 ceremony: one for best actor for "Ray" and another for best supporting actor for "Collateral." He didn't win in the best supporting category, but we bet he's been able to live with that loss.
Philip Seymour Hoffman
's portrayal of writer Truman Capote in "Capote" was the kind of rock-solid immersion audiences had come to expect from the actor. He got his due with the best actor award -- his only Oscar.
Until "The Last King of Scotland," Forest Whitaker had been completely overlooked by the academy. But after he turned in a masterful portrayal of Ugandan dictator Idi Amin, academy voters handed him the Oscar.
If Daniel Day-Lewis is in the running, chances are there will be an award for him. The actor won his second best actor Oscar for "There Will Be Blood." He receives the award from Helen Mirren at the 2008 ceremony.
Sean Penn, here with best actress Kate Winslet, left, and best supporting actress Penelope Cruz, gave the performance of a lifetime as openly gay politician and activist Harvey Milk in "Milk." The academy rewarded Penn with his second best actor Oscar at the 2009 ceremony.
Bridges relished the moment in his acceptance speech
: "Thank you, mom and dad, for turning me on to such a groovy profession," he said.
Jeff Bridges was understandably ecstatic when he won the best actor Oscar for "Crazy Heart." Bridges had been nominated four times before, and, with competition from George Clooney in "Up in the Air" and Jeremy Renner in "The Hurt Locker," his wasn't an obvious win. So when his name was called at the 2010 ceremony,
Colin Firth's portrayal of King George VI's fight to overcome a speech impediment beat out Jesse Eisenberg ("The Social Network") and James Franco ("127 Hours"), among others, to win the best actor Oscar.
"The Artist," a silent, black-and-white movie, was a celebration of old-school film. Its star, French actor Jean Dujardin, seemed to have a virtual lock on the best actor Oscar, even though he was competing against the likes of George Clooney and Brad Pitt. When awards night arrived in 2012, Dujardin walked away with the prize.
Once again, the Oscar race for best actor was jam-packed with amazing performances, from Bradley Cooper in "Silver Linings Playbook" to Denzel Washington in "Flight." But Daniel Day-Lewis completely transformed himself into the 16th U.S. president for Steven Spielberg's "Lincoln," and he walked away with the honors at the 2013 ceremony, becoming the first three-time best actor winner.
A history of Oscar-winning best actors
Emil Jannings (1929)
Warner Baxter (1930)
George Arliss (1930)
Lionel Barrymore (1931)
Wallace Beery (1932)
Fredric March (1932)
Charles Laughton (1934)
Clark Gable (1935)
Victor McLaglen (1936)
Paul Muni (1937)
Spencer Tracy (1938)
Spencer Tracy (1939)
Robert Donat (1940)
James Stewart (1941)
Gary Cooper (1942)
James Cagney (1943)
Paul Lukas (1944)
Bing Crosby (1945)
Ray Milland (1946)
Fredric March (1947)
Ronald Colman (1948)
Laurence Olivier (1949)
Broderick Crawford (1950)
José Ferrer (1951)
Humphrey Bogart (1952)
Gary Cooper (1953)
William Holden (1954)
Marlon Brando (1955)
Ernest Borgnine (1956)
Yul Brynner (1957)
Alec Guinness (1958)
David Niven (1959)
Charlton Heston (1960)
Burt Lancaster (1961)
Maximilian Schell (1962)
Gregory Peck (1963)
Sidney Poitier (1964)
Rex Harrison (1965)
Lee Marvin (1966)
Paul Scofield (1967)
Rod Steiger (1968)
Cliff Robertson (1969)
John Wayne (1970)
George C. Scott (1971)
Gene Hackman (1972)
Marlon Brando (1973)
Jack Lemmon (1974)
Art Carney (1975)
Jack Nicholson (1976)
Peter Finch (1977)
Richard Dreyfuss (1978)
Jon Voight (1979)
Dustin Hoffman (1980)
Robert De Niro (1981)
Henry Fonda (1982)
Ben Kingsley (1983)
Robert Duvall (1984)
F. Murray Abraham (1985)
William Hurt (1986)
Paul Newman (1987)
Michael Douglas (1988)
Dustin Hoffman (1989)
Daniel Day-Lewis (1990)
Jeremy Irons (1991)
Anthony Hopkins (1992)
Al Pacino (1993)
Tom Hanks (1994)
Tom Hanks (1995)
Nicolas Cage (1996)
Geoffrey Rush (1997)
Jack Nicholson (1998)
Roberto Benigni (1999)
Kevin Spacey (2000)
Russell Crowe (2001)
Denzel Washington (2002)
Adrien Brody (2003)
Sean Penn (2004)
Jamie Foxx (2005)
Philip Seymour Hoffman (2006)
Forest Whitaker (2007)
Daniel Day-Lewis (2008)
Sean Penn (2009)
Jeff Bridges (2010)
Colin Firth (2011)
Jean Dujardin (2012)
Daniel Day-Lewis (2013)