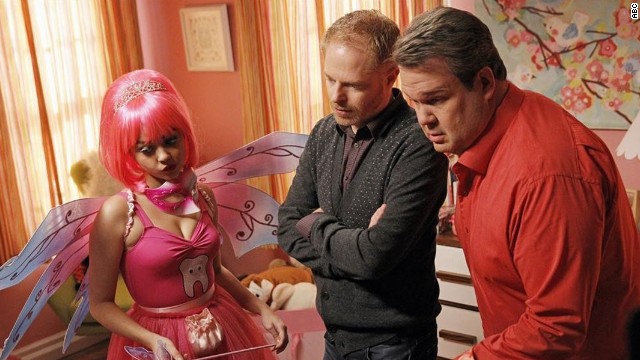 'Modern Family': Jesse Tyler Ferguson and Eric Stonestreet as co-dads Mitchell Pritchett and Cameron Tucker, with their niece Haley, played by Sarah Hyland.
'Scandal': Dan Bucatinsky and Jeff Perry as married parents James Novak and Cyrus Beene.
'The Fosters': Teri Polo and Sherri Saum as characters Stef Foster and Lena Adams, co-moms of an eclectic blended family.
'Glee': Jeff Goldblum and Brian Stokes Mitchell as Hiram and Leroy Berry, fathers of musical prodigy Rachel, played by Lea Michele.
'Under the Dome': Aisha Hinds and Samantha Mathis as Carolyn Hill and Alice Calvert, a married couple with a daughter.
'Grey's Anatomy': Jessica Capshaw and Sara Ramirez as married moms Dr. Arizona Robbins and Dr. Callie Torres.
'New Girl': Kay Cannon and June Diane Raphael as moms-to-be Melissa and Dr. Sadie with their friend Jess, played by Zoey Deschanel.
'Six Feet Under': Mathew St. Patrick and Michael C. Hall as David Fisher and Keith Charles, a couple who adopt two older children.
'The L Word': Actresses Laurel Holloman and Jennifer Beals played Tina Kennard and Bette Porter, an on-again, off-again couple who co-parent.
'Will and Grace': Eric McCormack and Bobby Cannavale as Will Truman and Vince D'Angelo. Their son Ben appeared in the series finale, marrying Grace's daughter, far in the future.
'The New Normal': Andrew Rannells and Justin Bartha as Bryan Collins and David Sawyer, a couple having a child via surrogate mother Goldie Clemmons, played by Georgia King.
Same-sex parents on TV
Same-sex parents on TV
Same-sex parents on TV
Same-sex parents on TV
Same-sex parents on TV
Same-sex parents on TV
Same-sex parents on TV
Same-sex parents on TV
Same-sex parents on TV
Same-sex parents on TV
Same-sex parents on TV
STORY HIGHLIGHTS
Sienna R. Craig grew up with a father whose life partner was a man
She didn't confide this fact to her schoolmates but did stick up for same-sex parents
Craig found the climate 25 years ago hostile to same-sex parents and their children
Craig says things have changed, but not enough, considering anti-gay sentiment in Sochi
Editor's note: Sienna Craig is an associate professor of anthropology at Dartmouth College, where she teaches courses on health and illness, global health, Asian medical systems, Tibet and the Himalaya.
(CNN) -- Gay people should be allowed to be parents -- Pro or Con.
It was 1989. I was 15, a junior at a public high school in Southern California and the newly appointed editor of my school newspaper. Our advisor challenged the staff with a call for public debates of controversial issues on our opinion pages.
I argued the pro position. In a move I now associate with the path I've taken as an anthropologist -- a trade that specializes in making the strange familiar and the familiar strange -- I invoked cross-cultural models of child-rearing. But mostly, my argument hinged on love.
If two people of the same sex loved each other, were secure in their relationship and wanted to have a family, what made them any less "fit" as parents than a heterosexual couple? Indeed, one might even say that given the societal pressures and challenges they must be prepared to face, a same-sex couple might even be better role models than two people who had had an easier path to parenthood.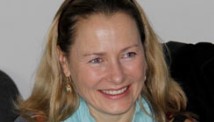 Sienna Craig
Fast forward to today: If public opinion polls on the question of same-sex marriage are any indication of how the majority of Americans have come to see the issue, we have a great deal to celebrate. Even so, the fact that eight U.S. states have very similar policies to Russia's ban on gay 'propaganda' reminds us that we still have a long way to go before the truth of our personhood rather than our sexual orientation becomes the basis on which we are judged -- as partners, as parents, as human beings.
Arguing against gay parenthood was a fellow overachiever, a young man from a conservative and deeply Christian Korean family. He penned passionately for his position, invoking passages from the Bible, and spoke of all that was "normal" and "good" about heterosexual monogamy.
He argued for setting a proper example for children, with vague references to the moral and psychological confusion that could result from two men or two women raising a family. He may have even referenced the Diagnostic and Statistical Manual of Mental Disorders (DSM-II), which listed homosexuality as a sociopathic condition until 1974, the year after each of us had been born.
I was proud of my piece, but public opinion clearly lay on the side of my opponent. I was surprised to find that not only did virtually none of my friends commend me for it, but some of my fellow students decided it would be fun to call me a "fag hag" and a "dyke" for weeks after its publication. This hurt my feelings, of course. But what they did not know -- and what I had not dared to write about publicly -- was that I lived with my father and his partner, a man he has now been with for more than a quarter century.
Although my father and his partner were life partners, they were also business partners, a fact that served conveniently as a cover in circumstances in which they did not feel safe coming out. Although we lived together, they each had separate bedrooms and shared an office in our house, which allowed me to deflect questions when friends from school came over.
Don't miss out on the conversation we're having at CNN Living.
Follow us on Twitter
and
Facebook
for the latest stories and tell us what's influencing your life.
At the time, our popular culture lexicon had not yet graphed the term "partner" into the space once reserved for "girlfriend" or "husband." But to me it has always been a double entendre. I was then and remain now proud of their partnership. I am grateful for the ways that being raised, in part, by a bisexual father and a gay man has at once challenged and nurtured me. Our family is steeped in love, even as the searing psychological inheritance of their own childhoods and young adulthoods also colors our experiences with each other.
Was I a coward for not broadcasting the nature of my family, for not going public in that first op-ed? I have often felt, after the fact, that I should have been bolder. But remember, it was 1989. The Berlin Wall may have been about to fall, but George Michael wasn't even out yet. The AIDS epidemic was ravaging gay communities and new forms of homophobia seemed to be as American as, well, apple pie. The first test tube baby had just turned 10. In vitro fertilization and forms of surrogacy remained extremely rare, and adoption laws discriminated against same-sex couples.
Today, if I were in the position my high school journalism teacher had been, the prompt "Gay people should be allowed to be parents -- pro or con" would, mercifully, be barely worth arguing in many parts of the country, if not the world. Listening to my daughter ask casually if I could call Chloe's moms or Grace's dads to arrange a playdate provides a kind of existential relief I find difficult to put into words.