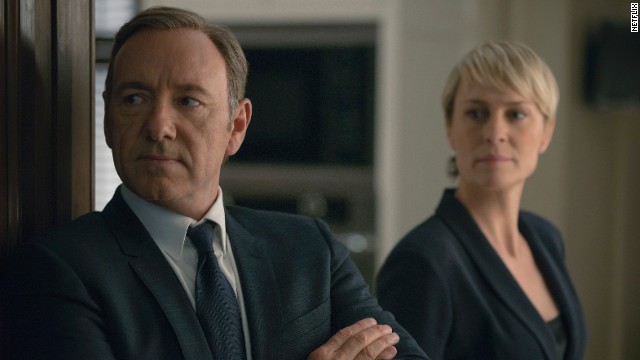 Rejoice, culture addicts! Netflix is adding more fresh films and TV shows to its streaming catalog for the month of February. The Emmy-winning
"House of Cards"
is now back for a second season with Kevin Spacey and Robin Wright scheming away to conquer Washington. Here's what else you can binge on this month:
"Somewhere," which stars Stephen Dorff as a hard-living actor who has to rethink his the way he lives his life after his 11-year-old daughter (Elle Fanning) surprises him with a visit. (Available February 16.)
You can soon get lost in Sofia Coppola's 2010 comedic drama
"The Pitch," also on AMC, is a documentary series about the advertising industry. (Available February 16.)
"Mad Men" isn't returning to AMC until April 13, but maybe you can get your fix with the real thing.
"Violet & Daisy" is a strong option based on its cast alone. Part black comedy and part thriller, the 2011 film stars Saoirse Ronan and Alexis Bledel as two teen assassins who struggle to take out a new target. The project, written and directed by Geoffrey Fletcher, also features "Orphan Black's" Tatiana Maslany and the late James Gandolfini. (Available February 17.)
"Best Man Down" sounds like the perfect antidote to an unimpressive Valentine's Day. A newlywed couple has to cancel their honeymoon and return home after their best man dies. (Available February 20.)
Justin Long's romantic drama
"Clifford the Big Red Dog" is now available for baby-sitting. (Available now.)
Need something to entertain your kids? Season 1 of
"Ambushed," Los Angeles is the scene for an international cocaine-smuggling ring. When a detective goes undercover to bust it, he finds himself in too deep. (Available February 15.)
In the movie
"Burn Notice's" seventh season just wrapped up in September, but you can soon relive all 13 episodes at once. (Available February 15.)
"Chris Porter: Ugly and Angry." While performing in Kansas City, Porter riffs on drugs, women's fashion and getting older. (Available February 15.)
"Last Comic Standing" finalist Chris Porter is the star of his own stand-up special called
"Force of Execution" is about a crime boss who, while torn between maintaining his power and exiting his gang altogether, puts his protege up against a new player hungry to take over. (Available February 15.)
Steven Seagal's 2013 action thriller
"Iron Man & Hulk: Heroes United" will soon be added to the service. (Available February 16.)
While you wait for a new "Avengers" movie to arrive in theaters, Netflix has some "Marvel"-ous options. The animated film
"Crossing Lines" is a great one. (Available February 18.)
We'll take any excuse to watch Donald Sutherland, and season 1 of the international crime drama
"Cult" may have been short-lived, but the first season will live on via Netflix. (Available February 19.)
The CW's thriller series
"Bad Milo" alongside Gillian Jacobs. Marino plays a young married guy with a boss and mother who are so nightmarish, the stress causes a creepy cretin to grow in his digestive tract. (Available February 20.)
Before we see Ken Marino on the big screen in March's "Veronica Mars" movie, we can catch him in the horror comedy
"Breaking Bad" can binge-watch the series to their hearts' content. The second half of season 5 -- and one of the best episodes of the entire series -- is coming to Netflix. (Available February 24.)
Finally, everyone who missed out on the genius of
"Temptation: Confessions of a Marriage Counselor." (Available February 24.)
Tempted to watch a new Tyler Perry movie? You can give in to that urge this month with
"The Returned," and we can't wait to see how good it is for ourselves. The series' first season sets the scene in a small, mountainous community that suddenly finds itself filled with people who were thought to be long dead returning. (Available February 24.)
We've heard so much about the French drama
"Blue Is the Warmest Color." (Available February 25.)
Lea Seydoux and Adele Exarchopoulos star in one of 2013's most sensual movies,
"Airplane!," starring Julie Hagerty and Robert Hays, is a must-watch. (Available now.)
The hilarious 1980 movie
"Airplane II: The Sequel" was a hit in 1982. Robert Hays returned in this follow-up farce as pilot Ted Striker. (Available now.)
"Bates Motel" stars Vera Farmiga as Norma Bates and Freddie Highmore as her troubled son Norman. (Available now.)
The first season of the A&E television show
"Failure to Launch." (Available now.)
What happens when the parents of Matthew McConaughey's character hire Sarah Jessica Parker's character to help get him out of the house? You have the 2006 movie
"Flashdance" was a hit when it arrived in theaters in 1983, and the feel-good film starring Jennifer Beals is still popular. (Available now.)
What a feeling!
"Heartbreakers." (Available now.)
Sigourney Weaver and Jennifer Love Hewitt star as a mother-daughter con team in the 2001 movie
"Marathon Man," starring Dustin Hoffman, was a success when it hit the big screen in 1976. Hoffman plays a graduate student who must put aside his pacifism. (Available now.)
"Patriot Games," starring Harrison Ford. (Available now.)
To get you ready for the new Jack Ryan film, relive old times with the 1992 movie
"Queer as Folk," about the lives and loves of five gay men living in Pittsburgh, is now available to stream. (Available now.)
The complete series
"Sunset Blvd.," starring Gloria Swanson, was nominated for 11 Academy Awards after it was released in 1950. (Available now.)
She's ready for her close-up, Mr. DeMille.
"The Borgias" can be addictive. Here, Derek Jacobi stars as Cardinal Orsini, Jeremy Irons is Rodrigo Borgia, and Peter Sullivan is Cardinal Ascanio Sforza. (Available now.)
Warning: Seasons 1-3 of Showtime's historical drama
"The Good, the Bad and the Ugly," starring Clint Eastwood, became a Western classic when it arrived in theaters in 1966. (Available now.)
"The Naked Gun: From the Files of Police Squad" featured O.J. Simpson, Leslie Nielsen (also in "Airplane!" and "Airplane II") and George Kennedy. Its laughs feel just as goofy as when it was released in 1988. (Available now.)
"The Usual Suspects," you are in for a twisty treat. Kevin Spacey heads the ensemble cast. (Available now.)
No spoilers, but if you haven't seen the 1995 movie
"Adore." It is based on a novella by Doris Lessing. (Available now.)
Naomi Watts has an affair with her best friend's son, played by James Frecheville, in the 2013 film
"The Fabulous Ice Age" tells the story of American touring ice skating shows. It's pretty cool. (Available now.)
The 2013 documentary
"The History of WWE" offers 50 years worth of retrospective on professional wrestling and the evolution of World Wrestling Entertainment. (Available now.)
Whether it's all staged or not,
"Brother Bear," a 2003 animated film about a Native American struggling to regain his human form once he is transformed into a bear. (Available now.)
Joaquin Phoenix is one of the celebrity voices in
"Zombie Night," starring Daryl Hannah. (Available now.)
Fans of "The Walking Dead" might want to check out the 2013 TV movie
"The Price of Gold," released this year, re-examines the Nancy Kerrigan/Tonya Harding incident of 1994. (Available now.)
New to Netflix in February
New to Netflix in February
New to Netflix in February
New to Netflix in February
New to Netflix in February
New to Netflix in February
New to Netflix in February
New to Netflix in February
New to Netflix in February
New to Netflix in February
New to Netflix in February
New to Netflix in February
New to Netflix in February
New to Netflix in February
New to Netflix in February
New to Netflix in February
New to Netflix in February
New to Netflix in February
New to Netflix in February
New to Netflix in February
New to Netflix in February
New to Netflix in February
New to Netflix in February
New to Netflix in February
New to Netflix in February
New to Netflix in February
New to Netflix in February
New to Netflix in February
New to Netflix in February
New to Netflix in February
New to Netflix in February
New to Netflix in February
New to Netflix in February
New to Netflix in February
New to Netflix in February
New to Netflix in February
New to Netflix
New to Netflix