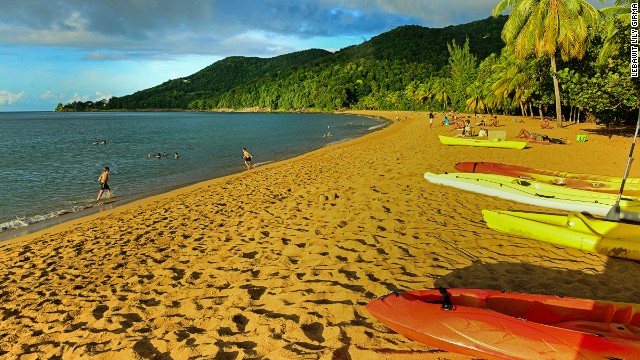 Don't like being hassled by beach vendors? You won't be in Guadeloupe, with 200-plus public beaches that stand out for their natural state and lack of salesmen or towering resorts.
Guadeloupe's best rum is produced on Marie-Galante. Dotted with sugar cane, oxcarts and ancient windmills, it's home to three award-winning distilleries -- Bellevue, Bieille and Poisson.
Hugging the bay of Anse du Bourg, Les Saintes archipelago is Guadeloupe's most prized possession. Inhabited Terre-de-Haut and Terre-de-Bas are a perfect blend of the old Caribbean and southern France.
Deceptively called "small" punch in French Creole, the potent national drink mixes a teaspoon of brown sugar with fresh lime, topped with white rum and stirred with a sugar cane stick.
Mega-resorts have yet to reach Guadeloupe. Aside from Club Med on Grande-Terre, locally run hotels, inns, apartments or villas dominate. Beach and sea views remain unobstructed, by law.
Popular sunset spots: St. Anne Beach on Grande-Terre, dotted with seafront cafes; Basse-Terre, against a mountainous backdrop; Les Saintes' with views over surrounding islets.
With dramatic cliffs surrounding a white sand beach, one of Guadeloupe Islands' most striking landscapes is reminiscent of the Mediterranean.
The park's 54,000 acres cover rainforest, mangrove and coral reefs. The crown is La Soufrière, an active volcano that's home to 800 species of flora and fauna.
Guadeloupe lives up to its Carib Indian name Karukera, or "island of beautiful waters." The most renowned dive spot is the Jacques Cousteau Reserve, a 988-acre protected area off the coast of Basse-Terre.
Guadeloupe National Park has more than 100 waterfalls. The most spectacular may be Les Chutes du Carbet, a series of three waterfalls reaching 360 feet.
Colorful spices compete with bottles of homemade fruit rum punch, bright as a painter's palette. On Grande-Terre, St. Anne's beachfront market is a local favorite.
Guadeloupe is dotted with ancient forts -- remnants of a colonial tugs of war between the French and British.
Jardin Botanique de Deshaies is a 12-acre park with more than 200 species of plants and trees, orchids, fish, lily ponds and flamingos.
Guadeloupe's cuisine is a mélange of Indian, African and European influences. Meals often begin with cod fritters followed fresh seafood in spiced tomato stews, curries and stuffed vegetables.
A row of 15 boutiques in St. Anne, the Village Artisanal carries a selection of hand woven beachwear and woodcarvings. Contemporary fashion also thrives -- after all, this is French territory.
Guadeloupe Islands: Pristine beaches
Marie-Galante rum
Les Saintes
Ti' Punch
Inns and villas
Striking sunsets
Pointe des Châteaux
Guadeloupe National Park
Underwater haven
Waterfalls
Markets
Historic forts
Botanical gardens
French Creole cuisine
Shopping