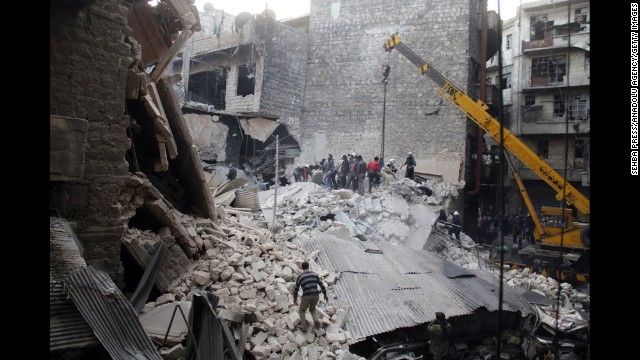 People dig through the rubble of a building in Damascus, Syria, that was allegedly hit by government airstrikes on Thursday, February 27. The United Nations estimates more than 100,000 people have been killed
since the Syrian conflict began
in March 2011.
A boy walks ahead of men carrying the body of his mother in Aleppo, Syria, on Saturday, February 22. According to activists, the woman was killed when explosive barrels were thrown by forces loyal to Syrian President Bashar al-Assad.
A man holds a baby who survived what activists say was an airstrike by al-Assad loyalists Friday, February 14, in Aleppo.
In this photo provided by the anti-government activist group Aleppo Media Center, Syrian men help survivors out of a building in Aleppo after it was bombed, allegedly by a Syrian regime warplane on Saturday, February 8.
Syrians gather at a site hit by barrel bombs, allegedly dropped by a regime helicopter on the opposition-controlled Mesekin Hananu district of Aleppo on February 8.
In this handout photo released by the official Syrian Arab News Agency on February 8, civilians wave national flags in Damascus as they take part in a rally in support of President al-Assad.
A man stands next to debris in the road following a reported airstrike by Syrian government forces in Aleppo on February 8.
Medical personnel look for survivors after a reported airstrike in Aleppo on Saturday, February 1.
Syrians carry a dead body following an airstrike on February 1.
A man walks amid debris and dust on January 31.
An injured man is covered in dust after an airstrike on January 29.
A man tries to fix electrical wires in Aleppo on January 27.
Rebels and civilians check out a crater that activists say resulted from a Syrian government airstrike on an Aleppo bus station on Tuesday, January 21.
Men rush to a site that Syrian government forces reportedly hit in Aleppo on January 21.
Buildings lie in ruins in Aleppo on Sunday, January 19, after reported air raids by Syrian government planes.
A Syrian child collects items from a garbage pile in Douma, northeast of the capital, on Saturday, January 18.
A piece of exploded mortar lies in a street in Daraya, a city southwest of Damascus, on Friday, January 17.
Syrian civil war in 2014
Syrian civil war in 2014
Syrian civil war in 2014
Syrian civil war in 2014
Syrian civil war in 2014
Syrian civil war in 2014
Syrian civil war in 2014
Syrian civil war in 2014
Syrian civil war in 2014
Syrian civil war in 2014
Syrian civil war in 2014
Syrian civil war in 2014
Syrian civil war in 2014
Syrian civil war in 2014
Syrian civil war in 2014
Syrian civil war in 2014
Syrian civil war in 2014
STORY HIGHLIGHTS
President meets in California with Jordanian monarch
They discuss Syria, Israeli-Palestinian talks
U.S. official criticizes Russian stance on Syrian civil war
Indian Wells, California (CNN) -- President Barack Obama hosted Jordan's King Abdullah II at a private residence in California, where the two leaders took the opportunity to speak publicly on the humanitarian crisis within Syria.
After the two leaders discussed the situation Friday, a senior administration official had sharp words for Russia's handling of Syria.
Saying Russia "had a critical role" to play in looking for a solution, the official said, "as long as they remain wedded to the status quo, this is going to be a difficult problem to resolve."
In a background briefing with pool reporters following the meeting, the official said Russia "can't have it both ways. They can't say they're in favor of negotiations in Geneva and a transitional government guided by full executive authority and humanitarian access and have a happy Olympics, and then be part and parcel of supporting this regime as it kills people in the most brutal way."
"I don't think any of us have any expectation that they are going to turn on a dime" the official conceded, adding the administration would not exclude the possibility of reaching "a humanitarian resolution" despite Russia's "sorry record" of vetoing U.N. sanction resolutions.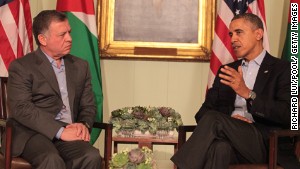 Jordan's King Abdullah II meets with President Barack Obama on Friday at the Sunnylands Estate in Rancho Mirage, California.
The ongoing Syrian civil war has put Russia and the United States at odds, with Russia blocking sanction efforts against Syria within the United Nations while officials within the White House maintain the United States' position is still that President Bashar al-Assad must step down.
All this plays out as Jordan struggles to cope with more than half a million registered refugees that have crossed the border with Syria in recent years.
The official said Obama and Abdullah discussed a possible U.N. resolution that could pressure the Syrian regime and "create a legal precedent for cross-border operations."
They also considered ways both Jordan and the United States could support what they described as the "moderate opposition" movement.
The White House said that a strong resolution on Syria didn't necessarily need to include threats of force but could be "strong in terms of the obligations and expectations that it would impose on the regime to improve the humanitarian access."
Speaking at a press event, the two leaders stuck to addressing the humanitarian crisis aspect of Syria's civil war; with the president praising Jordan's handling of the refugee crisis, saying, "The people of Jordan have been very generous in absorbing hundreds of thousands of displaced persons from that war ravaged country."
Stressing the importance of being "supportive of the kingdom in accommodating all those refugees," the president announced new loan guarantees for Jordan totaling $1 billion and noted that Jordan has just taken up a rotating seat on the U.N. Security Council.
Abdullah said one of his main concerns "is the rise of extremism in Syria, the sectarian violence and if we don't find a solution, the spillover in the region and the effect that will have."
Obama said: "How we can effectively change the calculus inside the country, so that we can have a Syria that is intact, that is respectful of all groups, that ends the killing and that allows for a representative government."
Abdullah and the President also discussed the ongoing peace talks between Israel and the Palestinians. Obama said that on every issue, including "trying to bring peace between Israel and the Palestinians," the king was "a very capable and trustworthy partner."
The senior administration official later added that the president "underscored our interest in and commitment to trying to reach an agreement on a framework" for the peace talks.
Earlier in the day, the President visited the Fresno area and unveiled a new $100 million aid package for the drought-stricken region. He remains in California at Sunnylands until Monday and will spend at least some of his time golfing.
CNN's Leslie Bentz contributed to this report.