World's best honeymoon spot is ...
updated 8:49 PM EDT, Tue April 15, 2014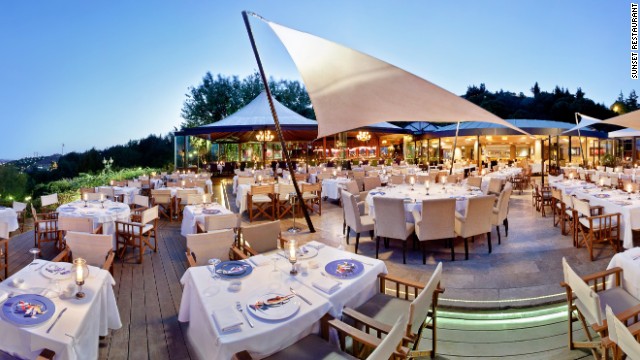 You don't need to worry about finding a romantic dinner in Turkey's largest city. Here's a selection of the
finest restaurants in Istanbul
.
Eighteen kilometers off the coast of Placencia in southern Belize, tiny Laughingbird Caye is one of the most photogenic islands in the Caribbean. But if Belize is too mainstream, here are
things Italy does best
will help you prepare.
Sunset over the medieval arch bridge Ponte Vecchio in Florence rarely disappoints visiting lovebirds. If you're planning a visit, this list of
From Santorini in "Summer Lovers" (1982) to Skopelos in "Mama Mia" (2008), Greek islands star in numerous romantic movies as well as real-life getaway fantasies. If you're not sure which to choose, our
If there were a pictographic encyclopedia of the world, this is what you'd see under the "dream honeymoon" entry -- a villa in the middle of Maldives' crystal clear water. Things could get even more spectacular, if this
10. Istanbul
9. New Zealand
8. Tahiti, French Polynesia
7. Caribbean Islands
6. Italy
5. Hawaii
4. Bali, Indonesia
3. Paris
2. Greek Islands
1. Maldives
STORY HIGHLIGHTS
Maldives won a comprehensive victory in Agoda.com survey as top honeymoon destination
Of 20 places offered for a honeymoon, Montreal was selected less than 1% of the time
Where would you want to spend a honeymoon? Vote in our Facebook poll
(CNN) -- For some it's Paris, for others Rome.
For others it gets no more exotic than the local Indian restaurant.
But where would you like to spend your honeymoon?
Or where did you spend it?
A recent survey from booking site Agoda.com revealed that 20% of 15,000 customers from around the world picked the Maldives as their "dream honeymoon location."
The survey was limited to 20 pre-selected locations, mixing cities, countries and other locales, and interviewees couldn't add their own.
We want to widen the choice to anywhere in the world and ask: where would you go for a once-in-a-lifetime, post-wedding holiday with your partner?
Click here to go to our Facebook poll, add your destination and vote.
Top honeymoon destinations according to Agoda.com
Maldives -- 20.3%
Greek Islands -- 7.8%
Paris -- 7.6%
Bali -- 7.1%
Hawaii -- 6.6%
Italy -- 6.5%
Caribbean Islands -- 5.7%
Tahiti -- 5.6%
New Zealand -- 5.2%
Istanbul -- 3.8%
Phuket -- 3.5%
Australia -- 3.4%
Prague -- 2.8%
Las Vegas -- 2.7%
New York -- 2.5%
Spain -- 2.5%
Cancun -- 2.4%
Rio de Janeiro -- 2.2%
Croatia -- 1.0%
Montreal -- 0.9%