Love on the run: Airport movie moments
updated 10:44 AM EST, Fri February 14, 2014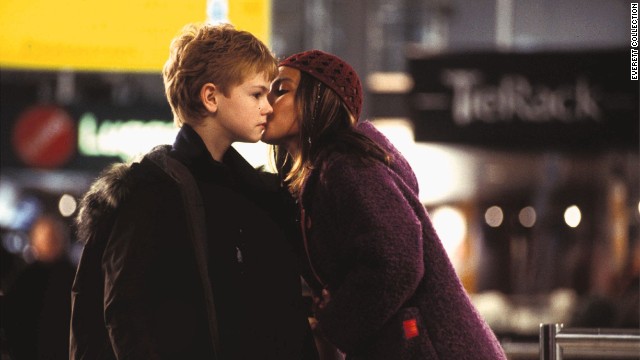 "Love Actually" features Oscar-winning grownup stars, but the airport scene where young Sam (Thomas Sangster) runs after the departing Joanna (Olivia Olson) steals the show. Ah, young love.
Who will get on the airplane with Ilsa Lund (Ingrid Bergman)? Her husband, Victor Laszlo (Paul Henreid), or Rick Blaine (Humphrey Bogart), the man she fell in love with after she thought Laszlo was dead? It's bittersweet, either way.
An airport mobile stairway plays a critical part in Fletcher Reede's (Jim Carrey) attempt to keep his ex-wife, Audrey (Maura Tierney), and son, Max (Justin Cooper), from leaving town in "Liar Liar."
Heavily medicated Andrew Largeman (Zach Braff, who wrote and directed the film) and pathological liar Sam (Natalie Portman) say goodbye -- and hello again -- at the airport, not knowing what they'll do next.
Through a series of romantic comedy misunderstandings, wedding singer Robbie Hart (Adam Sandler) must run to the airport and buy a first-class plane ticket (all of the coach seats are sold out) to profess his feelings for waitress Julia Sullivan (Drew Barrymore).
Our hero, a courteous TSA agent played by Jay Baruchel, connects with a beautiful girl (Alice Eve) who fortuitously left her cell phone at a security checkpoint. Why doesn't airport security go this well for us?
Ryan Bingham (George Clooney) makes a point of avoiding commitment and airport drama as he passes through constantly for work. Yet even this hardened road warrior throws the dice -- and loses -- on a relationship with fellow frequent business traveler Alex (Vera Farmiga).
Is Holden Wilson (Bradley Cooper) flirting with a military officer, played by Julia Roberts, on an airplane? Or does he have another agenda?
"Love Actually"
"Casablanca"
"Liar Liar"
"Garden State"
"The Wedding Singer"
"She's Out of My League"
"Up in the Air"
"Valentine's Day"
(CNN) -- The drama is built-in at airports: reunions, farewells, missed connections, mad dashes to stop the One from getting away and heartbreak when that special someone flies off anyway. Above are some movie moments where airports play a role. Got a favorite airport moment in film? Please share your picks in the comments area below.