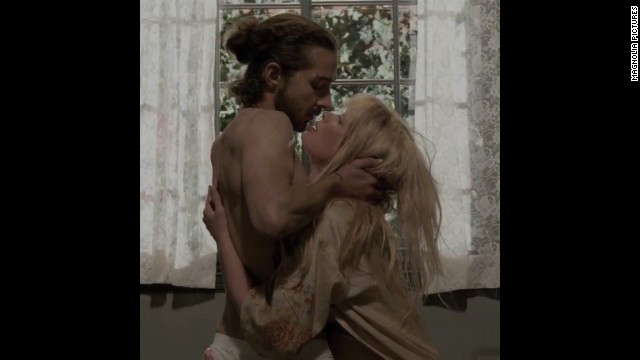 From its title to its promotional posters --
close-ups of actors such as Shia LaBeouf, left, making passionate grimaces
-- "Nymphomaniac" has sold us on its sex appeal. The movie, directed by Lars von Trier, has been split into two parts and was released in spring 2014. But before von Trier's film titillated audiences, it was these risque scenes that had moviegoers on edge:
resulted in an X rating
at first and has fans still wondering, did they or didn't they?
The graphic sex scenes between Donald Sutherland and Julie Christie in "Don't Look Now"
except maybe Roger Ebert
-- but it had couples acting out that
food scene.
"Nine 1/2 Weeks," starring Mickey Rourke and Kim Basinger, wasn't a huge commercial success, and critics didn't love it --
Daniel Day-Lewis and Lena Olin had some sexy scenes in "The Unbearable Lightness of Being."
Gay activists protested "Basic Instinct
," starring Michael Douglas and Sharon Stone, as they felt that the portrayal of her bisexual character was offensive.
Jane March and Tony Leung Ka Fai star as a young girl and her older lover in "The Lover."
Naomi Watts, left, and Laura Harring got hot and heavy in "Mulholland Drive."
Gina Gershon, left, and Jennifer Tilly play lovers in "Bound."
"Love Jones" is the story of a poet and photographer trying to figure out if they'd found lasting love, and it's filled with scenes of their lustful explorations. Their initial sleepover, set to the tune of Maxwell's "Sumthin' Sumthin'," is one that'll threaten to set fire to your TV.
Matt Dillon and Denise Richards helped steam things up in the erotic thriller "Wild Things," which included a menage a trois scene with Neve Campbell.
The cast of "Cruel Intentions" had chemistry all the way around, but the heat between the once-married Reese Witherspoon and Ryan Phillippe was palpable.
Halle Berry and Billy Bob Thornton dealt with some heavy emotional issues in "Monster's Ball" while engaging in some passion.
Gael Garcia Bernal, Diego Luna and Maribel Verdu form a passionate trio in "Y Tu Mama Tambien."
"Secretary," starring Maggie Gyllenhaal and James Spader, explores the relationship between a submissive secretary and her boss.
"The Notebook" has become the gold standard for romantic movies, but one scene in particular will have viewers pausing to rewind. When Ryan Gosling's Noah and Rachel McAdams' Allie Calhoun reunite, not even pouring rain can dampen the sensual scene that follows.
Heath Ledger, left, and Jake Gyllenhaal share a cowboy love that dare not speak its name in "Brokeback Mountain."
If there's any reason to see "Black Snake Moan," it's to see just how well Christina Ricci and Justin Timberlake work together in their love scenes.
Raphael Barker and Sook-Yin Lee star in "Shortbus," about a female sex therapist and a group of sexually adventurous New Yorkers.
Kate Winslet and David Kross played out the heat between a younger man and an older woman in "The Reader."
Ryan Gosling and Michelle Williams did such excellent work portraying sometimes-volatile lovers in "Blue Valentine" that the Motion Picture Association of America initially tried to give the movie an NC-17 rating.
Mila Kunis
Adele Exarchopoulos, left, and Lea Seydoux star in "Blue is the Warmest Color," which drew lots of attention upon its release because of its graphic sex scenes, including one that is more than six minutes long.
an interview
with The Daily Beast.
Margot Robbie and Leonardo DiCaprio could make pretty much anything look amazing, including enjoying one another on top of a pile of money. Turns out that steamy scene wasn't as fun for the actress: "If anyone is ever planning on having sex on top of a pile of cash: don't," Robbie said in
Hollywood's steamiest sex scenes
'Last Tango in Paris' (1972)
'Don't Look Now' (1973)
'Nine 1/2 Weeks' (1986)
'The Unbearable Lightness of Being' (1988)
'Basic Instinct' (1992)
'The Lover' (1992)
'Mulholland Drive' (1996)
'Bound' (1996)
'Love Jones' (1997)
Wild Things (1998)
'Eyes Wide Shut' (1999)
'Cruel Intentions' (1999)
'Monster's Ball' (2001)
'Y Tu Mama Tambien' (2001)
'Secretary' (2002)
'The Brown Bunny' (2003)
'The Notebook' (2004)
'Brokeback Mountain' (2005)
'A History of Violence' (2005)
'Black Snake Moan' (2006)
'Shortbus' (2006)
'The Reader' (2008)
'Blue Valentine' (2010)
'Black Swan' (2010)
'Blue is the Warmest Color' (2013)
'The Wolf of Wall Street' (2013)
STORY HIGHLIGHTS
Nicholas Sparks has set the bar for movie romance
He revisits some classic scenes in movies including "The Notebook" and "Dear John"
Sparks also offers some of his favorite anti-romantic entertainment
(CNN) -- Valentine's Day means love. For some, that's in the arms of someone special. For others, it means curling up with a tub of ice cream and a good Nicholas Sparks story. As our modern day master of romance, CNN asked Sparks to share some of his lessons in love, as well as insights about some of his favorite scenes from "The Notebook," "A Walk to Remember," "Safe Haven," and more. Plus, he reveals some some anti-Valentine's Day picks for those who've overdosed on the sappiness. Spoiler alert: Even those are Sparks-ian.
'Message in a Bottle,' 1999
Theresa Osborne (Robin Wright) finds a love letter in a bottle, and is determined to find the writer, Garret Blake (Kevin Costner). Garret is still mourning his wife, to whom he wrote, while a new (though doomed) romance with Theresa blossoms.
"There was a scene the film needed, and it didn't come in until the final version of the script," Sparks said. "It's a scene right towards the end of the novel, where we had to make it really clear that the character Garret Blake, played by Kevin Costner, was fully committed to his future with Theresa Osborne, played by Robin Wright Penn." This was harder to do than it sounds, he said, because as a viewer, you would question the set-up.
"You know a storm is coming, so you'd be like, 'Well, why are you going out on the boat? Why don't you just send a bottle out tomorrow?' " The catch was to help the viewer know that Garret's death was an accident. He didn't intend to die. He was not going out in the storm as a form of suicide. The message comes across in Theresa's discovery of Garrett's "shrine" to his late wife Catherine.
"Throughout the film, he's been very edgy about this particular artist's corner that had been his wife's, which had her easel and her paintbrushes and the glass used to clean her paintbrushes, and so by the time Theresa walks in and she sees it, all of this has been removed. Instead, there are photos of them, and a photo of her son, and the article that they clipped. You knew just by that, that was going to be the new corner of his life, one of the things that holds up the walls of his life." Garrett needed the shrine, Sparks said, "but he gave up his shrine for his new person." When Theresa sees this, she realizes "that he did love her, that he could move beyond the pain of losing his wife."
Love lesson: It may not be wise to name your boat after your dead wife.
'A Walk to Remember,' 2002
Sparks' coming of age novel was "written about a couple of 17-year-olds in 1958, so it was a little bit of a different era," Sparks said. One of the first things the producers of the film did was ask him if it would be OK to update the film and make it a modern story. "I had no problems with that. Jamie (Mandy Moore) and Landon (Shane West) were still very much like the characters in the book. Jamie was still a minister's daughter. Landon still had a lot of work to do to grow up," he said.
Sparks' most memorable scene in the film is when Landon discovers his father paid for Jamie's medical care (she has Leukemia). "After an entire film of understanding how much Landon disliked his father, he shows up, and it's all he can do simply to say, 'Thank you.' And then his father holds him and he cries. That to me is a genuinely emotional, non-manipulative scene," he said. "Landon learned to take responsibility for his own life, and stop blaming others."
Love lesson: Blaming your parents only goes so far
'The Notebook,' 2004
"Ah, the kiss in the rain!" Sparks laughed. "I'm not sure you can name a Nicholas Sparks film without a kiss in the rain, right? There's got to be a boat, it's got to be the rain or at least around water, and a kiss ... Of course, this film will always be remembered for that. But for me, the scene that is perhaps the most charming and original is the scene when Noah (Ryan Gosling) and Allie (Rachel McAdams) are young, and they're at the house that Noah intends to rebuild. They're moving towards this moment of great passion and she's just so nervous that she can't stop talking. It kind of ruins the moment. 'How can you not be nervous? What are you thinking? You're not thinking about anything?' It just makes me smile. I've never seen anything like it in another film or on television."
Love lesson: Don't overthink the moment.
'Nights in Rodanthe,' 2008
Richard Gere and Diane Lane star as lovers who meet at an inn in North Carolina. They've had dinner, "but they don't know each other yet," Sparks said. Which leads to his favorite moment: "It's later that night; she's standing off one balcony, and he's standing off another. You knew there had been a connection between them, and here they are, they're both looking out over the ocean, and there's this distance, the separation between them. To me, it just rings of all sorts of symbolism -- how well do you know someone? Can you ever really connect with somebody? You're so close, but so far away. It just seems to me like it could be a poster of life itself. It could be a painting."
Love lesson: Balconies should be shared.
'Dear John,' 2010
"We knew before page one of the script was written that Channing Tatum was who we wanted for John," Sparks said. "He was the right age, he had the right look, he had the right demeanor. You put Channing Tatum on screen, and something happens." Besides the chemistry between Tatum and Amanda Seyfried as Savannah, Sparks particularly connected with the unraveling of the movie's framework in the hospital when John's dad is dying. "You have this great letter written at the beginning of the movie, and you think this letter was written to (Amanda Seyfried), and it's revealed that it was actually written to the dad. That twist is so unexpected. Coupled with the poignancy of the situation, it just really hit home."
Love lesson: Love letters aren't just for sweethearts.
'The Lucky One,' 2012
Taylor Schilling, now a star on Netflix series "Orange is the New Black," had such incredible chemistry with Zac Efron in this film that Sparks feels they topped the kiss from "The Notebook." "Believe me, whenever we're making a new film, this will come up in the discussion -- 'How do we do this new?' That's what we have to do. Whenever we make a new film, memories of all of these films are as conscious in their memories as it is in mine. And it's conscious in the cast's memories, too! They want to do their own version of the most memorable kiss that tops them all!" So whenever Schilling and Efron are "kissing or growing more passionate, either outside in the shower or upstairs in the loft," he said, "you really feel the passion they had towards each other."
Love lesson: Make kissing an art form.
'Safe Haven,' 2013
Of all of Sparks' books made into films, "Safe Haven," starring Julianne Hough and Josh Duhamel, is the one he was on set for the most -- because it was filmed an hour-and-a-half from his house. But being on set so much gave him a new insight into how scenes play out on screen. For instance, the fireworks scene, "a really short scene in the book," took all night to capture. "Fireworks were going off "every 20 minutes, from 9 p.m. to 5:30 a.m. Boom! Boom! Boom!," Sparks recalled. "It was the one night the town got mad at us." And it's just for a shot to pan up to the fireworks as Duhamel and Hough hold each other.
But as far as the romance is concerned, Sparks picked two moments -- "the two of them in the canoe, and the scene in the stairs." In the canoe, Duhamel's character Alex reveals to Hough's Katie how hard it is to be a dad, and how he feels like he's making mistakes. "This was supposed to be his wife's job, and she's gone now, and he doesn't know what to do. He didn't get the list of instructions," Sparks said. "That very revealing moment, to me, is a moment of utter honesty. And you can compare that to the scene on the stairs, when she's getting ready to leave, and he says, 'No, you have to stay.' Those are bookends of honesty."
Love lesson: For love to be true, tell the truth.
Anti-Valentine's Day
No, that's not the title of one of Sparks' works.
If you're among those who feel that Valentine's Day is a commercial holiday that sets up unrealistic expectations, is a poor indicator of love and commitment, or you've been recently dumped and don't want to watch two people fall in love and have the best. kiss. ever., Sparks sympathizes. Here are his picks to indulge in a healthy dose of "love sucks."
"How about 'Jagged Edge,' 'Basic Instinct,' or 'Forgetting Sarah Marshall'?" he said, laughing. "I loved 'Forgetting Sarah Marshall.' I thought it was incredibly well done. It's the kind of film you get in the mood to watch every now and then, like 'The Breakfast Club.' To me, that's what it is. It's one of those that should grow in popularity over the years."
It should be noted that love connections are made in both "Forgetting Sarah Marshall" and "The Breakfast Club." The guy can't help it.
For television episodes, he recommends the Sam and Diane break-up on "Cheers." "That's a good one," he said, "because it had been so well-played for so many seasons that you couldn't help but root for them even though you knew they weren't right for each other. And it was a bittersweet ending. You're like, 'Couldn't you have been right for each other? Then it would have all worked out! Couldn't you have just been different people? Then it'd be perfect!' "
And the perfect anti-Valentine's Day song to listen to would be Phil Collins' "Against All Odds (Take a Look at Me Now)." "It's a great song, number one," he said. "And then there's that kind of notifying, 'Take a look at me now!' You survived."
Whichever of these options you choose, Sparks said, "Have a girls night in and celebrate yourself!"
A limited edition collection of films adapted from Nicholas Sparks' books is available on DVD now.