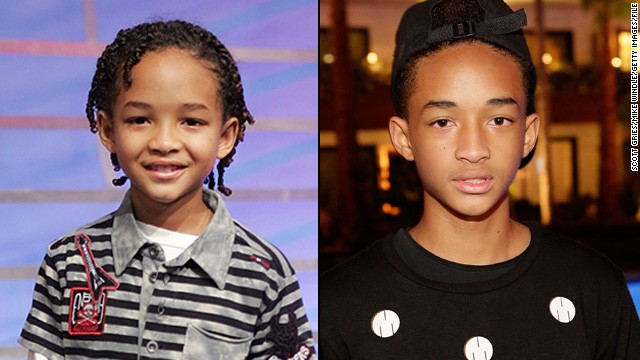 Eight years ago, Jaden Smith was a baby-faced child star appearing with his dad, Will, in 2006's "The Pursuit of Happyness." Although he once again starred with his father in 2013's "After Earth," teenaged Jaden isn't a kid anymore.
Along with her older brother Jaden, Willow Smith has blossomed since she first appeared alongside her father in his 2007 film, "I Am Legend." The actress and singer showed a more mature look at the 2013 premiere of "After Earth."
Osment's intriguing look for his role
in the Kevin Smith comedy "Yoga Hosers" has put his career back in the spotlight.
Haley Joel Osment has been working steadily since his breakout role in 1999's "The Sixth Sense." Now 26,
Tyler Posey co-hosted the 2014 Teen Choice Awards, reuniting onstage with Jennifer Lopez, who played his mother in the 2002 film "Maid in Manhattan."
The late Steve Irwin's teen daughter, Bindi, is becoming quite the conservationist. She's also advising girls her age to dress more conservatively.
Keke Palmer won legions of fans as the spirited adolescent in 2006's "Akeelah and the Bee," but the actress is ready to build her career as an adult. Palmer -- who displayed a more grown-up look at June's "Think Like A Man Too" premiere --
Angus T. Jones wasn't yet 10 when "Two and a Half Men" premiered on CBS in September 2003. More than a decade later, the now-adult actor has broken away from the sitcom because it conflicts with his religious beliefs. And now ...
... Jones, sporting a full beard, is more likely to be found making appearances at churches and speaking about his faith. He spoke at Houston's World Harvest Outreach in March 2014 along with Christian author and motivational speaker Jeremy Anderson, right.
Kendall Jenner has come a long way
since her adolescent days in braces. The second-to-youngest Kardashian got her start on her family's E! reality show at age 12, but now that she's an adult she's taking over the catwalk. In February, Kendall stunned onlookers at the Marc Jacobs fashion show when she hit the runway in a sheer shirt and no bra.
"Keeping Up with the Kardashians" star
according to his mentor Usher
, still in the midst of growing up. But between the tattoos, the vandalism accusations and a recent
arrest
, Biebs is not the same "Baby" singer we met in 2009.
Justin Bieber is now 20 and,
At 21 -- she'll be 22 on November 23 -- Miley Cyrus has been working in show business for more than a decade. The singer/actress has gone from being a fresh-faced preteen to a platinum blond vixen who scandalized the MTV Video Music Awards with her "twerking" in 2013.
Selena Gomez's appearance hasn't changed dramatically since she starred on the Disney Channel's "Wizards of Waverly Place" in 2007. But her work sure has. Gomez has stretched herself with more mature content, such as the risqué movie "Spring Breakers" and her suggestive single "Come and Get It."
ace "Yankee Doodle Dandy" singer
on "Full House"? That was Blake McIver (formerly Blake McIver Ewing), whom you may also remember as Waldo from 1994's "The Little Rascals." McIver is now definitely more adult,
as his Instagram account shows
.
The one-time child star told RumorFix
in 2013 that he's been working as a go-go boy in Los Angeles.
Remember Derek Boyd, the
Alyssa Milano, who starred as a preteen on the '80s series "Who's The Boss?," thinks talent is one factor that helps a child star safely transition into more adult roles.
Vanessa Hudgens came to fame as a Disney Channel star in 2006 but soon stepped away from her wholesome "High School Musical" roots. Last year, the star appeared in more adult projects such as "Spring Breakers" and "Machete Kills."
It's still hard to believe that Rudy Huxtable is in her 30s. Keshia Knight Pulliam, the actress who played Rudy on "The Cosby Show" from 1984 to 1992, grew up on TV but has acted sporadically since then.
ripped into paparazzi
in the United Kingdom for trying to take his photo.
Macaulay Culkin turned a scream and an exaggerated expression into a blockbuster movie franchise when he starred in 1990's "Home Alone" at the age of 10. He went on to star in 1991's "My Girl," but in recent years he has not been a huge fan of being on camera. In April 2013, he
Along with Knight Pulliam, Raven-Symone is one of the most recognizable child stars around thanks to her work on the long-running "Cosby Show" and her subsequent career on the Disney Channel. The actress, who is now
"Mad Men" fans have watched Kiernan Shipka grow up as Sally, the daughter of protagonist Don Draper. Having starred on the series since she was 7, Shipka's gone from being a little ballerina with a lisp to a teen girl with enviable poise.
One minute, Abigail Breslin was a 10-year-old "Little Miss Sunshine," and the next thing we know, she's flashing her bra in 2011's "New Year's Eve." The actress is now grown-up enough to take on the older sister role, as she did in the 2013 release "Ender's Game."
Along with Hudgens, Zac Efron was just a teen when he became famous with Disney's "High School Musical." Now in his 20s, Efron caters to audiences well past high school, such as his turn in Lee Daniels' film "The Paperboy" and with Seth Rogen in "Neighbors."
Mary-Kate and Ashley Olsen have been in the entertainment industry since they were literally in diapers -- the pair took turns playing Michelle Tanner on "Full House" from 1987 to 1995. They went on to star in their own movies, but these days the twins are better known for their fashion lines, Elizabeth and James and The Row.
Best known for his role as Renee Zellweger's cute-beyond-words son in 1996's "Jerry Maguire," Jonathan Lipnicki is now old enough to play Zellweger's love interest.
Chloë Grace Moretz was a "Kick-Ass" actress even as a kid, starring in movies like "The Amityville Horror" at age 8. Moretz has ditched the Shirley Temple curls but not her action moves -- the star appeared in the "Kick-Ass" sequel in 2013.
Along with her "Harry Potter" co-star Radcliffe, Emma Watson's proving that she's not little Hermione anymore. The actress played a thief in 2013's "The Bling Ring" and an ax-carrying marauder in "This Is the End."
Lindsay Lohan showed acting prowess at 12 when she played a set of identical twins in the 1998 remake of "The Parent Trap." Lohan went on to star in movies like "Freaky Friday" (2003) and "Mean Girls" (2004), but her tumultuous private life soon interfered with her career.
Anna Chlumsky became a star at age 11 thanks to her role in 1991's "My Girl." After sporadic appearances on TV, the now 33-year-old, who welcomed her first child in 2013, has landed a hit comedy with HBO's "Veep."
All grown up: Child star transformations
All grown up: Child star transformations
All grown up: Child star transformations
All grown up: Child star transformations
All grown up: Child star transformations
All grown up: Child star transformations
All grown up: Child star transformations
All grown up: Child star transformations
All grown up: Child star transformations
All grown up: Child star transformations
All grown up: Child star transformations
All grown up: Child star transformations
All grown up: Child star transformations
All grown up: Child star transformations
All grown up: Child star transformations
All grown up: Child star transformations
All grown up: Child star transformations
All grown up: Child star transformations
All grown up: Child star transformations
All grown up: Child star transformations
All grown up: Child star transformations
All grown up: Child star transformations
All grown up: Child star transformations
All grown up: Child star transformations
All grown up: Child star transformations
All grown up: Child star transformations
All grown up: Child star transformations
All grown up: Child star transformations
All grown up: Child star transformations