STORY HIGHLIGHTS
A treasure trove of notes from Hillary Clinton documents contains a few nuggets
Both opponents and supporters will find what they want in the documents
A recent statement about critics can be read as calculation or evolution
Program note: John King and a panel of top political reporters look at the evolution of Hillary Clinton on "Inside Politics " on Sunday at 8:30 a.m. ET.
Washington (CNN) -- According to candid notes kept by a close friend, Hillary Clinton circa the 1990s hated Washington, distrusted reporters, kept an enemies list and blamed Monica Lewinsky as much, if not more, than her husband.
Anything there you didn't know already?
That is the fundamental question as report after report surfaces about a treasure trove of notes that Clinton confidant Diane Blair took during the Bill Clinton campaigns and presidency in the 1990s.
Make no mistake, there are some priceless nuggets.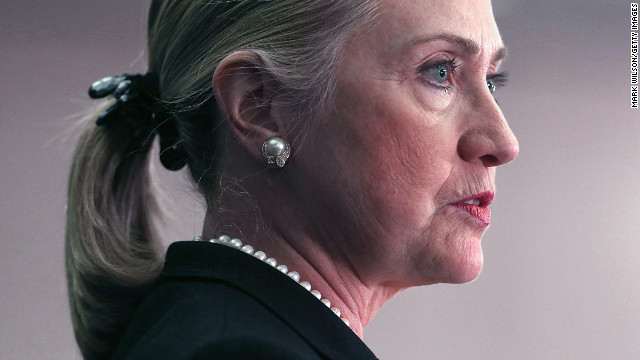 Former Secretary of State Hillary Clinton, pictured in October 2012, has become one of the most powerful people in Washington. Here's a look at her life and career through the years:
Before she married Bill Clinton, she was Hillary Rodham. Here, Rodham talks about student protests in 1969, which she supported in her commencement speech at Wellesley College in Wellesley, Massachusetts.
Rodham, center, a lawyer for the Rodino Committee, and John Doar, left, chief counsel for the committee, bring impeachment charges against President Richard Nixon in the Judiciary Committee hearing room at the U.S. Capitol in 1974.
Arkansas Gov. Bill Clinton helps first lady Rosalynn Carter on a campaign swing through Arkansas in June 1979. Also seen in the photo is Hillary Clinton, center background.
Bill Clinton embraces his wife shortly after a stage light fell near her on January 26, 1992. They talk to Don Hewitt, producer of the CBS show "60 Minutes."
With Hillary, Democratic presidential candidate Bill Clinton waves to the crowd at his victory party after winning the Illinois primary on March 17, 1992.
Al Gore, Tipper Gore, Bill Clinton and Hillary Clinton wave to supporters at the Chautauqua Institution in Chautauqua, New York, after they gave speeches on family values on August 23, 1992.
Clinton gestures at a campaign rally November 3, 1992, in Denver. After taking office, President Bill Clinton chose his wife to head a special commission on health care reform, the most significant public policy initiative of his first year in office.
Bill and Hillary Clinton have a laugh together on Capitol Hill in 1993.
Clinton pours herself a cup of tea in 1993 while testifying to the Senate Education and Labor Committee about health care reform.
Clinton speaks at George Washington University on September 10, 1993, in Washington, during her husband's first term.
Clinton waves to the media on January 26, 1996, as she arrives at federal court in Washington for an appearance before a grand jury. The first lady was subpoenaed to testify as a witness in the investigation of the Whitewater land deal in Arkansas.
Hillary Clinton looks on as President Bill Clinton addresses the Monica Lewinsky scandal in the Roosevelt Room of the White House on January 26, 1998.
Hillary and Bill Clinton arrive at Foundry United Methodist Church on August 16, 1998, in Washington. He became the first sitting president to testify before a grand jury when he testified via satellite about the Lewinsky matter.
Clinton shakes hands during a St. Patrick's Day parade in the Sunnyside neighborhood of Queens, New York, on March 5, 2000.
Clinton waves to the crowd as she arrives on the stage at the Democratic National Convention on August 14, 2000, in Los Angeles.
Clinton campaigns for a Senate seat October 25, 2000, at Grand Central Station in New York.
Hillary Clinton is sworn in as a senator of New York in a re-enactment ceremony with, from left, President Bill Clinton, nephew Tyler, daughter Chelsea, brother Hugh Rodham, mother Dorothy Rodham and Vice President Al Gore on January 3, 2001, in Washington.
Andrew Cuomo, Eliot Spitzer and Clinton celebrate with a crowd of Democratic supporters after their wins in various races November 7, 2006, in New York.
Clinton speaks during a post-primary rally on January 8, 2007, at Southern New Hampshire University in Manchester, New Hampshire.
The Clintons pay a visit to the 92nd annual Hopkinton State Fair in Contoocook, New Hampshire, on September 2, 2007.
Clinton speaks at a campaign rally September 2, 2007, in Portsmouth, New Hampshire. She was running for the Democratic presidential nomination.
Clinton addresses a question during a debate with other Democratic presidential candidate at Dartmouth College in Hanover, New Hampshire, on September 26, 2007. Also pictured are U.S. Rep. Dennis Kucinich of Ohio, left, and former U.S. Sen. Mike Gravel of Alaska.
Felipe Bravo, left, and Christian Caraballo are covered with Hillary Clinton stickers in downtown Manchester, New Hampshire, on January 8, 2008.
Clinton campaigns in Council Bluffs, Iowa, with her daughter, Chelsea, on January 1, 2008, two days ahead of the January 3 state caucus.
Clinton waves as she speaks to supporters at the National Building Museum on June 7, 2008, in Washington. After pulling out of the presidential race, Clinton thanked her supporters and urged them to back Barack Obama to be the next president of the United States.
Obama and Clinton talk on the plane on their way to a Unity Rally in Unity, New Hampshire, on June 27, 2008.
Obama watches Clinton address the Democratic National Convention on August 26, 2008. The two endured a long, heated contest for the 2008 nomination.
Sen. Charles Schumer, left, looks toward Secretary of State designate Clinton as Senate Foreign Relations Committee chairman Sen. John Kerry, center, looks on during nomination hearings January 13, 2009, on Capitol Hill.
Clinton testifies during her confirmation hearing for secretary of state on January 13, 2009, in Washington.
Clinton, as secretary of state, dances with a local choir while visiting the Victoria Mxenge Housing Project in Philippi, a township on the outskirts of Cape Town, South Africa, on August 8, 2009.
Clinton looks through binoculars toward North Korea during a visit to an observation post July 21, 2010, at the demilitarized zone separating the two Koreas.
Clinton walks up the steps to her aircraft as she leaves a meeting of the Association of Southeast Asian Nations on July 23, 2010, in Hanoi, Vietnam.
Hillary and Bill Clinton pose on the day of their daughter's wedding to Marc Mezvinsky on July 31, 2010, in Rhinebeck, New York.
U.S. President Barack Obama and Clinton observe a moment of silence before a NATO meeting November 19, 2010, in Lisbon, Portugal.
Clinton listens as Turkish Foreign Minister Ahmet Davutoglu makes a brief statement November 29, 2010, before a bilateral meeting at the State Department in Washington.
Clinton shakes hands with a child during an unannounced walk through Tahrir Square in Cairo on March 16, 2011.
Obama, Vice President Joe Biden, Clinton and members of Obama's national security team receive an update on the Osama bin Laden mission May 1, 2011, in the Situation Room of the White House.
Clinton checks her personal digital assistant prior to departing Malta on October 18, 2011.
Clinton speaks as Afghanistan President Hamid Karzai listens during a news conference at the presidential palace in Kabul, Afghanistan, on July 7, 2012.
Clinton arrives at Ben Gurion International Airport in Israel on July 15, 2012.
Clinton looks on as Obama makes a statement in response to the attack at the U.S. Consulate in Libya on September 12, 2012.
Clinton applauds Myanmar opposition leader Aung San Suu Kyi during a ceremony where Suu Kyi was presented with the Congressional Gold Medal on September 19, 2012.
Bill Clinton kisses his wife after introducing her at the Clinton Global Initiative annual meeting on September 24, 2012, in New York City.
Clinton shakes hands with Libyan President Mohamed Magariaf on September 24, 2012, in New York.
Clinton stands during a news conference following meetings at the prime minister's office in Pristina, Kosovo, on October 31, 2012. Clinton said that Kosovo's unilaterally declared independence, fiercely opposed by Serbia, was "not up for discussion."
Clinton chats with Suu Kyi before Obama speaks at the University of Yangon in Yangon, Myanmar, on November 19, 2012.
Obama looks at Clinton before the start of a bilateral meeting with Japanese Prime Minister Yoshihiko Noda, far right, during the East Asian Summit in Phnom Penh, Cambodia, on November 20, 2012.
Israeli Prime Minister Benjamin Netanyahu shakes hands with Clinton at the prime minister's office November 20, 2012, in Jerusalem.
Clinton arrives December 4, 2012, for a NATO meeting to discuss Syria and Turkey's request for Patriot missiles to be deployed protectively on the Turkish-Syrian border.
Clinton receives a sports jersey and football helmet from Deputy Secretary Tom Nides, center, after returning to work on January 7, 2013, following a fall where she hit her head and doctors later detected a blood clot. The number 112 represented the number of countries that she had visited as secretary of state.
Clinton and her husband arrive for the inauguration for Obama's second term on January 21, 2013.
Clinton testifies before the Senate Foreign Relations Committee on Capitol Hill on January 23, 2013. Lawmakers questioned Clinton about the security failures during the Benghazi, Libya, attacks that led to the death of four Americans, including U.S. Ambassador Christopher Stevens.
From left, first lady Michelle Obama stands with former first ladies Laura Bush, Clinton, Barbara Bush and Rosalynn Carter at the opening ceremony of the George W. Bush Presidential Center in Dallas on April 25, 2013.
Bill and Hillary Clinton speak to guests at the Clinton Global Initiative on June 14, 2013, in Chicago.
Clinton poses for pictures at St. Andrews University in St. Andrews, Scotland, on September 13, 2013. Clinton received an honorary degree from the university.
From left, Clinton, former first lady Laura Bush and former Presidents Bill Clinton and George W. Bush listen to speakers during the memorial service for Nelson Mandela in Soweto, South Africa, on December 10, 2013.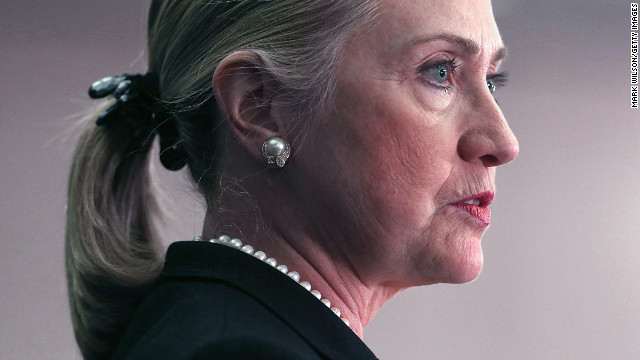 Photos: Clinton's political career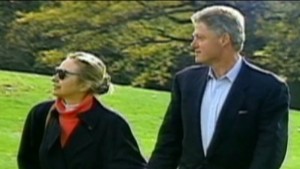 Hillary: Lewinsky a 'looney toon'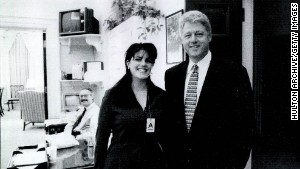 Maher: People loved Hillary after Monica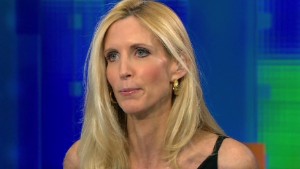 Ann Coulter on women and politicians
Hillary Clinton, for example, is said to have told her friend when "this" was over -- meaning her husband's time in the Oval Office -- she would "go be a kindergarten teacher and never have to hold hands on the Hill again."
Hillary Clinton as kindergarten teacher?
Instead, of course, she went on to become a U.S. senator, a candidate for president and secretary of state. Not to mention now, 13 years after her husband left the White House, the prohibitive favorite to be the next Democratic presidential nominee.
Also in the Blair archives, this note from a conversation during the 1993-94 health care debate: Hillary Clinton, her friend Blair wrote, wanted to make sure she found a way to "best preserve her general memories of the administration and of health care in particular."
Why?
"Revenge," according to Blair's notes.
Confidant's papers: Clinton wanted to keep records for 'revenge'
To conservatives, it's more proof of a Clinton machine that targets its enemies. To supporters, it's either something that can be written off as a reaction in the intense political heat of the mid-1990s or, to some, proof of the toughness and shrewdness that Democrats will need to keep the White House in 2016.
Blair, now deceased, was a Clinton confidant dating back to Bill Clinton's days as the governor of Arkansas. I spoke to her regularly as then-Gov. Clinton prepared for and then sought the presidency, and she was a close friend of both Clintons. So her notes are worth reading if your goal is a better understanding of the Clintons and those roller-coaster days.
But as reporters and Republican researchers read through them now, their lasting value and place depend on whether there are discoveries that add new perspective to a Hillary Clinton public image that has evolved significantly over the past quarter-century.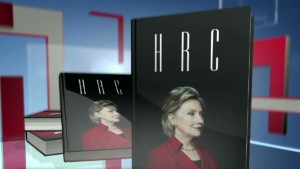 Clinton's tenure at State 'a mixed bag'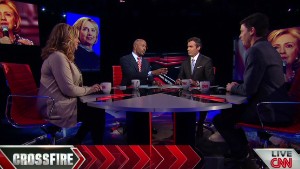 Hillary attack a GOP façade?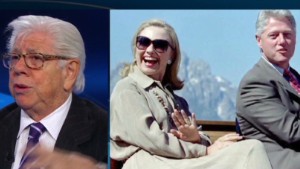 Carl Bernstein on Clinton documents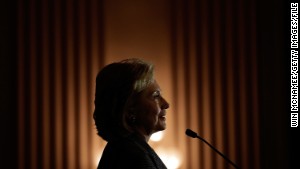 Could Lewinsky haunt Hillary in 2016?
Blair papers offer insight into Hillary Clinton
In 1992, when then-Gov. Clinton often sold the "two for one" theme as he promoted his wife's policy intellect, she was at times on the defensive, about her continued use of her maiden name or her high-profile corporate law work in Arkansas.
Who can forget her, "I suppose I could have stayed home and baked cookies and had teas" rejoinder when challenged about her professional choice in March 1992, while campaigning for her husband in Chicago.
Sixteen years later, she bowed out of the Democratic presidential race, making note of the 18 million votes she received, and it was just a year and a few weeks ago that she aggressively answered GOP critics in Congress who believe her State Department could have prevented the deaths of four Americans in Benghazi, Libya.
Throughout that evolution, she has had a roller-coaster ride in public opinion polls. Several veteran pollsters and strategists contacted in recent days were skeptical, despite their racy quotes and insights, that the Blair files would change public opinion in any dramatic fashion.
Clinton's interpretation of the 'Roosevelt Rule'
One top GOP pollster said absent a blockbuster revelation, opinions of Clinton and her political leanings and character are "baked in" and "part of the complicated mixture of all the stuff people know and think about her."
A longtime Clinton confidant concurred, though in language mostly not fit for family friendly reading. "I do not see a lot of news here," this veteran Democratic hand said of the Blair files.
Some of the chatter in Washington this past week focused on whether all the talk of her past -- and her husband's past -- might dissuade Clinton from becoming candidate Clinton again.
But the longtime Clinton confidant puts his money on a candidacy.
In those Blair notes, there are perhaps a few helpful guideposts, including a conversation with her friend about how Clinton adversaries grew so frustrated by how Bill and Hillary weathered storm after storm.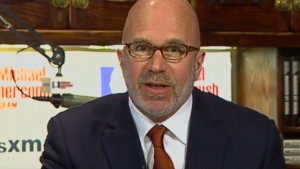 Smerconish talks Christie, Clintons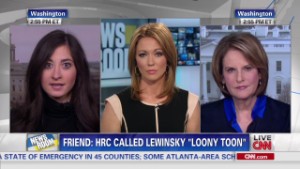 Hillary Clinton on Cheating Scandal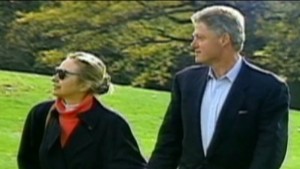 Hillary: Lewinsky a 'looney toon'
Why Hillary forgave Bill over Monica
"This, she said, is what drives their adversaries totally nuts," Blair wrote. "That they don't bend, do not appear to be suffering."
Hillary Clinton's office declined to comment on the materials in the Blair archives.
But perhaps she had her old friend's writings, and the media attention they are drawing, in mind Thursday. At an event focused on helping women and girls around the world, she turned reflective for a moment.
"One of the best pieces of advice I've ever heard is from Eleanor Roosevelt in the 1920s, who said that women in politics or public roles should grow skin like a rhinoceros," she said. "I think there's some truth to that."
Then, the woman who spoke to her friend in the 1990s of cataloging her enemies and someday exacting revenge said this: "It's important to learn how to take criticism seriously but not personally. ...That is not an easy task. I can tell you that from many years of experience and a lot of missteps along the way."
Clinton on taking criticism: 'Don't get dragged down'
Just the smart thing to say at a public gathering, or another of the many evolutions of Hillary Clinton?
Stay tuned.