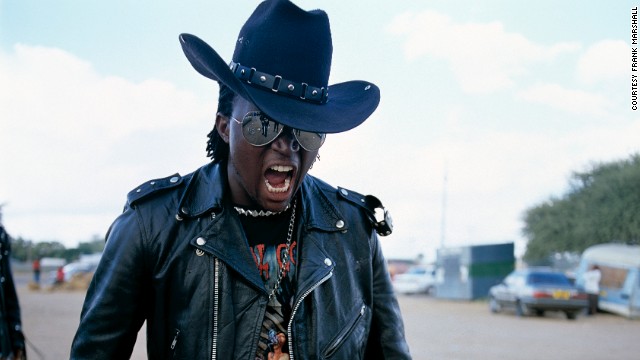 South African photographer Frank Marshall captured Botswana's heavy metal fans and bands as part of his "Renegades" series.
CNN met up with Botswana's metal heads back in 2012, and caught up with them nearly two years later to see how the scene was developing.
"Skinflint" are one of Botswana's leading metal bands, and have played in South Africa, Kenya and even as far afield as Sweden.
"There has been a strong interest in the African metal scene. It has grown both locally and internationally," says Skinflint singer and guitarist Giuseppe Sbrana.
photographer Marshall, 26, was one of the top 10 finalists in the Sony World Photography Organisation Student Competition and the sole contestant from Africa.
Of Botswana's metal fans, Marshall said: "They embody the very aggressive elements of metal. It's an expression of power. Everything is an expression of power for them, from the clothes to the way they speak to the way they walk."
With names like Demon and Gunsmoke it would be easy to dismiss the rockers as thugs. In fact, the titles come with a strong awareness of social responsibility.
For hardcore fans, heavy metal is more than just a scene -- it's part of their identity.
"There's a strong sense of camaraderie amongst them," Marshall said. "That's the first thing you'll notice about them as an outsider coming in. They've got a very strong bond and friendship with each other."
Skinflint's new drummer, Alessandra Sbrana, is a rare female musician in Botswana's rock scene. One female rock fan, Katie, told CNN: "I just enjoy it. It's a happy feeling. If you knew my brothers and sisters, it's something that we are as a family.
'Hardcore (Hellrider),' 2012. Rather than Hell's Angels, Gunsmoke believes the rockers are increasingly seen as guardian angels. "Kids follow us around. Parents approach us. We're there for a good cause actually. We help people on the streets at night," he said.
Botswana's rockers have carved a unique image reminiscent of the 1970s British heavy metal scene.
Animal horns, as seen in the background, are an important fashion accessory in the Botswana heavy metal scene. "We always have a symbol that represents Africa," says rocker Gunsmoke.
CNN's Errol Barnett -- or "Killah" as he was dubbed by Gunsmoke -- gets down with the rockers for Inside Africa in 2012.
'Venerated Villain,' 2010. African mythology and folklore loom large in Skinflint's lyrics. "We have a lot of ancestral beliefs -- back in the day they used to believe that if someone dies and you touch the dead person then Gauna will come and take your soul," Sbrana said.
Botswana's heavy metal heads
Botswana's heavy metal heads
Botswana's heavy metal heads
Botswana's heavy metal heads still rocking
Botswana's heavy metal heads
Botswana's heavy metal heads
Botswana's heavy metal heads
Botswana's heavy metal heads
Botswana's heavy metal heads
Botswana's heavy metal heads still rocking
Botswana's heavy metal heads
Botswana's heavy metal heads
Botswana's heavy metal heads
Botswana's heavy metal heads
Botswana's heavy metal heads