STORY HIGHLIGHTS
Georgia's governor, Atlanta's mayor learned lessons from 2 weeks ago
Residents decided to heed warnings
Storm was worse, but roads were clear
Editor's note: Wayne Drash is a Southerner by birth and an Atlantan by choice. It's hard for him to sit silently when his city takes a whooping. Thus, his take on Atlanta's "historic" winter storm
Atlanta, Georgia (CNN) -- Bruised by the embarrassing 2 inches of snow that crippled Atlanta two weeks ago, the city rallied this week to make sure a repeat wasn't in store.
Here are five reasons Atlanta is not a laughingstock -- this time:
1. People actually listened
I'll be damned. The most historic thing about the storm was people's response: Folks heeded the warnings and stayed home. I didn't think this was possible, until this week.
2. Southern pride
If there's anything Southerners love, it's unleashing a can of whupass. Atlantans and Georgians are resilient folks. We saw the viral posts about Snowjam 2014 and heard the punch lines. We were determined to do better this time.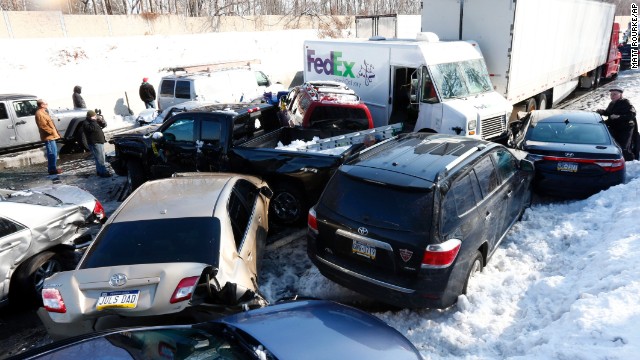 Vehicles are piled up in an wreck Friday, February 14, in Bensalem, Pennsylvania. Traffic accidents involving multiple tractor-trailers and dozens of cars completely blocked one side of the Pennsylvania Turnpike outside Philadelphia.
A pedestrian walks through a cloud of steam on a snowy street in New York on February 14. Commuters faced slick roads after a winter storm brought snow and ice to the East Coast.
A traveler walks through Ronald Reagan National Airport in Arlington, Virginia, on February 14. Numerous flights were canceled and delayed this week as a result of the snowstorm that pounded a huge section of the country.
People dig out vehicles buried in snow in Albany, New York, on February 14.
Chris Starace works to clear snow from his roof in Ossining, New York, on Thursday, February 13.
Snow and ice cover an Atlanta neighborhood on February 13.
People walk through the snow on February 13 in Brooklyn, New York.
The lower Manhattan skyline is seen behind a pile of snow in Brooklyn on February 13.
After spending the night at Reagan National Airport, Ernie Harmon of Long Island, New York, watches a movie while waiting for his flight February 13.
Snow covers cars in Brooklyn on February 13.
Claire Lamborne removes snow from her car in Warrenton, Virginia, on February 13.
A snowman is seen in front of a hardware store in Washington on February 13.
Don Hammond of Newtown, Connecticut, shovels his driveway as snow continues to fall February 13.
A long line of travelers winds around the atrium of Hartsfield-Jackson Atlanta International Airport on February 13 as people attempt to catch flights previously canceled because of the massive winter storm.
Rescue workers in Oxon Hill, Maryland, attempt to upright an overturned tractor-trailer on Interstate 495 on February 13.
Snow collects at the base of escalators at the Dupont Circle Metro Station in Washington on February 13.
A postal worker makes his delivery rounds through blizzard conditions in Bethlehem, Pennsylvania, on February 13.
Motorists push a vehicle on Highway 70 in Raleigh, North Carolina, on February 13, a day after the worst of the storm struck the town.
A man helps push a car in Chapel Hill, North Carolina, on February 13.
Snow blankets a street in Ossining, New York, on February 13.
A traveler kills time as work crews continue to clear snow from the runways at Reagan National Airport in Arlington, Virginia, on February 13.
A man in Bethlehem helps push a stranded motorist February 13.
Lyall MacFee shovels snow in front of Sciortino's Pizzeria in Albany, New York, on February 13.
A man digs out a small snowplow that got stuck while clearing snow from a sidewalk in Chevy Chase, Maryland, on February 13.
A man braces his umbrella while walking through the wind and snow in New York City on February 13.
Police work to tow a bus that slid off the road in Philadelphia on February 13.
A man walks along the snow-covered Vietnam Veterans Memorial in Washington on February 13.
A woman covers her face while walking in New York City on February 13.
A worker clears a snowy sidewalk in Washington on February 13.
Cars sit covered in snow on a street in Manassas, Virginia, on February 13.
A man in Philadelphia shields his face from the elements February 13.
A snowplow removes snow from the sidewalk in Washington's Lafayette Park, across the street from the White House, on February 13.
People walk through snow February 13 in the Chinatown neighborhood of New York City.
People help push a car stuck in the snow February 13 in Alexandria, Virginia.
Kevin Miller looks out the passenger window of his friend's car as they sit stuck in traffic during a winter storm in Raleigh on Wednesday, February 12.
Traffic moves slowly along Wade Avenue in Raleigh on February 12. Motorists were encouraged to stay off roads.
Katharine Newton, a student at the University of North Carolina at Chapel Hill, calls her parents February 12 while walking more than two miles from campus to her parents' home.
Snowplows clear Interstate 75/85 in downtown Atlanta on February 12.
A downed power line is draped across several vehicles in Atlanta on February 12.
A police officer redirects traffic in Charlotte, North Carolina, on February 12.
Ice coats trees hanging over a sign for the Broadway at the Beach tourist attraction in Myrtle Beach, South Carolina, on February 12.
A sign warns drivers of winter weather as they travel on a bleak section of Highway 141 in Norcross, Georgia, on February 12.
A truck in Bossier City, Louisiana, blocks access to Interstate 220, which was closed because of icy conditions on February 12.
City workers spread a mixture of sand and salt on an intersection in Avondale Estates, Georgia, on February 12.
Ice and snow cover Interstate 26 in Columbia, South Carolina, on February 12.
Shmetrice Moore, a nurse at an Emory University hospital in Johns Creek, Georgia, scrapes snow and ice off her windshield as she and others are released early from their shift on February 12.
Hossam Shalaby waits for his rescheduled flight under a departure board at Hartsfield-Jackson Atlanta International Airport on Tuesday, February 11.
A vehicle travels in Greenville, South Carolina, on February 11.
People shop for what is left at a Publix grocery store in Decatur, Georgia, on February 11.
Vehicles slowly make their way over a snow-covered Route 35 in Fort Payne, Alabama, on February 11.
Weather data is projected onto the face of Clint Perkins, director of state operations for the Georgia Emergency Management Agency, as he works in Atlanta on February 11.
A vehicle drives through falling snow on the U.S. 421 bypass in Sanford, North Carolina, on February 11.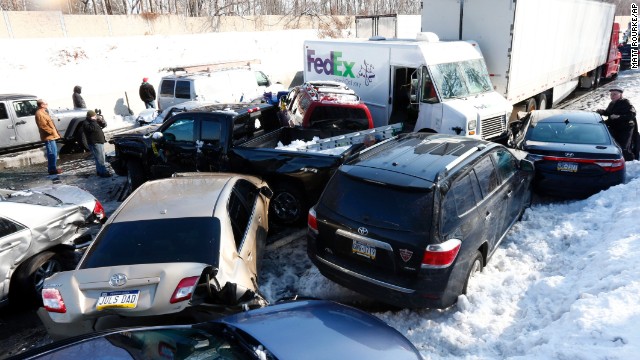 Southeast storm moves north
So take that, critics.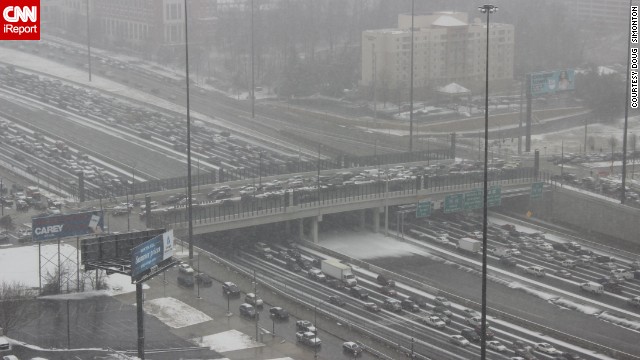 A rare snowstorm left thousands of motorists trapped on Atlanta interstates overnight. "Thank God I walk to work everyday," said Doug Simonton, who snapped this photo Tuesday afternoon.
Monica Cantwell spent Tuesday night in her office at the University of Alabama at Birmingham. Her 13-year-old daughter stayed overnight at her middle school in nearby Hoover, Alabama. " Everyone I spoke with is very angry about the lack of foresight, including myself as a parent," she said.
The severe weather forced 4,500 students to spend the night in various school buildings in Hoover, Alabama. High school student Christopher Brady shot this photo Tuesday evening. "At first we were excited, but then we panicked a bit," he said.
Officials said that 1,254 accidents were reported in Georgia's snowstorm. Jay Hayes shot this photo of I-285 around 5 p.m. Tuesday. "I've lived in Atlanta since 2001, and I have never come across a situation where the city was so unprepared," he said.
As of Wednesday afternoon, hundreds of cars were still stranded on Atlanta's interstates, as seen in this photo taken on a GA 400 exit by iReporter Dylan Wintersteen. "It's bizarre to see all the cars people abandoned and just left last night," he said.
CNN Video Producer Jo Parker slept alongside other female staffers in the basement of the Omni Hotel in Atlanta, where all rooms were booked. Male CNN staffers had less luxurious accommodations in the employee gym.
While walking to the grocery store in Roswell, Georgia, Smith Culberson came across an entire highway of abandoned vehicles. "Most cars couldn't drive up the exit ramp because of the ice," he said.
Marcy Heinz left work in Johns Creek, Georgia, at 1:15 p.m. and spent 8 hours on streets and back roads trying to get home. "The gridlock was absolutely unbelievable," she said. "I have 14 and a half years experience driving in Atlanta and this is the worst I've ever seen it." She eventually gave up and wound up spending the night at Milton High School, where students were safely sheltered in one part of the school, separated from stranded motorists also seeking shelter.
Ian Walters says it took about an hour to make the five-mile drive to his Roswell, Georgia, home on Tuesday afternoon. He says the car he was riding in hit a patch of ice on the way up this hill and got stuck for about 10 minutes. Walters was one of the lucky ones, though -- many Atlanta residents reported commutes that took several hours longer than usual.
Keshia Owen camped out at HYATT house Atlanta/Cobb Galleria after she could not make it home Tuesday. "I left work at 12:45 yesterday and haven't seen home yet," said Owen.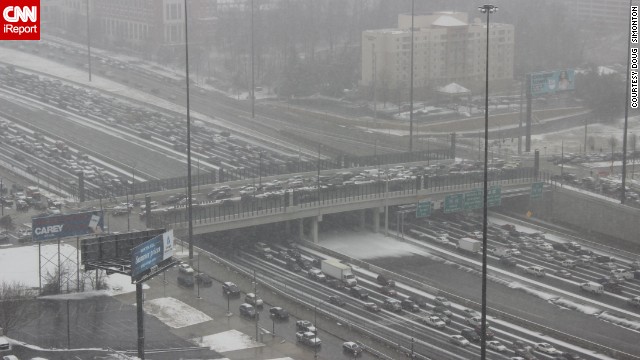 Stranded in the snow: Scenes from the South
Jon Stewart, is that egg on your face or grits?
3. A most awesome robocall
In my 19 years in Atlanta, never before have I received a call from the mayor's office announcing a state of emergency. But Mayor Kasim Reed did just that Tuesday night, urging hundreds of thousands of Atlantans to remain inside ahead of Wednesday's storm and to stay off the roads.
That's what I call a Robocall of Awesomeness. Whether it was to scare us or save political face from two weeks ago, its intended effect resulted in people not venturing outside.
This is not to exonerate the mayor and Gov. Nathan Deal for their missteps two weeks ago. They blew it during Snowjam, pointing fingers and appearing to play politics while thousands were stranded on the highways of metro Atlanta. In an interview with CNN, the mayor had seemed clueless at residents' angst over his handling of the storm. "I don't think people are mad at me," he told CNN.
But too many times we excoriate leaders -- often rightfully so -- but don't credit them when they learn a lesson. It was clear Mayor Reed and Gov. Deal learned from the mistakes of two weeks ago. For his part, Deal was out front early on, urging residents to use caution and be prepared.
The two leaders weren't going to let the region become the butt of late-night jokes and viral Internet posts again.
4. Admit it: Those meteorologists are pretty good
OK, my generation of Southerners grew up in an era when winter storm predictions stunk. Forecasters would predict 4 inches of snow and, as kids, we'd ditch homework, drink hot cocoa and stay up late looking out our windows. Once every few years, we'd awake to an inch of snow.
This makes for a skeptical bunch.
Fast forward to today: Throw into the mix local news reporters who stand outside while nothing is happening and scream from the TV as dire music plays: SOMETHING REALLY BAD IS HEADED OUR WAY!
This lends itself to eyeball rolling. And I imagine this played a major role in Snowjam. From officials on high to gritty workers, we collectively yawned -- until we all ran out the door at work at the same time.
These days, armed with new-fangled tracking methods, the meteorologists have been spot on. They predicted the storm of two weeks ago with precision and did so again.
Granted, the warnings from the National Weather Service of a catastrophic and historic storm -- repeated by every news outlet -- turned out to be over-the-top. The storm was neither. It packed a powerful punch, for sure, but nothing too alarming. Nothing any non-Southern city wouldn't just take in stride.
5. We didn't 'pull an Atlanta'
Yes, Snowjam had actually coined a new term. Salt truck crews in the Midwest last week repeatedly told reporters they were out early to de-ice roads because they "weren't gonna pull an Atlanta." And this time, by golly, Atlanta didn't pull an Atlanta either. (Apparently the crews in North Carolina were not notified of this term.)
Look. Atlanta has plenty of reasons to be a laughingstock. Congested roads, weird political dynamics and far too few World Series titles (not to mention a lack of NBA titles and Super Bowl victories).
But we do have a thriving economy, tons of green space and friendly people in a world-class city.
I spent Wednesday embedded with Atlanta firefighters at Station 10, Battalion House 5. The collective effort by citizens and local leaders made for a boring day. There were no heroic rescues. This made for a restless bunch. As one put it: "When's that biblical, catastrophic storm gonna get here?"
To be clear, this storm was far worse than the one two weeks ago. More than 350,000 Georgians were without power at its peak, and at least two deaths were attributed to the weather. It was serious business in small pockets. But because most folks stayed inside, it had the feel of a dud.
"That's the way we like it," said fire Sgt. Jared Keba.
If this was a catastrophic storm, I hope I live in Atlanta when the apocalypse hits.