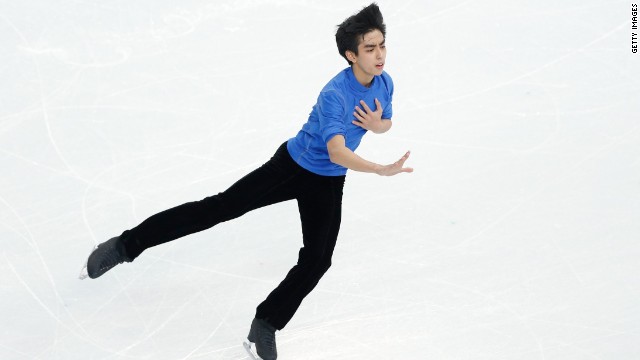 There are 88 countries participating at the Winter Olympics in Sochi, but some countries are only sending one athlete. One is the Philippines, represented solely by 17 year-old skater Michael Christian Martinez, a talented teen who has overcome asthma to qualify for the Games.
Bermuda's sole athlete and flag-bearer is Tucker Murphy, a skier, seen proudly wearing Bermuda shorts at the Games' opening ceremony.
Freestyle skier Peter Crook, 21, is the only athlete from the sunny British Virgin Islands.
From the Hong Kong special administrative region of China comes Pan-To Barton Lui, a 20 year-old speed skater. Because of a lack of training facilities in Hong Kong, he trained in Canada during his teens.
44-year old Dacchiri Sherpa is Nepal's sole representative, and will compete in cross-country skiing.
The sole representative of Mexico, Hubertus von Hohenlohe, is a skier descended from German royalty, and says he will hit the slopes in a mariachi suit.
The only person from Tonga at Sochi is 21 year-old Bruno Banani, a luger. Formerly named Fuahea Semi, Banani changed his name to the same name as a German underwear company as a marketing ploy.
Hailing from landlocked Paraguay, 21 year-old Julia Marino learned to ski in the Northeast United States but hopes to claim gold for the country where she was born.
Philippines
Bermuda
British Virgin Islands
Hong Kong
Nepal
Mexico
Tonga
Paraguay
STORY HIGHLIGHTS
Teenage from the Philippines is first Olympic figure skater from southeast Asia
Michael Christian Martinez started skating at age 8 at public rink
He has had just two months of full training because of financial factors
Hong Kong (CNN) -- A Philippine teenager with a shy, crooked smile and expressive eyebrows -- who also happens to be the first figure skater ever to represent a Southeast Asian country -- qualified for the free skate after his performance on Thursday.
Michael Christian Martinez, the lone athlete for the Philippines, is an unlikely competitor from a country without snow.
Catapulted into the limelight after qualifying last year, his entire home country, which has never won a medal in the Winter Olympics, is rooting for him.
On Thursday, he finished 19th overall with a total segment score of 64.81 which means he'll move on to Friday's final free skate.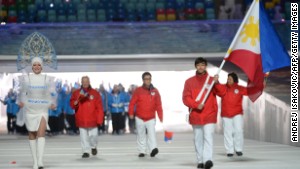 Philippines' flag bearer, Michael Christian Martinez, leads his national delegation during the Opening Ceremony of the 2014 Sochi Winter Olympics.
"I'd love to qualify for the free skate [top 24]; that would be a big accomplishment for me," Martinez, 17, said in an interview with NBCOlympics.com prior to the competition.
"I don't know what placement I'll get because my training is so different, but we'll see."
It's likely to be a David-versus-Goliath match-up. Facing medal favorites such as Japan's Yuzuru Hanyu and Canada's Patrick Chan, who rank first and second after the short program, Martinez has not benefited from the same intensive training as many of his competitors.
Maria Teresa Martinez, his mother, said her son had full training for two months before arriving in Sochi because of difficulties funding his Olympic aspirations.
Ice skating is a costly endeavor with expenses for travel, equipments and coaches.
His mother told CNN in an email that the family patched together donations from a local shopping mall ice rink, friends and his skating club. She said the family's life saving has been depleted and that their family's farm in Luzon province had been damaged by typhoons last year.
If Martinez hadn't qualified for the Olympics in 2013, he would've had to quit competitive skating because his family couldn't afford it, his mother added.
"Now that he qualified, we are hoping we can finally get support so he can continue, and try to qualify again in 2018, where he will be more matured and more ready physically and mentally," she wrote.
Regardless of how he fares this week, Martinez has come a long way.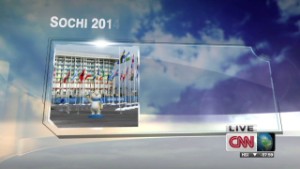 Sochi's massive overspend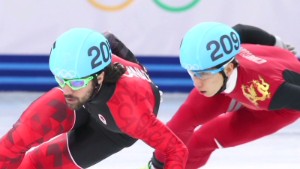 Canadian speed skater Hamelin takes gold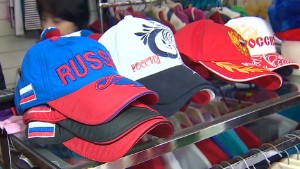 Shopping for Olympic souvenirs in Sochi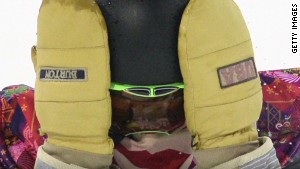 No halfpipe medal for Shaun White
Born in Paranaque City, Martinez was stricken with asthmatic bronchitis at two months old. As a young boy, he struggled with sports because of his asthma attacks.
"I couldn't take up any sport. I tried outdoor sports when I was younger, but I easily got asthma attacks so I stopped," he said in his Sochi Olympic athletes profile.
"I had asthma maintenance medicine when I started skating, since the cold in the rink makes me sick too. But year after year, my health keeps improving, so my mother fully supported me to continue skating. She said it's better to spend the money on skating than in the hospital."
He got his first glimpse of skating after going to a shopping mall with his mother at age 8. He became mesmerized when he saw skaters spinning and jumping.
By age 12, he was competing in European junior competitions and winning gold without a coach, his mother said.
In 2010, he began training in the United States with coaches including John Nicks and Ilia Kulik, she said.
Martinez splits his time between Manila and Los Angeles.
In 2013, he came in fifth at the world Junior Championships in Milan. He is currently ranked 30th by the International Skating Union.
Martinez does not have a dedicated practice rink in the Philippines and has to use a public one, his mother said. In late January, Martinez nursed an inflamed knee, saying it was likely caused by skating on rough ice, according to an interview with Catholic News Service.
Martinez' social media accounts show a smile-prone teenager flashing peace signs in photographs and having the time of his life in Sochi.