STORY HIGHLIGHTS
NEW: More than 729,000 without power in Southeast, utilities say
More than 4,100 flights are canceled for Thursday
All federal offices in Washington are shuttered, officials say
Casualty toll from storm climbs to at least 10
Are you feeling the effects of the winter storm? Share your images and stories with CNN iReport, but only if it is safe to do so.
Atlanta (CNN) -- Get off the roads, and stay off.
That was the message in Georgia and the Carolinas as a snow and ice storm swept through Wednesday, bringing some of the Southeast's most populous cities to a standstill.
The warnings came as freezing rain brought heavy ice accumulations from Atlanta to Charlotte. Across a large swath of the South, hundreds of thousands of people were without power and thousands of flights were canceled.
Calling ice the biggest enemy, Georgia Gov. Nathan Deal declared a state of emergency. School districts canceled classes and government offices were shuttered in an attempt to avoid a repeat of the traffic paralysis caused by a storm last month.
Up to three-quarters of an inch of ice was expected to accumulate in Atlanta and up to 10 inches of snow and sleet were expected in Raleigh and Charlotte, making travel treacherous.
Also in the storm's path were Virginia and Washington, with much of the Northeast to follow.
All federal offices in the nation's capital were ordered closed, and thousands of employees were being told to stay home, according to the Office of Personnel Management.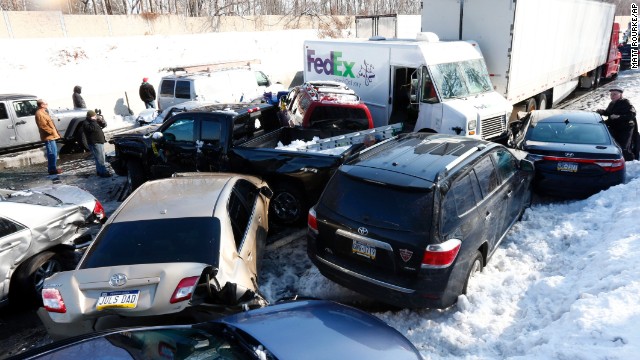 Vehicles are piled up in an wreck Friday, February 14, in Bensalem, Pennsylvania. Traffic accidents involving multiple tractor-trailers and dozens of cars completely blocked one side of the Pennsylvania Turnpike outside Philadelphia.
A pedestrian walks through a cloud of steam on a snowy street in New York on February 14. Commuters faced slick roads after a winter storm brought snow and ice to the East Coast.
A traveler walks through Ronald Reagan National Airport in Arlington, Virginia, on February 14. Numerous flights were canceled and delayed this week as a result of the snowstorm that pounded a huge section of the country.
People dig out vehicles buried in snow in Albany, New York, on February 14.
Chris Starace works to clear snow from his roof in Ossining, New York, on Thursday, February 13.
Snow and ice cover an Atlanta neighborhood on February 13.
People walk through the snow on February 13 in Brooklyn, New York.
The lower Manhattan skyline is seen behind a pile of snow in Brooklyn on February 13.
After spending the night at Reagan National Airport, Ernie Harmon of Long Island, New York, watches a movie while waiting for his flight February 13.
Snow covers cars in Brooklyn on February 13.
Claire Lamborne removes snow from her car in Warrenton, Virginia, on February 13.
A snowman is seen in front of a hardware store in Washington on February 13.
Don Hammond of Newtown, Connecticut, shovels his driveway as snow continues to fall February 13.
A long line of travelers winds around the atrium of Hartsfield-Jackson Atlanta International Airport on February 13 as people attempt to catch flights previously canceled because of the massive winter storm.
Rescue workers in Oxon Hill, Maryland, attempt to upright an overturned tractor-trailer on Interstate 495 on February 13.
Snow collects at the base of escalators at the Dupont Circle Metro Station in Washington on February 13.
A postal worker makes his delivery rounds through blizzard conditions in Bethlehem, Pennsylvania, on February 13.
Motorists push a vehicle on Highway 70 in Raleigh, North Carolina, on February 13, a day after the worst of the storm struck the town.
A man helps push a car in Chapel Hill, North Carolina, on February 13.
Snow blankets a street in Ossining, New York, on February 13.
A traveler kills time as work crews continue to clear snow from the runways at Reagan National Airport in Arlington, Virginia, on February 13.
A man in Bethlehem helps push a stranded motorist February 13.
Lyall MacFee shovels snow in front of Sciortino's Pizzeria in Albany, New York, on February 13.
A man digs out a small snowplow that got stuck while clearing snow from a sidewalk in Chevy Chase, Maryland, on February 13.
A man braces his umbrella while walking through the wind and snow in New York City on February 13.
Police work to tow a bus that slid off the road in Philadelphia on February 13.
A man walks along the snow-covered Vietnam Veterans Memorial in Washington on February 13.
A woman covers her face while walking in New York City on February 13.
A worker clears a snowy sidewalk in Washington on February 13.
Cars sit covered in snow on a street in Manassas, Virginia, on February 13.
A man in Philadelphia shields his face from the elements February 13.
A snowplow removes snow from the sidewalk in Washington's Lafayette Park, across the street from the White House, on February 13.
People walk through snow February 13 in the Chinatown neighborhood of New York City.
People help push a car stuck in the snow February 13 in Alexandria, Virginia.
Kevin Miller looks out the passenger window of his friend's car as they sit stuck in traffic during a winter storm in Raleigh on Wednesday, February 12.
Traffic moves slowly along Wade Avenue in Raleigh on February 12. Motorists were encouraged to stay off roads.
Katharine Newton, a student at the University of North Carolina at Chapel Hill, calls her parents February 12 while walking more than two miles from campus to her parents' home.
Snowplows clear Interstate 75/85 in downtown Atlanta on February 12.
A downed power line is draped across several vehicles in Atlanta on February 12.
A police officer redirects traffic in Charlotte, North Carolina, on February 12.
Ice coats trees hanging over a sign for the Broadway at the Beach tourist attraction in Myrtle Beach, South Carolina, on February 12.
A sign warns drivers of winter weather as they travel on a bleak section of Highway 141 in Norcross, Georgia, on February 12.
A truck in Bossier City, Louisiana, blocks access to Interstate 220, which was closed because of icy conditions on February 12.
City workers spread a mixture of sand and salt on an intersection in Avondale Estates, Georgia, on February 12.
Ice and snow cover Interstate 26 in Columbia, South Carolina, on February 12.
Shmetrice Moore, a nurse at an Emory University hospital in Johns Creek, Georgia, scrapes snow and ice off her windshield as she and others are released early from their shift on February 12.
Hossam Shalaby waits for his rescheduled flight under a departure board at Hartsfield-Jackson Atlanta International Airport on Tuesday, February 11.
A vehicle travels in Greenville, South Carolina, on February 11.
People shop for what is left at a Publix grocery store in Decatur, Georgia, on February 11.
Vehicles slowly make their way over a snow-covered Route 35 in Fort Payne, Alabama, on February 11.
Weather data is projected onto the face of Clint Perkins, director of state operations for the Georgia Emergency Management Agency, as he works in Atlanta on February 11.
A vehicle drives through falling snow on the U.S. 421 bypass in Sanford, North Carolina, on February 11.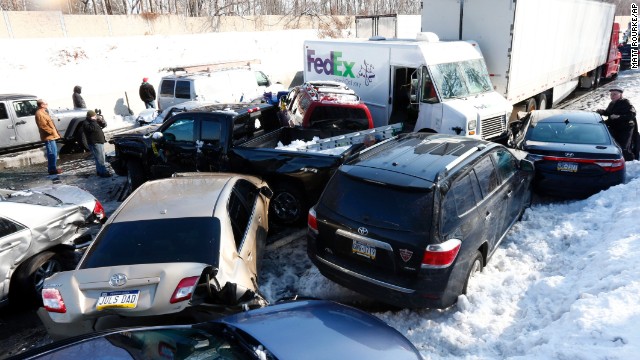 Southeast storm moves north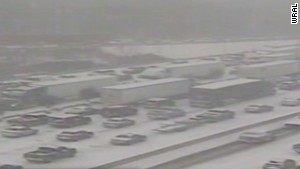 Massive traffic jam in North Carolina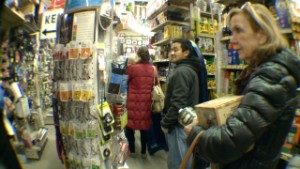 Atlantans stocks up for winter storm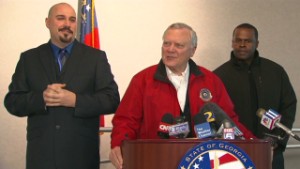 Georgia governor: It's not end of the world
'Stay home, if you can'
While most of the major thoroughfares in and out of the city of Atlanta were reportedly devoid of traffic, a different scene was playing out to the northeast where the storm appeared to take people by surprise despite days of warnings.
"Stay home, if you can," North Carolina's Department of Public Safety said in posts on Twitter. "Quickly deteriorating road conditions, numerous car accidents in Durham/Franklin/Johnston/Wake counties."
Collaborate and listen: A catchy school closure
Gridlock gripped portions of the state, including Raleigh, Durham and Charlotte, as cars and trucks got stuck on snow- and ice-covered roads.
"We saw so many people ... cars piled up and left on the side of the road, and wrecks," said Christina Martinson, who was stuck in the snow-bound traffic with her husband and son for hours in Durham.
"It's really, really bad, and it got so bad so quickly that people just weren't ready. Even though we were warned, it just happened more quickly than you would think possible."
For some, there just wasn't enough time.
Michael Crosswhite, 44, planned on leaving work in Raleigh, in Wake County, by midafternoon, well ahead of when forecasters initially predicted a snow and ice storm to hit the area.
But by noon, the snow and icy rain was coming down.
'Nothing you can do but hope you don't get stuck'
"We just passed an 18-wheeler that spun out into a ditch," he said by telephone more than two hours into his journey home to Durham, a trip that typically takes less than 30 minutes.
Moments later, a car ahead of him spun out in front of him.
"It's kind of slushy, and there are just icy spots that there is nothing you can do but hope you don't get stuck," Crosswhite said.
The images out of Raleigh and Charlotte recalled a similar scenario in Atlanta, a city shut down by 2.6 inches of snow two weeks ago when thousands of commuters were stuck on highways. Some drivers spent up to 20 hours in their cars.
"Right now we've got people traveling up and down the highways in special four-wheel vehicles to make any rescues that we need to make, and more than anything else we're just encouraging people to be smart, and don't put their stupid hat on during the next 48 hours," North Carolina Gov. Pat McCrory said.
The North Carolina Department of Transportation is urging people not to abandon their vehicles.
"There are some people abandoning their vehicles. We are urging them not to. It is very dangerous for them to be on foot with cars sliding near them and it blocks access for our sand trucks and plows and causes gridlock," said Communications Supervisor Steve Abbott.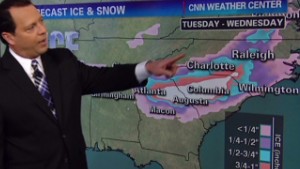 Forecast: Crippling, catastrophic ice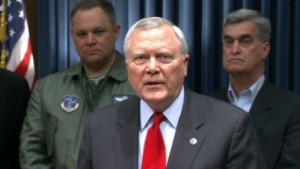 Deal: Ice is our biggest enemy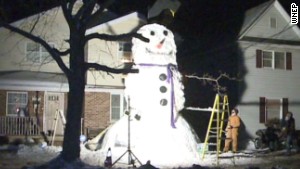 Teen builds huge snowman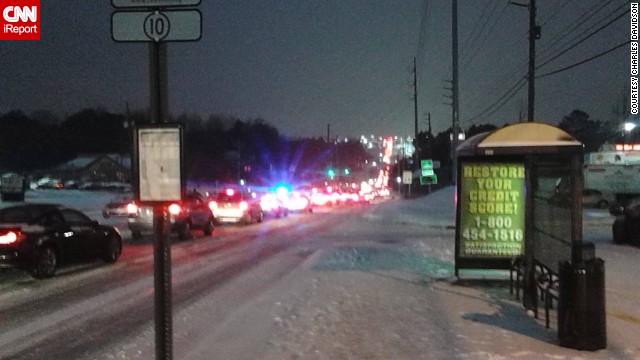 Charles Davidson spent nearly seven hours in his car before running five miles home after Atlanta's last snow. This time, he plans to stay in his house from the start. He and others stranded last time say they will be prepared.
Jagannathan Santhanam also plans to stay home after spending hours in his car the last time the roads got icy. He'll work remotely and keep his kids home, too.
Recruiter Keisha Owen, who spent two nights away from home during the last snow, will stay in her house and conduct interviews via Skype. This photo was taken during a night she spent stranded at a local hotel.
Faith Evangelista will be prepared if she has to spend another 11 hours in her car. She's packed an emergency kit and made sure she has plenty of gas.
Greg Ranallo walked more than 10 miles to a friend's house after his car was stranded during the last storm. It was a chilly experience. This time, he's packed extra warm clothes in his car, just in case.
During the last snow, Martin Cousin spent 23 hours in his car. He hopes that, this time, Atlanta has asked experienced northern cities and states for their advice in dealing with snow and ice.
And Joe Schenck's lesson? Bring pants. Always bring pants. Last time, he trekked along the highway in his gym shorts until he was rescued by a bus full of middle schoolers.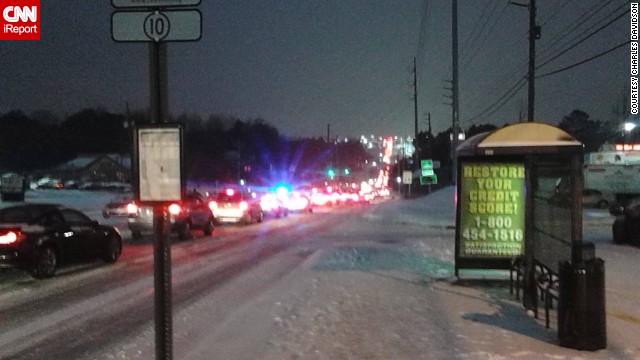 Will Atlanta be ready this time?
It appeared people in Atlanta had learned their lesson.
Deal applauded Atlantans who kept the roads clear, saying during a midday news conference, "That's a good starting point."
Even so, there were thousands without power across the state after ice caused tree limbs to snap, knocking out power lines.
With temperatures below freezing, the National Guard opened up 35 armories across the state to be used as shelters and warming centers, CNN affiliate WSB-TV reported.
In Durham, the Streets at Southpoint Mall opened up as a shelter.
"We are here for people that need to get off the road," general manager Todd Anderson said. "We had a few people here earlier, now there is just a handful of people left but we will be available through evening."
"We are just trying to do the right and get people out of the cold," he added.
The Red Cross, meanwhile, reported hundreds sought shelter overnight at its facilities stretching from Louisiana to North Carolina.
In North Carolina, Kim Martin Rehberg's typical 25-minute commute was turning into an hours-long ordeal Wednesday as she tried to make it from her office in Durham to her home in Raleigh.
Three hours later, she still had miles to go. So, too, did the rest of her family who were stuck in traffic across the region.
"My daughter was stranded trying to get from her gymnastics class in Apex. My ex-husband is trying to get her and he got trapped," she said by telephone, referring to a Raleigh suburb.
"My husband is in Charlotte and says things are bad. All the gas stations are shutting down, and I had trouble trying to gas up."
'Our own trucks are stuck'
There are snowplows on the roads but "unfortunately some of our own trucks are stuck in the same traffic jams that a lot of other people are and they're having a hard time getting to the roads that need to be cleared," said Dan Howe, Raleigh's assistant city manager.
The low-pressure weather system bringing the snow and ice to the Southeast is expected to move up the East Coast, dropping snow on the Northeast. Six to 8 inches are predicted for Washington, with especially heavy snowfall Thursday morning, and 6 to 10 inches on New York from midnight Wednesday into Thursday, with a combination of snow, sleet and rain continuing until Friday morning.
New York Gov. Andrew M. Cuomo told state agencies to prepare "for an impending nor'easter" and asked residents to avoid unnecessary travel.
Power outages
More than 729,000 customers were without power in the Southeast, power companies told CNN. More than 210,000 were Georgia Power customers, the utility said.
South Carolina was the hardest hit, with about 220,000 customers without electricity, while Wilmington, North Carolina, accounted for more than 58,000 outages.
The utilities said Wednesday morning they expect those numbers to rise over the next 24 hours.
Georgia Power, the state's largest utility, warned that hundreds of thousands could be without electricity for days.
"This has the opportunity to be a huge event when you're talking about the amount of ice you're looking at," Aaron Strickland, Georgia Power's emergency operations chief, told reporters.
The utility staged fleets of trucks across the area. Teams from Florida, Texas and Ohio bolstered local line crews.
Transportation woes
The storm system also was taking its toll on travel.
Amtrak suspended some rail service in the Northeast, South and Mid-Atlantic regions for Wednesday.
Nationwide, more than 3,400 flights were canceled Wednesday and even more than 4,100 were scrubbed for Thursday, according to FlightAware.com.
Among the canceled flights were more than 1,600 in and out of Atlanta's Hartsfield-Jackson Internationanl Airport. Charlotte Douglas International and Raleigh-Durham International airports accounted for the majority of other flights canceled.
Deadly toll
At least 10 deaths have been blamed on the weather, including a 55-year-old man who was killed in a head-on collision in Virginia, authorities said. Two people were killed in Georgia, and two died in North Carolina, they said.
In Texas, three people died when an ambulance driver lost control on an icy patch of road outside of Carlsbad, the state Department of Public Safety said. A patient, a paramedic and another passenger were pronounced dead at the scene.
In Mississippi, authorities blamed the storm for two traffic deaths.
It's not the snow, it's the ice
Travelers get another winter wallop
CNN's Wolf Blitzer, Dana Ford, Eliott C. McLaughlin, Ed Payne, Tom Watkins, Steve Almasy, Stephanie Gallman, Carma Hassan, Dave Alsup and Sean Morris contributed to this report.