STORY HIGHLIGHTS
NEW: 40-foot wide sinkhole creates "millions" in damages at National Corvette Museum
NEW: "There's a cave down there," says museum spokeswoman
NEW: Engineers say Sky Dome suffered no structural damage
The cost of the damaged cars is "substantial," a museum director says
(CNN) -- Sinkholes are swallowing Corvettes now. Last year it was houses in Florida, and on Wednesday nature gobbled up some of the coolest and fastest cars to come off the assembly line.
Eight valuable 'vettes at Bowling Green, Kentucky's National Corvette Museum fell victim to a 40-foot-wide, 20-foot-deep sinkhole that opened up in the facility's yellow Sky Dome wing. The museum unofficially estimates it caused millions of dollars in damage.
Motion detectors alerted security that something was amiss shortly after 5:30 a.m., said museum spokeswoman Katie Frassinelli. An employee who first walked into the room "has been in shock all day," she said.
"When you go in there, it's unreal," said Frassinelli. "The hole is so big, it makes the Corvettes look like little Matchbox cars."
The news triggered a collective worldwide gasp from the Corvette Nation.
"I was shocked," said Frazer Bharucha, 47, a Corvette owner since age 17. "We're talking about iconic cars that have been around for years."
Using remote-controlled drones, geologists and engineers from nearby Western Kentucky University have already explored the sinkhole and determined that the Sky Dome suffered no structural damage, Frassinelli said. "There's a cave down there," she said, adding that the museum is only a short drive away from Mammoth Cave National Park.
The damaged portion of the museum will be closed indefinitely, but the rest of the facility will be open as usual on Thursday, she said.
The painful losses have been tallied: Of the eight cars that fell, six were donated to the museum by Corvette enthusiasts, and two are owned by the car's maker, General Motors.
Here's the museum's list of cars that went down the hole:
-- a 1962 "Black Corvette" -- a 1984 PPG pace car -- a 2009 ZR1 "Blue Devil" -- the 1992 white "1 Millionth Corvette" -- a 1993 ruby red "40th Anniversary Corvette" -- a 2001 Mallett Hammer Z06 Corvette -- the 2009 white "1.5 Millionth Corvette" -- a 1993 ZR-1 Spyder
The total value of the damaged cars is substantial, said museum executive director Wendell Strode. Almost all the cars have been removed from the room. They've been setting up ramps to get the last one out," said Frassinelli. That remaining Corvette is suspended in a precarious position on a riser directly above the sinkhole.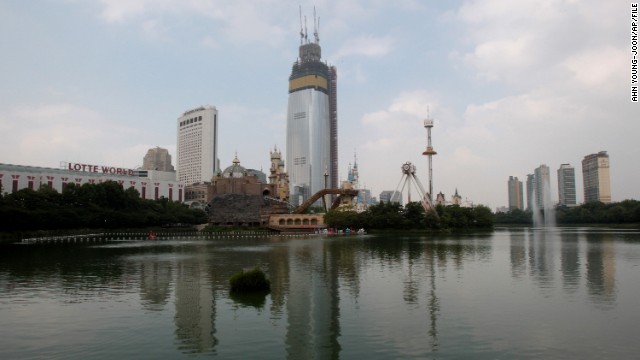 An increasing number of sinkholes have appeared in and around the neighborhood where the Lotte World Tower is being built in Seoul, South Korea. The first one was discovered in June and several others have appeared since then, according to local media reports, causing the construction of what would be Seoul's tallest building to come under scrutiny.
Eight Corvettes fell into a sinkhole that opened up beneath a section of the National Corvette Museum in Bowling Green, Kentucky, on February 12. The sinkhole was about 40 feet wide and 25-30 feet deep.
The rear portion of a residential home is consumed by a sinkhole November 14 in Dunedin, Florida.
A 60-foot-wide sinkhole formed underneath the Summer Bay Resort in Clermont, Florida, about 10 minutes from Walt Disney World, on August 11. One resort building collapsed, and another slowly sank.
A backhoe is swallowed by a sinkhole in Montreal, Quebec, Canada, on August 6. The driver of the backhoe was not injured.
A sinkhole killed a guard at a construction site in Shenzhen, China, on March 27. The sinkhole might have been caused by heavy rains and the collapsing of old water pipes running beneath the surface, the Shenzhen Special Zone Daily reported.
Workers watch the demolition of the house where a sinkhole opened three days before in Seffner, Florida, on March 3. Sinkholes caused by acidic groundwater corroding the limestone or carbonate rock underground are common in Florida, according to the Florida Department of Environmental Protection.
Buildings fell into a sinkhole near a subway construction site in Guangzhou, China, in January 2013. The hole measured about 1,000 square feet across and 30 feet deep and was without casualties, according to a state media report.
A basketball court in Ortley Beach, New Jersey, fell into a sinkhole caused by Superstorm Sandy in November 2012.
In July 2011, a man inspects a 40-foot-deep sinkhole that a family found after they heard a booming noise in their kitchen in Guatemala City, Guatemala.
Construction on a subway line caused a huge sinkhole to form in a road in Beijing in April 2011.
An aerial photo shows sinkholes created by the drying of the Dead Sea near Israel in 2011.
A utility worker examines the area around a sinkhole caused by a broken water main in Chevy Chase, Maryland, in December 2010.
Tropical Storm Agatha caused a sinkhole to open in Guatemala City in May 2010.
A fire truck protrudes from a sinkhole as Los Angeles Mayor Antonio Villaraigosa talks to reporters in September 2009.
A water main collapsed an entire block-long part of Ocean Park Boulevard in Santa Monica, California, in December 2002.
In Orlando, a sinkhole 150 feet wide and 60 feet deep swallowed trees, pipelines and a section of sidewalk near an apartment building in June 2002.
A 30-foot-deep sinkhole appeared in a busy street in a suburb east of downtown Los Angeles. A motorist drove into the hole but was rescued before a concrete slab fell onto the car.
"The Great Blue Hole" is the name of a massive underwater sinkhole off the coast of Belize. The deeper you go, the clearer the water becomes, revealing amazing stalactites and limestone.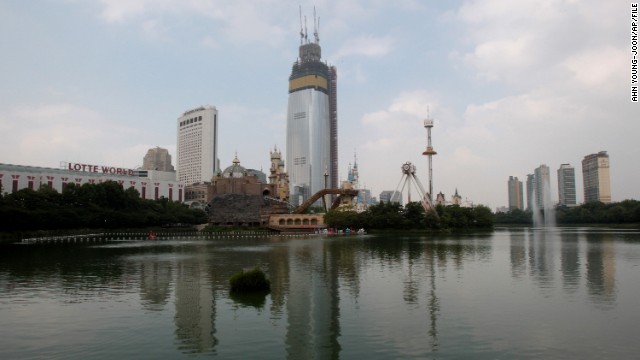 Photos: When the ground gives way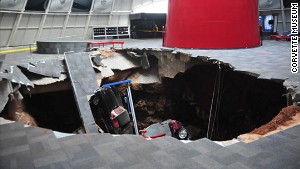 Corvettes swallowed up in sinkhole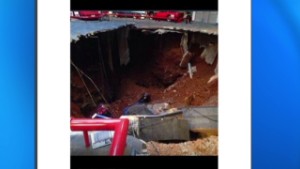 Sinkhole swallows eight Corvettes
Bharucha, of the Long Island Corvette Owners Association, knows the museum well, having visited it at least six times. "There's a sense of awe and you get a lump in your throat when you walk inside."
He's right. I've been there. It's hallowed ground. Under the Sky Dome's recognizable red spire and towering vaulted 100-foot high ceiling sits a round chamber that cradled rare vehicles, including Indianapolis 500 and Daytona 500 pace cars. The room feels like a cathedral. And for many enthusiasts, it is kind of the Church of the Corvette. It is home to more than 70 unique Corvettes, including several prototypes and a unique 1983 model -- the only one in existence.
Only 43 1983 Corvettes were manufactured before GM decided to scrap them and move on to the 1984 design. All were destroyed, except the one now housed at the museum. That car will likely go on display elsewhere in the museum, Frassinelli said, but the others from the damaged dome will be placed in storage.
Let's remember the Corvette's rich tradition. This is the ultra-cool car driven by Bill Bixby in the 1970s TV series, "The Magician." It also was the cherry ride that was good enough to be piloted by the dudes with the right stuff: NASA's Apollo astronauts.
"It's the all-American car," Bharucha said. "No matter where you go, people know it and love it. Sometimes they'll stare at it. Other times they'll wave."
You always remember your first car, and Bharucha is no different. For him it was a 1966 yellow Corvette convertible. Guess what? He still has it. "That's my baby," he said. "That's the one car I will not sell."
The sinkhole couldn't have come at a worse time, as the museum prepares to celebrate its 20th annivesary and open a 184-acre Motorsports Park in August. Some 5,000 people are already pre-registered to attend the park's grand opening.
Sinkholes at the Motorsports Park aren't really a concern, Frassinelli said. Several holes were found during construction and were made harmless, she said.
"We want to move forward as soon as possible", she said. "We want to start repairs and recovery."
Sinkholes: Common, costly and sometimes deadly
CNN's Stephanie Gallman contributed to this report