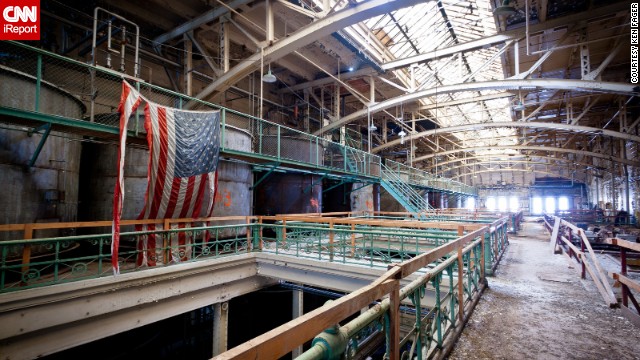 Once the largest domestic brewer of beer by volume, the Schlitz Brewery in Milwaukee ceased operations in 1982. "This is one of my favorite locations of all time," said
Ken Fager
, who visited in 2012. The building was demolished last year.
These bowling pins and ball were set for a match in the gymnasium of an abandoned Cleveland area school.
Fager spotted this Wisconsin factory five years ago, when it was still operating. After it closed, many tools and pages of inventory were left behind, including meeting minutes and other employee documents. "Even before closing, it looked old and abandoned," said Fager.
A ledger left behind at an asylum in Green Bay, Wisconsin, documents business transactions from the 1950s and '60s. Fager visited during the building's demolition last year. "The building was relatively barren and did not have much to photograph throughout. This is one of those discoveries that makes you question, 'How and why is this important record still here?' "
Nicholas Hanson
visited the abandoned Milwaukee Solvay Coke and Gas building back in March 2013. "I love documenting abandoned buildings and land. It's so interesting. It tells a story. A sad, but beautiful story of what once was," he said.
Photographer
Here is a shot of the inside of the Milwaukee Solvay Coke and Gas building in Wisconsin.
Jill Massa
visited the abandoned Grossinger's Catskill Resort Hotel in Liberty, New York, back in September 2011. "I feel like photographers like myself might like the decay of the buildings left how they once were, but unfortunately many abandoned buildings have too much graffiti because too many kids go and vandalize them. It's upsetting," she said.
Photographer
Jen Huls
explored this Steubenville, Ohio, mill in 2013 not long before it was demolished for scrap. "I'm fascinated with industrial abandonment, mostly because it shows how far America has come and how stagnant our country is as a producer of goods. It wasn't that long ago that people could make a decent living in this country making things ... I think America's abandonments say more about this countries penchant for capitalism above all else."
Bill R. Carter
visited in July. He made this picture with a high-dynamic range filter.
The hospital closed in the 1980's and is available for paranormal investigations and film making by reservation. Photographer
"I have a passion for documenting these forsaken locations, hospitals being my favorite because of the history and stories to be heard," Carter said.
"I love photographing abandoned locations that have been left in ruin," added Carter, a photographer in Fort Worth, Texas. "The textures, eroded paint, and equipment make amazing photographic art."
The Penn Hills Resort in Analomink, Pennsylvania, was once one of the most popular honeymoon destinations in the Poconos, recalling an era when carpeted walls and heart-shaped bathtubs were the rage. It closed in 2009 after the owners fell on hard times. "When the resort shut down, the owners just walked away, leaving the entire property wide open,"
A pianist himself, Dolan couldn't resist photographing and playing an old piano sitting in the hotel bar. "I attempted to play the intro to 'Backstreets' by Bruce Springsteen," Dolan said, "but the keys went down and never came back up."
Dolan photographed Hotel Sterling in Wilkes-Barre, Pennsylvania, three weeks before the 2013 demolition. Not much was left. This small corner of the hotel's once grand lobby holds a fireplace that might have warmed guests in its hey day but was now covered with graffiti. "I was very disappointed when I walked in and found that it was nothing more than a wide open shell," Chris Dolan said.
The Scranton Lace Factory in Scranton, Pennsylvania, closed in 2002 and is being cleared out to be developed into upscale apartments, shops and restaurants. "I love this location," Chris Dolan said. "I always find something new to photograph."
Taken outside the factory's famous bowling alley, this photo features a rather out-of-place leather chair facing the many large windows.
Vandals and the elements have destroyed the three remaining buildings of the Lackawanna County Tuberculosis Hospital, which is known to locals as the West Mountain Sanitarium.
A once-grand Pocono's resort, Buck Hill Inn has stood vacant since it closed in 1990. MTV featured the hotel in 2001 in its reality-based show "Fear," claiming that it was the site of a number of suspicious deaths and was haunted. Since then, Dolan says, owners have kept visitors away. He was unable to photograph the interior or even get a closeup shot. "Asking to go inside would be a lost cause," he said. "If I could photograph only one more abandoned location in my life, this would be it."
Pennhurst State School and Hospital was an institution for mentally and physically disabled people that opened in 1908. It shut down in 1987 after decades of patient neglect and abuse allegations. The complex is owned by a developer and is well-guarded, but once in a while they offer photography tours, Dolan said. "Being in the buildings here gave me a weird feeling, as if I'd round a corner and someone would jump out at me," he said. The former administration building opens as a haunted house attraction each fall.
Erin Jackson
shared photos her parents took while visiting the abandoned British Royal Naval Dockyard on Ireland Island in Bermuda back in January 2014. This is a photo of a dockyard school now overgrown with trees. Click the double arrow to see more photos.
Quaker Hall was one of the first two residential halls in the institution. "The owners will tell you that this is the most haunted building in the complex," Dolan said. The elements haven't been kind to this particular section, leaving many holes in the ceiling and floor.
Binod Khadka was fascinated by this abandoned igloo in Cantwell, Alaska. "It was built in the 1970s and was meant to be a hotel," he said. "Now it is a fascinating attraction for the passing motorist."
Aaron Openshaw
had driven by this derelict complex along the Patea River in New Zealand many times without knowing it was a cheese storage building. It was only after he purchased a new Nikon camera that he decided to learn more about it.
"It was an eerie experience for me exploring the building on my own, which added to the creative experience," Openshaw said.
Inside the building was a large, rusty steel wheel and walls painted in a red and white horizon line paint scheme.
"I loved the interior industrial space with the large steel wheel, which I wasn't expecting," said Openshaw. He found the building's interior in particular to be a source of inspiration.
A closeup of a part of the large wheel inside the abandoned shop proved intriguing.
auditorium
was practically in shambles. Carolyn Kina visited in November.
Located inside an abandoned apartment building in Baltimore that was later turned into a school, this
After decades of population loss, Baltimore has thousands of vacant and blighted homes. The city plans to demolish some 1,500 row houses over the next few years to make way for redevelopment.
Forest Haven in Laurel, Maryland, was founded in 1925 as a home for mentally disabled children and adults. It was ordered shut down in 1991. Medical records, children's assignments, books and X-ray equipment can still be found inside the abandoned hospital.
Carolyn Kina said she loves to "explore the world of the unseen" in her photographs. Her black-and-white shots make the surroundings look especially eerie. She used an infrared effect.
Several buildings make up the abandoned hospital for the mentally disabled. Kina said it "sits as a monument to a failed policy of institutionalization."
"The dust on the TV and wheelchair shows how untouched parts of the hospital are and will remain," Kina said.
Porto
has faced financial troubles over the past few years, which has led to many buildings being left in disrepair or abandoned.
The Portuguese city of
"Even though there is a sadness in seeing these beautiful buildings crumble, they are very photogenic and make a visit to Portugal very worthwhile for photographers," said Lynda Hanwella, who shot these photos.
"The atmosphere was of your typical quiet neighborhood," Hanwella said. "As you're walking along, you'll see some buildings that are obviously inhabited right by a building that looks abandoned. A lot of the buildings were very ornate, so it was easy to see that they were built in more prosperous times."
"I did sometimes feel a bit uncomfortable taking the photos because the Portuguese seem to be a very proud people," Hanwella said, "and I didn't want them to feel that I was focusing on the negative aspects of their cities. But Porto ... is a photographer's dream, and I couldn't help turning my camera toward the buildings that have seen much better days."
Deserted since 1938, much of the Kennecott copper mining town in Alaska looks as it did when it was still inhabited. "I took pictures of the grocery store and a hospital where I peeked in windows and could see hospital beds still there. It was incredible, like being in another world,"
The town provoked an eerie feeling in Tamasi, as he said that he couldn't shake the feeling that those who had lived in the town all those years ago were somehow still there.
Once the precious ore ran out and the Kennecott Copper Corporation closed, "Kennecott became a ghost town overnight," Tamasi said. Click the double arrow to see more photos.
Kennecott was recognized by Congress as a National Historic Landmark in 1986. In 1998, the National Park Service purchased the town and began an extensive restoration process.
Schlitz Brewery, Wisconsin
Defunct gymnasium, Ohio
Furniture factory, Wisconsin
Asylum ledger, Wisconsin
Solvay Coke and Gas building, Milwaukee
Solvay Coke and Gas building, Milwaukee
Grossinger's Catskill Resort, New York
Steel mill, Wheeling-Pittsburgh
Yorktown Memorial Hospital, Texas
Yorktown Memorial Hospital, Texas
Yorktown Memorial Hospital, Texas
Penn Hills Resort, Pennsylvania
Penn Hills Resort, Pennsylvania
Hotel Sterling, Pennsylvania
Scranton Lace Factory, Pennsylvania
Scranton Lace Factory, Pennsylvania
Tuberculosis Hospital, Pennsylvania
Buck Hill Inn, Pennsylvania
Mental institution, Pennsylvania
British Royal Naval Dockyard, Bermuda
Quaker Hall, Pennsylvania
Igloo City Hotel in Cantwell, Alaska
Cheese storage factory, New Zealand
Cheese storage factory, New Zealand
Cheese storage factory, New Zealand
Cheese storage factory, New Zealand
Cheese storage factory, New Zealand
Ruined auditorium, Maryland
Vacated row houses, Maryland
Forest Haven Asylum, Maryland
Forest Haven Asylum, Maryland
Forest Haven Asylum, Maryland
Forest Haven Asylum, Maryland
Faded door of abandoned home, Portugal
Neglected homes in Porto, Portugal
Neglected homes in Porto, Portugal
Neglected homes in Porto, Portugal
Abandoned mining town, Alaska
Abandoned mining town, Alaska
Abandoned mining town, Alaska
Abandoned mining town, Alaska