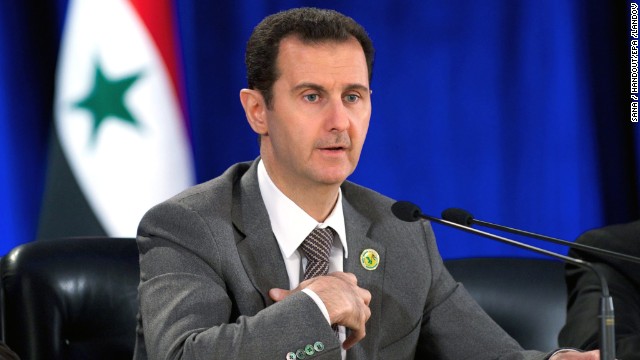 A handout photo released by Syria's Arab News Agency shows Syrian President Bashar al-Assad speaking during a meeting in Damascus, Syria, on Saturday, March 8, to mark the 51st anniversary of the 1963 revolution, when Baath Party supporters in the Syrian army seized power. Al-Assad said the country will go on with reconciliation efforts along with its fight against terrorism. The United Nations estimates more than 100,000 people have been killed
since the Syrian conflict began
in March 2011.
Syrians inspect the rubble of destroyed buildings in Aleppo, Syria, following a reported airstrike by Syrian government forces on Friday, March 7, during Friday prayers.
People dig through the rubble of a building in Damascus, Syria, that was allegedly hit by government airstrikes on Thursday, February 27.
A boy walks ahead of men carrying the body of his mother in Aleppo, Syria, on Saturday, February 22. According to activists, the woman was killed when explosive barrels were thrown by forces loyal to Syrian President Bashar al-Assad.
A man holds a baby who survived what activists say was an airstrike by al-Assad loyalists Friday, February 14, in Aleppo.
In this photo provided by the anti-government activist group Aleppo Media Center, Syrian men help survivors out of a building in Aleppo after it was bombed, allegedly by a Syrian regime warplane on Saturday, February 8.
Syrians gather at a site hit by barrel bombs, allegedly dropped by a regime helicopter on the opposition-controlled Mesekin Hananu district of Aleppo on February 8.
In this handout photo released by the official Syrian Arab News Agency on February 8, civilians wave national flags in Damascus as they take part in a rally in support of President al-Assad.
A man stands next to debris in the road following a reported airstrike by Syrian government forces in Aleppo on February 8.
Medical personnel look for survivors after a reported airstrike in Aleppo on Saturday, February 1.
Syrians carry a dead body following an airstrike on February 1.
A man walks amid debris and dust on January 31.
An injured man is covered in dust after an airstrike on January 29.
A man tries to fix electrical wires in Aleppo on January 27.
Rebels and civilians check out a crater that activists say resulted from a Syrian government airstrike on an Aleppo bus station on Tuesday, January 21.
Men rush to a site that Syrian government forces reportedly hit in Aleppo on January 21.
Buildings lie in ruins in Aleppo on Sunday, January 19, after reported air raids by Syrian government planes.
A Syrian child collects items from a garbage pile in Douma, northeast of the capital, on Saturday, January 18.
A piece of exploded mortar lies in a street in Daraya, a city southwest of Damascus, on Friday, January 17.
Syrian civil war in 2014
Syrian civil war in 2014
Syrian civil war in 2014
Syrian civil war in 2014
Syrian civil war in 2014
Syrian civil war in 2014
Syrian civil war in 2014
Syrian civil war in 2014
Syrian civil war in 2014
Syrian civil war in 2014
Syrian civil war in 2014
Syrian civil war in 2014
Syrian civil war in 2014
Syrian civil war in 2014
Syrian civil war in 2014
Syrian civil war in 2014
Syrian civil war in 2014
Syrian civil war in 2014
Syrian civil war in 2014
STORY HIGHLIGHTS
NEW: Government, opposition discuss whether to extend truce in the besieged city of Homs
A U.N. envoy moderates a meeting between the two sides
The first round of peace talks failed to make significant progress
Hundreds of civilians have been evacuated from Homs in the last few days
(CNN) -- Syria's warring sides met face-to-face again Tuesday, but little progress was made as yet more bitter accusations were exchanged between both sides.
U.N. envoy Lakhdar Brahimi moderated the meeting in Geneva, Switzerland, after a first round of talks just a few weeks ago failed to make significant progress.
But neither is budging from their negotiating positions.
Speaking to reporters, Monzer Akbik, a spokesman for the opposition Syrian National Coalition, said his delegation had submitted an initiative for a political transition to end a humanitarian crisis and accused the government of not listening to the demands of the people.
"We don't have barrel bombs, we are not the one killing our people," he said.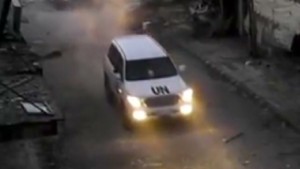 U.N. convoy attacked in Syria
Meanwhile, Syrian state television flashed an urgent banner quoting Syrian Ambassador to the United Nations Bashar Jaafari as saying the government delegation would not participate in further negotiations unless the opposition commits to "fighting terrorism" in Syria.
"There can be no talk of a true political process without stopping violence, terrorism and foreign interference," he was quoted as saying.
Face-to-face talks
The Geneva II peace conference, which had its first session 10 days ago, brought the Syrian government and opposition together for face-to-face negotiations for the first time since the conflict began nearly three years ago.
Brahimi said then that some "common ground" had been reached.
Both sides had met Brahimi separately Monday, and at the time, the opposition delegation said each side would meet with him separately until the U.N. envoy decided there was common ground for joint discussions.
The government insists that the talks focus on fighting "terrorism" -- its description of the uprising -- but the opposition says the priority should be the removal of President Bashar al-Assad.
The opposition has insisted that the government commit in writing to the 2012 Geneva I communique, which called for the formation of a transitional government.
Al-Assad's government has ruled out any transfer of power.
Evacuations from besieged city
As the peace conference gets under way, the Syrian government and opposition are discussing whether to extend a truce in the besieged city of Homs by another three days, the United Nations refugee agency said Tuesday.
More than 1,100 civilians have been given safe passage out of the Old City portion of Homs since a first "humanitarian pause" deal was put in place Friday, the agency said.
Syria's Red Crescent tweeted that about 300 people were taken to safety early Monday. Evacuations continued Tuesday, according to the United Nations.
At least 500 children were among civilians evacuated from the besieged old city, according to UNICEF. Its colleagues said the children who came out looked terrified, frail and emaciated.
"Mothers were anxious, and many were crying. All they wanted was for their children to reach safety," UNICEF said in a written statement.
Of those evacuated, 336 men between the ages of 15 and 55 were being questioned by Syrian authorities in an abandoned school, the United Nations said.
Parts of Homs have been under siege since June 2012.
The U.N.-brokered truce has been violated several times. Vehicles from the Red Crescent and United Nations had a difficult time entering the city over the weekend as they were targeted by gunfire and explosives.
Elsewhere, in the northern Syrian city of Aleppo, government military helicopters dropped barrel bombs on parts of the city, and the Syrian military shelled opposition neighborhoods there, killing at least 30 people and wounding tens of others, the opposition Aleppo Media Center said.
Barrel bombs are drums packed with explosives and shrapnel. Aleppo and its surrounding areas are a key battleground in Syria's nearly 3-year-old civil war.
The Syrian conflict has claimed more than 100,000 lives and displaced millions more since it began in 2011, creating a major humanitarian crisis within the country and for its neighbors.
READ: Cease-fire in Syrian city of Homs extended for another three days: U.N.
READ: Amid gunfire, some critical aid gets in to Homs, Syria