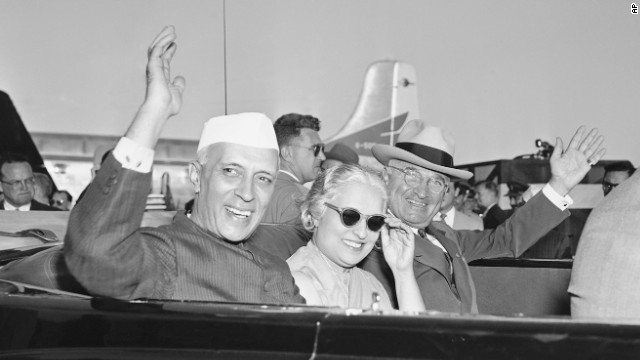 India's first Prime Minister Jawaharlal Nehru, left, Indian Ambassador to the U.S. and Nehru's sister Vijaya Pandit, and President Harry S. Truman, wave as they leave Washington's National Airport on October 11, 1949, after Nehru arrived from London. The state dinner for Nehru was held at Blair House, the government guest house across the street from the White House, because the Executive Mansion was undergoing repairs.
President Dwight Eisenhower and his wife, Mamie, talk with Japan's Prince Akihito and Princess Michiko at the White House for a state dinner on September 27, 1960.
Nikita Khrushchev, shown here with his wife, Nina, and the Eisenhowers at a state dinner in September 1959, was the first Soviet head of state to visit the U.S.
Indian Prime Minister Jawaharlal Nehru and his daughter, Indira Gandhi, with President John F. Kennedy and first lady Jacqueline Kennedy at a state dinner on November 7, 1961.
President Lyndon Johnson dances with Princess Margaret at a state dinner for her and her husband, Anthony Armstrong-Jones, seated at table at left, and first lady Lady Bird Johnson on November 17, 1965.
President Richard Nixon and Soviet leader Leonid Brezhnev toast during a state dinner, June 18, 1973. Vice President Spiro Agnew is shown at far right. Others are unidentified.
President Richard Nixon and his wife, Pat, pose with Indian Prime Minister Indira Gandhi and performers Edward Villella and Patricia McBride of the New York City Ballet, conductor Hugo Fiorato and guitarist William Schustick on November 4, 1971.
President Gerald Ford dances with Britain's Queen Elizabeth during the state dinner on July 17, 1976.
Former President Richard Nixon shakes hands with Chinese Vice Premier Teng Hsiao-ping as then-President Jimmy Carter looks on at a state dinner on January 29, 1979.
President Ronald Reagan and first lady Nancy Reagan greet Soviet leader Mikhail Gorbachev and his wife, Raisa, outside the White House for a state dinner on December 8, 1987.
President Ronald Reagan and first lady Nancy Reagan walk with British Prime Minister Margaret Thatcher and her husband, Denis Thatcher, during a state dinner in November 1988.
President George H.W. Bush and first lady Barbara Bush greet Pakistani Prime Minister Benazir Bhutto and her husband, Asif Zardiri, at the White House on June 6, 1989.
President George H.W. Bush talks with Polish President Lech Walesa and his wife, Danuta, as first lady Barbara Bush looks on before a state dinner on March 21, 1991.
Queen Sofia of Spain is aided by President Bill Clinton and her husband, King Juan Carlos of Spain, as she trips during the arrival for a state dinner on February 23, 2000. First lady Hillary Clinton watches in the background.
President Bill Clinton and first lady Hillary Clinton stand with South African President Nelson Mandela and his daughter, Zinzi Mandela Hlongwane, at a state dinner on October 4, 1994.
President George W. Bush toasts Italian Prime Minister Silvio Berlusconi during a state dinner on October 13, 2008.
President Barack Obama and first lady Michelle Obama welcome British Prime Minister David Cameron and his wife, Samantha Cameron, before a state dinner on March 14, 2012.
Some notable state dinners
Some notable state dinners
Some notable state dinners
Some notable state dinners
Some notable state dinners
Some notable state dinners
Some notable state dinners
Some notable state dinners
Some notable state dinners
Some notable state dinners
Some notable state dinners
Some notable state dinners
Some notable state dinners
Some notable state dinners
Some notable state dinners
Some notable state dinners
Some notable state dinners