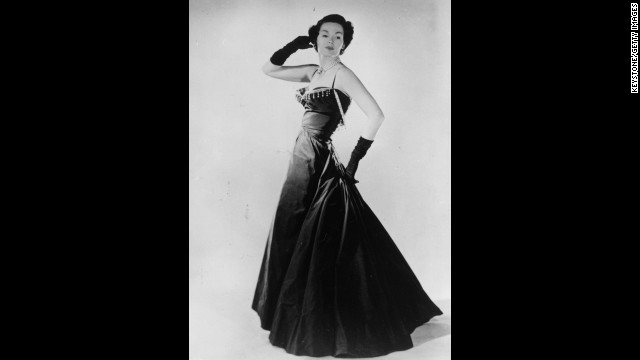 In 1947, model Barbara Goalen shows off a Christian Dior evening dress, part of the "New Look" that Dior helped to popularize after the austerity of Word War II.
This Monique Lhuillier gown, shown at Mercedes-Benz Fashion Week this month, features skirt yardage similar to Dior's dresses of the 1940s and '50s.
Actress Audrey Hepburn embodies ladylike fashion in a stunning black dress in "Breakfast At Tiffany's." Hepburn was close friends with Hubert de Givenchy, who made many of the dresses she wore in films and in her own life.
Designer Carolina Herrera, left, poses with fashion muse and burlesque dancer Dita Von Teese backstage at Mercedes-Benz Fashion Week in February.
In 1957, Pagan Grigg models a black-and-white window pane-check organza dress from Christian Dior.
This Lela Rose dress shown during Mercedes-Benz Fashion Week Fall 2014 incorporates polished fabric and a full skirt.
Actress Janet Leigh models a yellow short-legged jumpsuit with a wide belt, beaded shoes, and a neckerchief in the 1950s.
Carolina Herrera designed these fitted, ankle-length pants for her fall 2014 collection.
The bolero-style bodice and fitted skirt on this 1950s dress emphasizes the waist of a feminine figure.
The bodice of this Carolina Herrera dress from the Spring 2014 collection is a similarly seamed nod to a ladylike silhouette.
A fitted waist and collar are the noticeably ladylike elements of this cardigan, circa 1957.
In 2009, President Barack Obama walks with daughters Sasha and Malia and first lady Michelle Obama -- all wearing cardigans. Michelle Obama wears a sweater from Dear Cashmere, a belt by Sonia Rykiel and a dress from Talbots.
In "Mad Men," Joan Harris, played by Christina Hendricks, left, is the office manager for an advertisement agency and Peggy Olson, played by Elisabeth Moss, right, is a copy writer. The show has been lauded for its characters' costuming.
It might be considered casual in the most professional of offices, but this look from Kate Spade's presentation at Mercedes-Benz Fashion Week Fall 2014 would fit in among many modern offices.
Then: Voluminous gowns
Now: Voluminous gowns
Then: Fashion darlings
Now: Fashion darlings
Then: Full skirts
Now: Full skirts
Then: Cropped pants
Now: Cropped pants
Then: Cinched waists
Now: Cinched waists
Then: Cardigans
Now: Cardigans
Then: At the office
Now: At the office
STORY HIGHLIGHTS
Ladylike silhouettes are an enduring part of women's fashion
Figure-conscious clothing hasn't gone out of style since the 1950s
Ladylike styles aren't always appropriate, even for professionals, some say
(CNN) -- For the last 12 months, runway shows have been inundated with ladylike ensembles.
Last February, the Fall 2013 collections at New York Fashion Week drew from romantic plaids from the 1940s. The resort 2014 collections made ample use of midi pencil skirts and figure-conscious cigarette pants. Spring/Summer 2014 ensembles embraced full-skirted day dresses, pleated skirts and lower heels, all throwbacks to the 1950s. This year, the look lives on at Mercedes-Benz Fashion Week in the collections of Carolina Herrera, Monique Lhuillier, Lela Rose and Kate Spade.
See all of CNN Living's New York Fashion Week coverage
Decades since its cinched waists, full skirts and fine fabrics emerged -- 40 years, even, since Diane Von Furstenberg debuted the feminine-professional wrap dress -- what's sustaining this style?
After all, it's fallen out of fashion at times. It's not always practical, comfortable or affordable. These days, it's not the only option, and social norms don't demand women wear it.
But long after it was the prescription, many designers and retailers love it and many women love to wear it, calling it the very model of female empowerment and class.
"Certain designers often have a more ladylike sensibility," said Cindy Weber Cleary, the editor of InStyle magazine, "but that's not to say that there aren't seasons or years when ladylike just feels right."
Even if a feminine style surges or recedes in the fast-paced tempo of high fashion, it's a look that's firmly entrenched in American women's mindset, said fashion historian Rebecca Tuite, author of the forthcoming book, "Seven Sisters Style: The All-American Preppy Look."
Certain silhouettes will forever speak to being a lady, Tuite said: A full skirt, a cashmere cardigan, fluffy ballgowns. Relatively tailored button-down shirts, cropped pants and shift dresses of the same era have gained if the same reputation, even if they're less haute couture.
Consider this outfit: A soft, short sleeve sweater paired with a voluminous, long silk skirt, fitted at the waist.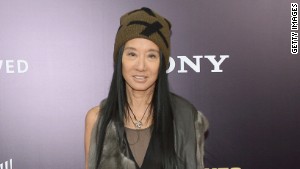 Big names ditch Fashion Week main stage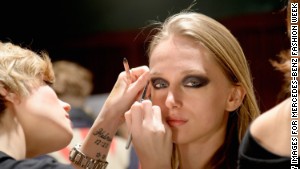 New York Fashion Week spreads to Brooklyn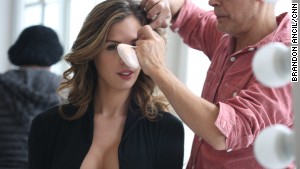 Is America ready for this top model?
It's a look that was every bit as ladylike -- and wearable -- when Carolina Herrera designed it for her 2013 spring collection as when Christian Dior produced the essential version in 1955.
Dior's work was part of a revolutionary turn in fashion associated with his "New Look" of 1947. The French designer popularized hourglass figures and full, A-line skirts, along with contemporaries Cristobal Ballenciaga and Hubert de Givenchy. The looks were a dramatic reaction to the meager, economic fashions of wartime Europe and America. American designers of the 1950s and '60s had a way of making the extreme silhouettes of French fashion fit an American audience, Tuite said.
More than 50 years later, Herrera's take isn't quite so dramatic, but rather, timeless and elegant, a nod to her own signature look, a crisp shirt and full skirt. She's one of a few American designers known for their ladylike fashions, such as Ralph Lauren and Oscar de la Renta, Cleary said.
"Carolina herself," Cleary said, "is like, the most elegant, ladylike person on the planet."
And those elegant, timeless looks weave their way from the runway to store racks.
"We look for clothes that are timeless because they are ladylike, simple but not contrived, gimmicky or extreme, smart but not faddy, fashionable but not funky -- chic and understated, the hallmarks of good taste," said Nancy Talbot, who founded the venerable women's clothing store Talbots with her husband in 1947.
The quote is now painted on the walls at the chain's headquarters, as requested by Talbots President Lizanne Kindler.
"For American women, (ladylike) never goes away," Kindler said. "They want to be feminine, and thankfully, American women can do whatever they want."
Indeed, designers like Miuccia Prada, Marc Jacobs and Bottega Veneta regularly push boundaries of what's ladylike, InStyle's Cleary said -- and so do the people that wear them.
"Clothes are (no longer) a reflection of who you are as a person," Cleary said. "One of the most ladylike dressers I can think of is Dita von Teese, and she's a burlesque dancer."
Social norms haven't always allowed women that kind of freedom. Tuite, the historian, said modern women are lucky that dress codes such as Anne Fogarty's rules about what a wife should wear are no longer socially enforced.
"Like anything these days, it's entirely your own rules," Tuite said. When a woman chooses to wear ladylike clothing, either because they enjoy the classic style or because they enjoy pairing ladylike items with unexpected, fashion-forward looks, "you're making your own decisions," she said. "It can be just as empowering as a suit."
Don't miss out on the conversation we're having at CNN Living.
Follow us on Twitter
and
Facebook
for the latest stories and tell us what's influencing your life.
Not everybody feels like women's choices have expanded -- or that ladylike styles deserve their place on runways and store racks year after year.
"For the vast majority of women, the so-called ladylike fashion is inappropriate and not even relevant to their lives," said Ms. magazine editor Kathy Spillar.
In the professional world, where women are lawyers, engineers and executives, the silhouettes of feminine fashion diminish their presence and power, she said. Clothing, even suits, that emphasizes the female form are another demonstration of inequality.
"Women do have breasts, they have hips, that is reality. But clothing that is meant to over emphasize that, to make that the identity, there's just no equivalent on the man's side," she said.
As the executive vice president of the Feminist Majority Foundation, Spillar often works with executives and elected officials who lament the lack of clothing available for their professions. She'd like to see other, less ladylike alternatives become more widely available.
"I don't think we have an idea of clothing that would be powerful for women," she said. "I'm hoping that there's more and more pushback on all this stuff."