STORY HIGHLIGHTS
NEW: Georgia's governor says officials are "ahead of the game this time"
He declares a state of emergency for 45 counties
Atlanta says school will be closed Tuesday and Wednesday
A winter storm is expected to hit the Southeast Monday night
Atlanta (CNN) -- Fire up the salt trucks. Shutter schools. Position the National Guard.
Two weeks after a few inches of snow paralyzed Atlanta and embarrassed the state, government leaders are tackling the latest round of bad weather with gusto.
"I think we're certainly ahead of the game this time and that's important. We're trying to be ready and prepared and react as quickly as possible," Gov. Nathan Deal told reporters Monday.
The storm could still turn out to be another ugly mess, but it won't be for lack of trying by state officials..
Deal declared a weather-related state of emergency for 45 counties in the state Monday, well before snow, sleet and rain were expected to hit.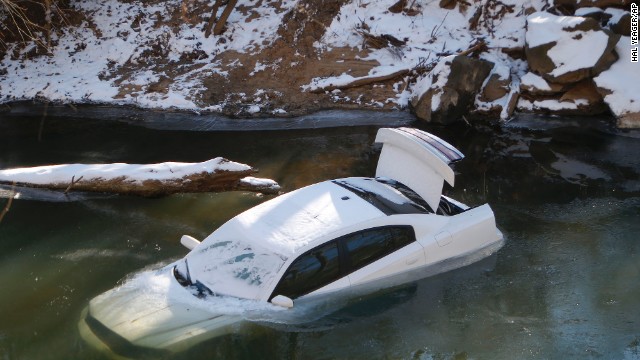 A car lies half submerged in the Cahaba River in Mountain Brook, Alabama, on Thursday, January 30. The driver was able to escape before the car slid into the river during a snow storm on Tuesday and was not injured. A wave of arctic air that started over the Midwest and Plains spread to the Southeast, bringing snow, freezing ice and sleet to a region that doesn't deal with such weather very often.
Ice forms swirls on the banks of the Cahaba River in Vestavia Hills, Alabama, on January 30.
Travelers wait out flight delays at Hartsfield-Jackson Atlanta International Airport on January 30.
Cars are left abandoned at the bottom of a hill in Birmingham, Alabama, on January 30.
Vehicles remain stranded along Interstate 20 in Leeds, Alabama, on Wednesday, January 29.
Abandoned cars are piled up on the median of an ice-covered road in Atlanta on January 29.
Police monitor a fire January 29 in a vehicle left overnight by a motorist who was stranded in Brookhaven, Georgia.
A lone car travels on Interstate 75/85 in downtown Atlanta on January 29, a day after the roadway was packed with vehicles.
Sue Morrison watches as Chris McAdams scrapes ice from her car on January 29 in Panama City Beach, Florida.
Kevin Moore hands out snacks and water to stranded motorists on Interstate 285 in Dunwoody, Georgia, on January 29.
Traffic is snarled along Interstate 285, north of metro Atlanta, on January 29.
A man stands on the frozen roadway January 29 as he waits for traffic to clear along Interstate 75 in Macon, Georgia.
Caution tape is wrapped around a car that crashed into a tree after the driver lost control in Snellville, Georgia, on January 29.
The ice-covered interstate highways running through Atlanta appear empty on January 29.
Icicles hang off a camellia bush in Savannah, Georgia's historic Forsyth Park after freezing rain hit the area on January 29.
Traffic moves past an ice-covered hill on Interstate 75 in Covington, Kentucky, on January 29.
A police officer talks with a crash victim who was involved in a five-car pileup in Sandy Springs, Georgia, early on January 29.
As dawn breaks on January 29, southbound traffic is at a standstill near downtown Atlanta.
Gavin Chambers plays an electronic game January 29 at Oak Mountain Intermediate School in Indian Springs, Alabama. The severe weather forced thousands of students to spend the night in various school buildings across the state.
Abandoned vehicles in Dunwoody, Georgia, line Interstate 285 early on January 29.
A DeKalb County school bus sits abandoned near Interstate 285 in Dunwoody on January 29.
People work to clear stranded vehicles on County Road 25 in Wilsonville, Alabama, on Tuesday, January 28.
Snow falls on cattle at Todd Galliher's farm in Harmony, North Carolina, on January 28.
Two women are stranded at Louis Armstrong New Orleans International Airport on January 28 after flights were canceled due to the weather.
Motorists jam Interstate 75/85 in Atlanta on January 28.
A semi slides off the road as the driver tries to avoid another wrecked truck as snow begins to accumulate on Interstate 65 in Clanton, Alabama, on January 28. Clanton lies between the capital, Montgomery, and the state's biggest city, Birmingham.
A man puts sand on the steps of his business in downtown Northport, Alabama, on January 28. Northport is near Tuscaloosa in the central-west part of the state.
Traffic travels along the highway near downtown Birmingham on January 28.
With temperatures around -10 degrees, commuters wait for a bus in Chicago on January 27.
The Duquesne Incline climbs Mount Washington across the frozen Ohio, Allegheny and Monongahela rivers in downtown Pittsburgh on January 28.
Steam rises from Lake Michigan in Chicago on Monday, January 27.
Workers dump sand across a bridge in Covington, Louisiana, on January 27.
A man jumps off a snow-covered sidewalk to cross a downtown Cleveland street January 27. A minor car accident is in the background.
Ice forms as waves crash along the Lake Michigan shore January 27 in Chicago.
A strong wind kicks up snow Sunday, January 26, in Vadnais Heights, Minnesota, creating drifts over roads and parking lots.
The Cincinnati neighborhood of Mount Adams is shown blanketed in snow on Saturday, January 25.
People walk in a snow squall January 25 in Trenton, New Jersey.
Cars sit in drifts and plowed snow on January 25 in Grand Rapids, Michigan.
A North Hudson County firefighter walks in front of an ice-covered vehicle near a building where a six-alarm fire was put out January 24 in Union City, New Jersey.
Kyle Malott scraps the ice off his girlfriend's car near Covington, Louisiana, on January 24.
Ben Eggart pushes Hannah Graham down a hill at Girard Park in Lafayette, Louisiana, on January 24.
Ice floats by the Chicago skyline on Lake Michigan on Thursday, January 23.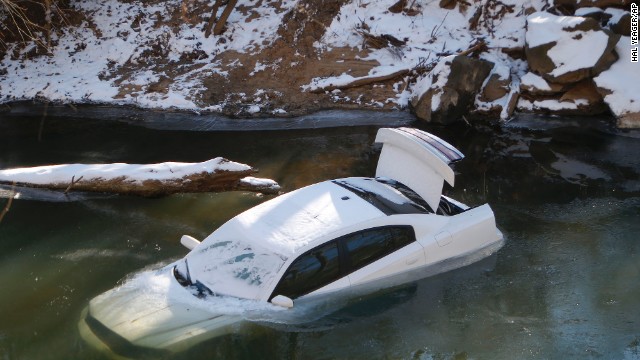 Photos: Freezing temperatures sweep U.S.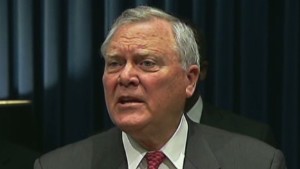 Gov. Deal: We're prepared this time
Atlanta Public Schools announced the system would be closed Tuesday and Wednesday.
And Georgia Power's top emergency official said he'd already started calling in crews from other states to help fix downed power lines -- just in case.
Their biggest worry? The threat of a major ice storm Tuesday night.
"When you're talking about the amount of ice we're looking at, it's catastrophic," Aaron Strickland, the utility's storm center manager, told reporters. "What will happen is that the ice will build up on trees, trees will come down and take down the power lines. ... So It is an event that we are extremely fearful of, but we're preparing (by) bringing in outside help at this time."
Snow, sleet and rain are in the forecast from Monday night through Wednesday morning as temperatures plunge to the 30s. By Wednesday, ice on the roads could make driving "hazardous or impossible," forecasters from the National Weather Service warned.
The city's northern suburbs could get 1 to 3 inches of snow, with up to 6 inches blanketing the northeast Georgia mountains. A winter storm watch is in effect Monday through Wednesday morning for Atlanta and the watch stretches west to Birmingham, Alabama; Memphis, Tennessee and Little Rock, Arkansas.
This storm will be the first test for a 32-member severe weather task force created in Georgia after last month's debacle when 2.6 inches of snow shut down Atlanta's metropolitan area.
The governor apologized to the public -- "I'm the governor, the buck stops with me" -- and promised to handle things differently next time.
Well, it's next time.
Governor advises 'extreme caution'
Deal told reporters Monday that the state was doing everything it could.
"We are making every effort to be prepared for these events, and I would simply say that we should all individually use extreme caution," he said.
The Georgia Department of Transportation has said it plans to start treating roads with sand and salt after the Monday evening rush hour. Supplies from southern Georgia are being brought to the Atlanta metro area, said transportation department spokeswoman Natalie Dale.
Deal also gave the National Guard a warning order, an advance notice to personnel of the possibility of a "call up" for a state mission. Schools also began announcing their plans to cancel evening activities beginning Monday.
The city of Atlanta, which got hammered for its lackluster performance the last go-round, is on the storm preps bandwagon, too.
Atlanta Mayor Kasim Reed told reporters that deals with contractors had allowed the city to double the size of its fleet dedicated to pre-treating roads.
Priority roads and bridges will be treated Monday night with a combination of sand and salt, and more supplies are being ordered, City Hall spokesman Carlos Campos said.
The city urged people to take precautions such as filling cars with gas and stocking up on food.
Officials have their fingers crossed that the more coordinated effort will produce better results.
When the storm struck January 28, traffic gridlock occurred almost instantaneously as commuters fled Atlanta en masse. Thousands of school children across northern Georgia spent the night in schools, and countless motorists endured 20-plus hour commutes, if they were lucky enough to get home at all.
The new plan of attack
Deal and emergency officials took plenty of heat for being slow to respond to or just plain oblivious to storm developments the last time around.
The governor and his staff huddled with emergency management, transportation, power company and health officials Monday morning.
"We've included health officials and power companies in our preparations because heavy downfalls of ice can knock out power supply," Deal said. "I want to make sure we're reaching out to health care facilities so they can have backup plans in place."
At a press conference later in the day, the governor urged the driving public to be careful. He spoke at a state Department of Transportation facility that was gearing up for inclement weather.
"It appears that tomorrow is one of those 'iffy' days," Deal said. "But the following day and tomorrow night, going into Wednesday, appears to be the time that we're going to be in most jeopardy of ice forming, either from freezing rain or from sleet itself."
Stocking up
SnowedOutAtlanta, the Facebook group where Georgia residents asked for and offered help during the last storm, was ramping back up Monday.
The forum posted alerts about school closings and the possibility of power outages, and tips about how to prepare for the storm.
The looming storm brought a mix of shrugs and concern at local supermarkets.
"I got some pasta, some salad fixings and some wine," Katie Derrick told CNN affiliate WGCL. "You know, in case I'm stuck at home, I'll be well prepared."
Bob Simmons grabbed a few items too.
"I got some can goods and fruit, veggies and a frozen pizza," he said. "I'm a Yankee so I'm used to this stuff, but I'm getting nervous now. They keep talking about it."
But is the talk just that, talk? Not everyone is optimistic that Georgia has learned its lesson.
"We don't learn," said one shopper. "It happened before in 2011 and nothing happened. So, 2014, the same thing. 2017, it's going to happen again and we're going to be stuck at home."
CNN's Marlena Baldacci, Jason Hanna, Catherine E. Shoichet and Ralph Ellis contributed to this report.