Boston bombing suspect Dzhokhar Tsarnaev seeks late 2015 trial date
updated 8:53 AM EST, Tue February 11, 2014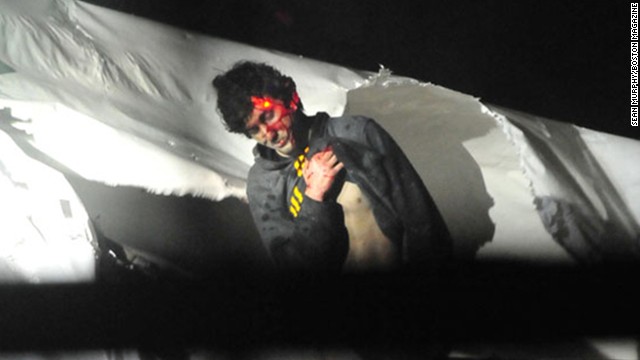 The backlash over Rolling Stone's cover photo of Boston Marathon bombing suspect Dzhokhar Tsarnaev led to the release of new photos by Sgt. Sean Murphy on Thursday, July 18, of his capture. The images show Tsarnaev as he emerges from the boat where he hid, his face smeared with blood and multiple snipers' lasers fixed on him.
View more photos from the aftermath of the Boston bombing
.
Tsarnaev was found in a motorboat dry-docked in the backyard of a Watertown, Massachusetts, home on April 19, covered in blood from bullet wounds sustained during a manhunt that brought Boston to a standstill.
"This guy is evil," Murphy said. "This is the real Boston bomber. Not someone fluffed and buffed for the cover of Rolling Stone magazine."
Tsarnaev exits the boat during his capture. The pictures were taken by Murphy and published online by Boston Magazine on July 18.
Police tend to Tsarnaev after his detainment. He is awaiting trial for his role in the bombings, which killed three people and wounded more than 260 on April 15.
The arrest of Dzhokhar Tsarnaev
The arrest of Dzhokhar Tsarnaev
The arrest of Dzhokhar Tsarnaev
The arrest of Dzhokhar Tsarnaev
The arrest of Dzhokhar Tsarnaev
STORY HIGHLIGHTS
Boston Marathon bombing suspect trial asks for trial late next year
Defense says it needs time to review copious amounts of evidence
Prosecutors say a trial could last three months in federal court filing
(CNN) -- The Boston Marathon bombing suspect wants his day in court -- but not until late next year.
Lawyers for Dzhokhar Tsarnaev have requested a trial date no earlier than September 2015, according to a joint status report filed in federal court in Massachusetts Monday.
Among other issues, the report said Tsarnaev's lawyers have not had a chance to review the many pieces of physical evidence, "including nearly 2,000 items that reportedly are still being analyzed by the FBI and items kept at additional locations." The defense is also making additional discovery requests.
Prosecutors said they estimate the trial would last approximately 12 weeks.
If Tsarnaev is found guilty, prosecutors expect the sentencing hearing would last approximately six weeks.
Jurors will not only weigh whether he's guilty but also whether he deserves to die.
Federal prosecutors said last month they'll seek the death penalty against Tsarnaev, arguing that he acted in "an especially heinous, cruel and depraved manner" and lacks remorse.
Tsarnaev is charged with 30 federal counts stemming from the April 15 attack, which left three people dead and more than 250 others injured.
Tsarnaev has pleaded not guilty to all charges.
Authorities allege Tsarnaev, a Chechnya-born American, and his brother, Tamerlan, planted two homemade bombs near the finish line of the marathon, then killed a Massachusetts Institute of Technology police officer three days later.
The attacks triggered the massive manhunt that led to Tsarnaev's capture. Police shot and killed Tamerlan Tsarnaev during the manhunt.
For victims, death penalty decision a 'step forward'