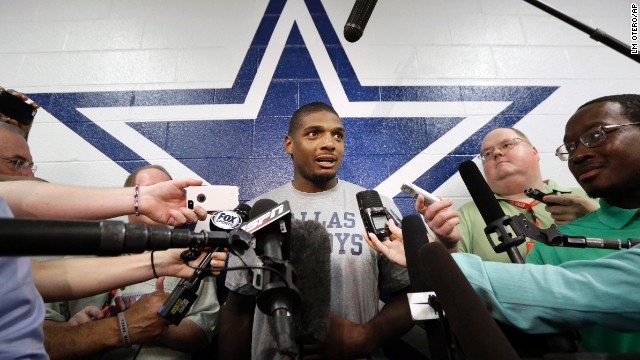 Michael Sam speaks to reporters Wednesday, September 3, after practicing at the Dallas Cowboys' headquarters in Irving, Texas. Sam, who made history as the first openly gay player to be drafted into the NFL,
did not make the St. Louis Rams' final 53-man roster
, but he was signed by the Cowboys to be on their practice squad.
Sam looks on prior to the NFL preseason game between the St. Louis Rams and the Miami Dolphins on August 28. "The most worthwhile things in life rarely come easy, this is a lesson I've always known," Sam tweeted after the Rams released him. "The journey continues."
Sam mocks Johnny Manziel's "money" celebration after sacking the Cleveland Browns quarterback during a preseason game August 23 in Cleveland. Sam, a defensive end, had three sacks in the preseason.
Sam accepts the Arthur Ashe Courage Award during the 2014 ESPYs on July 16. "Great things can happen when you have the courage to be yourself," Sam said while accepting the award, which is given to those who have shown strength in the face of adversity and stood up for their beliefs.
Cammisano tweeted
a photo of their kiss and said he was "so proud and happy."
Sam and his boyfriend, Vito Cammisano, kiss in San Diego after Sam was drafted on May 10. Sam was selected by the Rams in the seventh round with the 249th overall pick.
Sam hoists the Cotton Bowl trophy as the University of Missouri's football team is honored at halftime of a Missouri basketball game February 15 in Columbia, Missouri. Sam was instrumental in leading the Tigers to a 12-win season, an SEC Eastern Division title and a Cotton Bowl victory over Oklahoma State. He was named to many All-American teams, and he was selected as the SEC's co-defensive player of the year.
Sam runs the 40-yard dash February 2 during the NFL Scouting Combine in Indianapolis.
Sam runs onto the field January 25 before the NCAA Senior Bowl in Mobile, Alabama.
Sam reacts after Oklahoma State missed a field goal January 3 during the Cotton Bowl in Arlington, Texas.
Sam speaks to the media during a Cotton Bowl news conference on January 1.
Sam celebrates with fans November 9 after Missouri defeated the Kentucky Wildcats in Lexington, Kentucky.
Sam celebrates a sack October 19 during the first half of a game against the Florida Gators.
Sam returned a fumble for a touchdown October 12 against the Georgia Bulldogs in Athens, Georgia.
Sam and his Missouri teammates sing the school song September 21 after defeating Indiana in Bloomington, Indiana.
Michael Sam's journey
Michael Sam's journey
Michael Sam's journey
Michael Sam's journey
Michael Sam's journey
Michael Sam's journey
Michael Sam's journey
Michael Sam's journey
Michael Sam's journey
Michael Sam's journey
Michael Sam's journey
Michael Sam's journey
Michael Sam's journey
Michael Sam's journey
STORY HIGHLIGHTS
NEW: His agent says Sam's revelation will not hurt his draft prospects
Michael Sam was an All-American lineman at the University of Missouri
With his skills, he could be drafted by the NFL in May
He'd be the first openly gay draftee in pro football
(CNN) -- Michael Sam, an All-American defensive lineman from the University of Missouri, publicly revealed that he's gay Sunday, creating the possibility he'll be the first openly gay player drafted by the National Football League.
"I came to tell the world I'm an openly proud gay man," he said in an interview with ESPN.
He said he told his Missouri teammates in August and suffered no repercussions. He said he was surprised to discover many people in the media already knew he was gay.
"I understand how big this is," Sam said in the ESPN interview. "It's a big deal. No one has done this before. And it's kind of a nervous process, but I know what I want to be ... I want to be a football player in the NFL."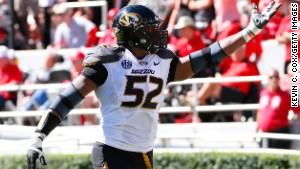 Watch NFL prospect reveal he's gay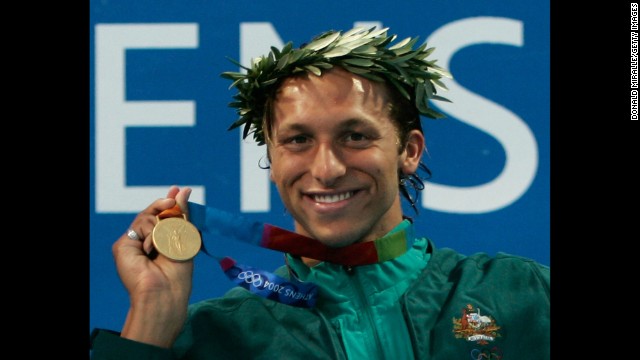 Swimmer Ian Thorpe, seen here in 2004 with one of his five Olympic gold medals, told an Australian news outlet that he is gay in an interview that aired on Sunday, July 13. Click through to see other openly gay athletes.
Former Missouri defensive end Michael Sam told ESPN and The New York Times that he is gay on February 9. Sam later became the first openly gay player to be drafted by a NFL team when he was taken by the St. Louis Rams in the seventh round.
Robbie Rogers became the first openly gay male athlete to play in a professional American sporting match when he took the field for Major League Soccer's Los Angeles Galaxy during a match against the Seattle Sounders on May 26.
"I didn't set out to be the first openly gay athlete playing in a major American team sport. But since I am, I'm happy to start the conversation," NBA player Jason Collins said in a Sports Illustrated article.
Sheryl Swoopes, a retired WNBA star and coach of the Loyola University Chicago's women's basketball team, came out in 2005.
Brittney Griner, selected No. 1 in the 2013 WNBA draft by the Phoenix Mercury, is openly gay.
In an exclusive interview with CNN, former San Francisco 49ers player Kwame Harris came out as gay after rumors circulated in the media.
Rugby player Gareth Thomas of Wales spoke about being gay to a British news channel in 2009.
Justin Fashanu became the first openly gay soccer player in Europe when he came out in 1990. Eight years later, he took his own life.
Tennis great Martina Navratilova came out in 1981.
After his retirement in 2007, basketball player John Amaechi announced he was gay.
After retiring from professional football in 1972, David Kopay acknowledged to the Washington Star that he was gay.
Villanova University's Will Sheridan came out to his teammates in 2003.
In 2012, U.S. women's soccer player Megan Rapinoe confirmed in Out magazine that she was a lesbian.
Champion figure skater Johnny Weir confirmed in his 2011 memoir, "Welcome to My World," that he was gay.
Australia's Matthew Mitcham came out in an interview with the Sydney Morning Herald in 2008.
In 2012, Orlando Cruz became the first active professional fighter to publicly announce that he was gay.
Openly gay British dressage rider Carl Hester helped his team win gold at the 2012 Olympics.
English cricketer Steven Davies announced he was gay in 2011.
Germany's Judith Arndt won the silver medal in cycling at the 2012 Olympics.
Billy Bean, a former Major League Baseball player, discussed being gay in a 1999 New York Times article.
Tennis legend Billie Jean King was outed by a former female partner in 1981.
In 2002, professional football player Esera Tuaolo came out on HBO's "Real Sports."
French tennis player Amelie Mauresmo came out in 1999.
Greg Louganis, who won four Olympic golds for the United States during his diving career, has been openly gay since 1995.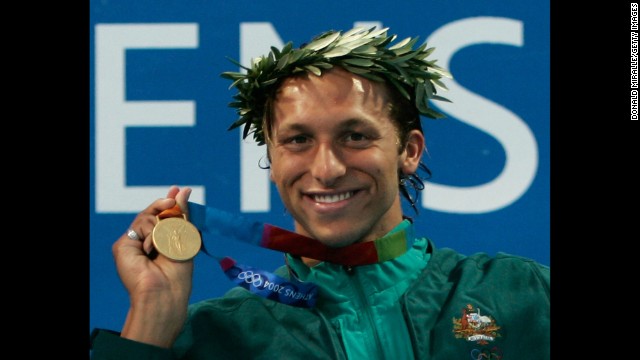 Photos: Openly gay athletes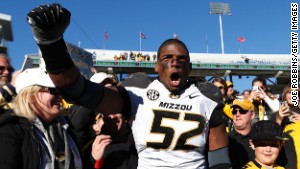 Will coming out hurt Sam's NFL chances?
Sam also spoke about his sexual orientation Sunday to The New York Times, saying: "I just want to make sure I could tell my story the way I want to tell it. I just want to own my truth."
Sam, at 6-foot-2 and 260 pounds, starred in college football last season. Besides being first team All-American, he was named the top defensive player in the Southeastern Conference, considered the nation's best league. Teammates named him the team's most valuable player.
With those credentials, he's expected to be picked in the NFL draft in May. The Bleacher Report mock draft projected him to go in the late rounds because "athletic limitations including a lack of flexibility and a lack of optimal size are concerning."
His agent said Monday that he does not think Sam's decision to acknowledge his sexual orientation will hurt his draft prospects.
"I think, if anything, teams will look at it and see a guy who was honest and upfront instead of waiting until after the draft to potentially make his announcement," Joe Barkett told CNN. "Mike was forward, and he wants the team who drafts him to accept him for who he is."
The NFL issued a statement on Twitter on Sunday: "We admire Michael Sam's honesty and courage. Michael is a football player. Any player with ability and determination can succeed in the NFL. We look forward to welcoming and supporting Michael Sam in 2014."
However, the NFL has made headlines on the issue of sexual orientation in the past. Last year, a University of Colorado player said an NFL team asked him if he liked girls and had a girlfriend.
The NFL quickly said, "Any team or employee that inquires about impermissible subjects or makes an employment decision based on such factors is subject to league discipline."
Sam issued his own Tweet: "I want to thank everybody for their support and encouragement, especially @espn, @nytimes and @nfl. I am proud to tell my story to the world!"
Sam's announcement comes as the federal government expands its recognition of same-sex marriages. Attorney General Eric Holder said the Justice Department will issue a memo Monday that extends the federal government's recognition of same-sex marriages, even in the 34 states that don't consider it legal.
Other athletes have come out as gay, but they didn't have Sam's profile.
GLAAD, a lesbian, gay, bisexual and transgender media advocacy group, said Sam is "the latest high-profile athlete to come out as LGBT. Others include the NBA's Jason Collins, the WNBA's Brittney Griner, WWE's Darren Young, UFC's Liz Carmouche, MMA's Fallon Fox and Major League Soccer's Robbie Rogers."
Of those athletes, Collins made the biggest media splash. He's not playing in the NBA this season.
Praise poured in for Sam, who overcame a rough childhood in which one of his brothers was killed and others ended up in prison.
Sam's head football coach at Missouri, Gary Pinkel, said: "We're really happy for Michael that he's made the decision to announce this, and we're proud of him and how he represents Mizzou. Michael is a great example of just how important it is to be respectful of others, he's taught a lot of people here first-hand that it doesn't matter what your background is, or your personal orientation, we're all on the same team and we all support each other."
GLAAD President Sarah Kate Ellis said in a prepared statement: "By rewriting the script for countless young athletes, Michael has demonstrated the leadership that, along with his impressive skills on the field, makes him a natural fit for the NFL. With acceptance of LGBT people rising across our coasts -- in our schools, churches, and workplaces -- it's clear that America is ready for an openly gay football star."
CNN's Brooke Baldwin contributed to this report.