Castaway moved to undisclosed location to avoid media crush, sources say
updated 2:57 PM EST, Sun February 9, 2014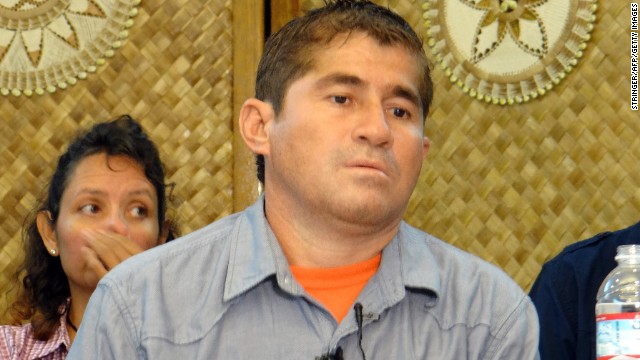 Jose Salvador Alvarenga attends a news conference in Majuro, Marshall Islands, on Thursday, February 6. Alvarenga, who is from El Salvador, said he spent 13 months lost in the Pacific Ocean, floating from Mexico to the Marshall Islands, which is about halfway between Hawaii and Australia.
Alvarenga is helped up the stairs as he walks to the news conference in Majuro. He returned to a hospital to be intravenously fed, said a top Mexican trade official.
A photo obtained on February 6 shows Alvarenga's boat shortly after his January 30 arrival on Ebon Atoll in the Marshall Islands. Alvarenga says that in December 2012, he and another man set off on a fishing trip from the port of Paredon Viejo, Mexico. He said they were blown off course by winds and then got caught in a storm, losing the use of their engines.
Alvarenga waves as he walks with the help of a nurse in Majuro on Monday, February 3. Alvarenga said his companion died of starvation because he refused to eat raw birds and turtles.
A photograph of a younger Alvarenga, shared by his father, Jose Ricardo Orellana.
Castaway Jose Salvador Alvarenga
Castaway Jose Salvador Alvarenga
Castaway Jose Salvador Alvarenga
Castaway Jose Salvador Alvarenga
Castaway Jose Salvador Alvarenga
STORY HIGHLIGHTS
NEW: Jose Salvador Alvarenga has been moved to an undisclosed location
Alvarenga says he was lost at sea for 13 months
He has been in and out of the hospital since being found
A doctor says that Alvarenga is now ready to travel
Majuro, Marshall Islands (CNN) -- The mysterious castaway who turned up in the Marshall Islands after saying he spent 13 months at sea has been moved to an undisclosed location to avoid the media, sources familiar with his care told CNN on Saturday.
Security around Jose Salvador Alvarenga has tightened since he came ashore last week more than 6,600 miles from where he says he started; a crush of media has descended on the tiny island nation.
Alvarenga, a Salvadoran who lived and worked in Mexico, was moved overnight from the Marshall Islands Resort Hotel in Majuro, the sources said.
Security continues to guard the room where Alvarenga was staying at the resort, giving the impression he is still there, according to the sources.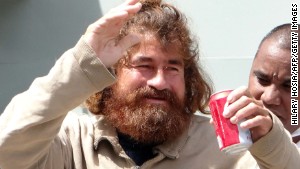 'Castaway' released from the hospital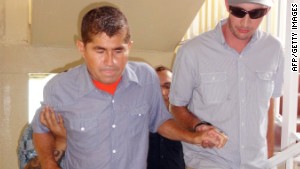 Castaway struggles to recover
Five questions: What is going on?
His return journey to El Salvador this week was postponed because of his health, but Dr. Kennar Briand, chief of staff at Majuro Hospital in the Marshall Islands, says Alvarenga is ready to travel.
The castaway will have another medical checkup on Monday to see whether he is fit to return home, Briand said.
Alvarenga's mental health appears to have improved, too, the doctor said.
"He was a bit 'off,' maybe it's due to him being in the open for so many months and not talking to people, but I think he is finally getting it back," Briand said.
Alvarenga was released from the hospital in Majuro on Friday, one day after being readmitted because of declining health.
Alvarenga's claims have garnered widespread skepticism about how he could survive for 13 months adrift in the Pacific. But from what officials can tell, they have no reason to doubt him.
Panama teen was adrift at sea for 26 days
CNN's Chelsea J. Carter contributed to this report.