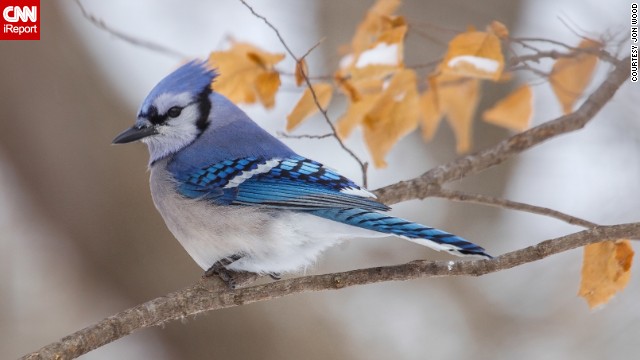 There's no denying it: This winter has been brutal. But looking at this little guy, you'd hardly know it.
iReporter Jon Wood took this shot
of a bluejay in Camden State Park in Lynd, Minnesota.
Tour guide Scott Isom
was leading a Christmas tour in the Bavarian Alps with Walking Adventures when he came upon this peaceful scene near Oberstdorf, Germany. "It's fun to bundle up and hit the trail when you can see your breath, and especially when you can use some of that breath enjoying nice conversations with your fellow walkers on the journey."
explains Matt Will
. "I wanted to show my kids that 30 below weather can still be fun!" Will and his family were visiting Bemidji, Minnesota, in late December. Don't try this at home.
"You are seeing 2 cups of boiling water being turned into art by very cold air,"
played soccer
for about an hour on a frozen lake. "He loves soccer and the vast frozen lake offered a great field. The snow was frozen enough that the ball stayed right on top."
Will and and his son, Oliver, also
Sobhana Venkatesan
lives in St. John's in Canada's rugged Newfoundland and Labrador province. On Boxing Day (December 26), a fresh snowfall inspired her to get out her camera. "The ducks were amicably sharing a small area of water in the frozen pond," Venkatesan wrote. We should probably take a lesson from the ducks.
Todd Joyce
of Lebanon, Ohio, "went to get wood and it hurts, hurts wherever skin is exposed." Ginger, on the other hand, "just loves it."
Ginger may be cold, but she looks triumphant. Her owner was a little less enthused about this winter day.
Cat Connor
explains. She photographed them in December at Klondike Lake in Big Pine, California. Ice circles are a natural phenomenon in slow moving water in cold climates. "The layering is made up of liquid below, clear and solid ice above, slush or frozen slush on top of the ice, and snow on top of the slush," Connor wrote.
These surreal-looking holes are ice circles, iReporter
Michele J. Eberhardt
took this photo on December 29 of Portland Head Light. "We take a trip every year after Christmas and this year my son picked Portland, Maine. It was our first trip to Portland and it was charming," she wrote.
iReporter Amanda Petri
. The resort is in Tofte, Minnesota. "In Minnesota, you need to embrace the winter."
"Every year a group of six of us spend a weekend at the north shore along Lake Superior at a resort called Temperance Landing. This photo was taken right outside of our cabin," wrote
Iffat Khan
, a master's student at Uppsala University in Sweden, checked out the IceHotel last month in Jukkasjärvi, Sweden. "Even the glasses at the bar are made of ice," Khan wrote. Hopefully they're serving fiery drinks to take the edge off.
William Helms
captured this colorful ice sculpture in March 2013 at the World Ice Art Championships in Fairbanks, Alaska. This year's event runs from February 24 through March 30.
If you haven't had any fun with ice this winter, there's still time.
Pankaj Purohit
attended in 2012. This shot of carnival mascot Bonhomme "kinda captures the essence of the carnival, in embracing winter and having a good time."
Quebec Winter Carnival is going on now through February 16.
"You just forget about the cold temperature and get totally sucked into the electric atmosphere around you," Purohit said. Hot tubbing helps.
Winter's milder moments
Winter's milder moments
Winter's milder moments
Winter's milder moments
Winter's milder moments
Winter's milder moments
Winter's milder moments
Winter's milder moments
Winter's milder moments
Winter's milder moments
Winter's milder moments
Winter's milder moments
Winter's milder moments