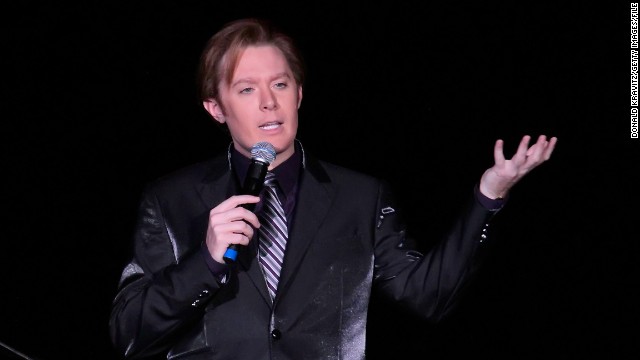 Singer Clay Aiken of "American Idol" fame announced on Wednesday, February 5, 2014, that he'll seek
the Democratic nomination to challenge Republican Rep. Renee Ellmers
in North Carolina's 2nd Congressional District. Here, Aiken performs in Atlantic City, New Jersey, in December 2012. Here are other celebrities who have thrown their hats in the political ring:
Hip-hop icon Wyclef Jean filed the paperwork to run for the president of Haiti in 2010, but Haitian officials ruled him ineligible as a candidate.
Actor Ben Jones played Cooter Davenport in the television show "The Dukes of Hazzard." The Georgia Democrat went on to serve two terms in the U.S. House of Representatives in the late 1980s and early 1990s.
Sean Duffy, the former "Real World: Boston" star, was elected to the U.S. House in 2010 and re-elected in 2012. Here, the Wisconsin Republican shoots a video of himself on the Senate steps In Washington.
over a scandal involving his hiring of a prostitute
but was later re-elected to the council and went on to become Cincinnati mayor. He later won greater fame for his tabloid talk show.
Talk-show host Jerry Springer was elected to the Cincinnati City Council in 1971. He resigned
Probably the most famous of all actors-turned-politicians, Ronald Reagan made more than 50 movies before being elected governor of California and eventually U.S. president for two terms, 1981-1989. He's pictured here in the TV show "Death Valley Days" in 1965.
Clint Eastwood managed to make a few movies while serving as mayor of Camel-by-the-Sea, California, for one term in the 1980s. Here he's seen on voting day in 1986.
Former wrestler Jesse Ventura was governor of Minnesota from 1999 to 2003.
After Sonny and Cher fame, singer Sonny Bono became mayor of Palm Springs, California, He was elected as a U.S. congressman from California's 44 District in 1994. His political career was cut short by his death in a 1998 skiing accident.
Actor Fred Thompson, known for his stint on "Law & Order," was a U.S. senator from Tennessee from 1994 to 2003. The Republican made an unsuccessful bid for the presidency in 2008.
"Diff'rent Strokes" child star Gary Coleman put his name in the hat for governor of California in the much-publicized 2003 recall election that Arnold Schwarzenegger went on win.
Action film star Arnold Schwarzenegger was elected governor of California in 2003. He finished his second term as governor in 2011.
he was denied a place on the ballot in South Carolina's Democratic primary
. Despite making a mark in the polls, his campaign was viewed more as a publicity stunt.
In November 2007, television personality Stephen Colbert's presidential bid was cut short when
Former comedian Al Franken, one of the original writers on "Saturday Night Live," won a narrow race in 2008 to become a U.S. senator from Minnesota. The Democrat is running for re-election in 2014.
Fred Grandy, a former actor best known as Gopher on "The Love Boat," started his political career as an aide to a U.S. representative shortly after graduating from Harvard University. Following his popular acting gig, Grandy returned to his home state of Iowa to serve as a U.S. congressman from 1987 to 1995.
Celebrity politicians
Celebrity politicians
Celebrity politicians
Celebrity politicians
Celebrity politicians
Celebrity politicians
Celebrity politicians
Celebrity politicians
Celebrity politicians
Celebrity politicians
Celebrity politicians
Celebrity politicians
Celebrity politicians
Celebrity politicians
Celebrity politicians
STORY HIGHLIGHTS
Ex-"Apprentice" star Omarosa Manigault says reality TV was good training for Clay Aiken
Aiken announced he is running for Congress in North Carolina as a Democrat
Manigault: Reality TV makes you appeal for mass votes and requires you to have thick skin
Editor's note: Omarosa Manigault was one of the first contestants on NBC's "The Apprentice" in 2004. She also worked in the White House during the Clinton administration and is an ordained minister in Los Angeles. You can follow her on Twitter @Omarosa.
(CNN) -- Reality TV may prove to be a golden ticket for Clay Aiken's congressional bid.
Nearly a decade ago, Americans were introduced to the adorable schoolteacher from North Carolina. Aiken wowed viewers and judges early in the second season auditions of "American Idol." No one expected such an incredible voice to come out of such an unassuming package. He came out of nowhere and stole the show.
His singing won him a golden ticket to Hollywood, but his resolve won him a unique place in the hearts of American viewers.
And that could be just the training he needed for his next career.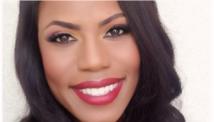 Omarosa Manigault
This week, Aiken once again presented himself as an unassuming candidate, this time jumping into North Carolina politics as a Democrat to challenge U.S. Rep. Renee Ellmers, a Republican, for her 2nd Congressional District seat.
As a former political appointee and reality TV show participant, I am intrigued by Aiken's foray into the world of politics. He and I got our start on TV right around the same time.
In all of my encounters with him over the last decade, I have found him to be kind, warm and authentic. I bet the voters in North Carolina will see the same thing.
A friend asked me if I thought Aiken's TV background would help or hurt him in his congressional race. That's easy. National TV has uniquely prepared Aiken for this adventure into politics. Here's why.
Aiken has had to convince millions to vote for him -- first via a toll-free 866 number and soon in a voting booth. He has had to deflect the barbs of critics -- I'm not sure who is worse, Simon Cowell or Sean Hannity. And he has had to learn how to win over the media -- first in Hollywood, now inside the Beltway.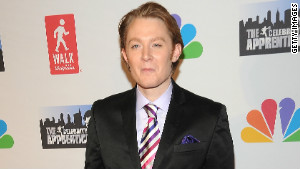 Clay Aiken on dysfunction in D.C.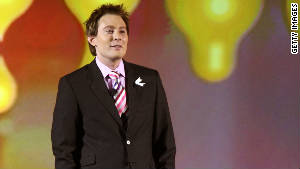 Clay Aiken running for Congress
Back in 2003 and 2004, reality TV was a lot different. Aiken and I both were parts of instantly successful franchises at the peak of their popularity. Each week, millions of viewers tuned in not only to watch but also to vote for their choices -- or vote off whom they didn't like.
This created a new entertainment democracy. Viewers were empowered to choose their favorites, and contestants had to campaign and compete for a spot on the show -- and for the hearts of America on an unofficial campaign trail.
Reality TV requires you to have thick skin. When you have to face harsh critics such as Cowell or Donald Trump weekly, you have no choice but to be tough.
But the toughest critic of all proved to be the American public. Aiken was subjected to intense, relentless scrutiny. He was forced to learn and apply leadership principles that were essential to his longevity and success, on screen and off. And even when he got knocked down, he had to get back up and fight again.
There are skills that we learned being on a reality show that may help Aiken win.
First, his message, which he has already tried and tested during his "American Idol" days, will get refined in the political arena.
He proudly shared Christian beliefs and his passion for young people with special needs, both traits that resonated with viewers -- and likely with North Carolina voters.
Secondly, his relationship with the media during "Idol" taught him how to deal with them in a smart, shrewd yet upfront and sincere way. The press can spot a fake a mile away.
On "American Idol," he quickly learned to forge relationships with the media to connect with those who would cast their votes each week.
In his congressional race, he will likely be able to reach voters in ways that his competitor can't. Because of his TV training, he already knows how to do so.
Lastly, his two previous losses -- he came in second place behind Ruben Studdard during the second season of "Idol" and placed second behind Arsenio Hall in the fifth season of "Celebrity Apprentice" -- could prove to be just the hook in his bid for Congress.
Going up against an incumbent in a traditionally Republican district, voters will see Aiken as the underdog and may rally behind him. Voters may feel that his time has come.
And everyone roots for the underdog.
Follow us on Twitter @CNNOpinion.
Join us on Facebook.com/CNNOpinion.
The opinions expressed in this commentary are solely those of Omarosa Manigault.