18-foot python found in Florida
updated 4:40 PM EST, Thu February 6, 2014
STORY HIGHLIGHTS
Florida work crew finds 18-foot Burmese python
Snake was about 8 inches shorter than longest ever captured
A state worker killed the snake, one of thousands plaguing South Florida
The snakes feed on native species and destroy ecosystems, researchers say
(CNN) -- Things that are about 18 feet long (sure it's random, just go with it). There's the Ford F-150 pickup truck. There's the 18-foot skiff, a kind of zippy racing boat.
Then there's the disturbing, frightening, shudder-inducing Burmese python that a Florida water-quality maintenance crew ran across this week.
Yes, an 18-foot snake. Well, 17.82 feet to be exact. And 150 pounds.
Workers with the South Florida Water Management District often run across the invasive snakes as part of their daily routine inspecting and maintaining canals, pump stations and the like, said agency spokesman Randy Smith.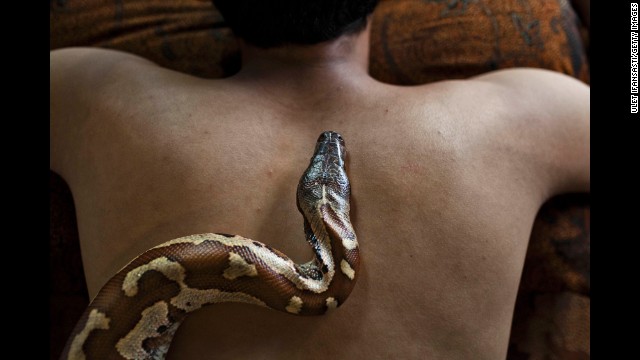 A python crawls up a staff member's back at the Bali Heritage Reflexology and Spa in Jakarta, Indonesia, in October 2013. The spa offers a unique massage treatment that involves having several pythons placed on the customer's body. The movement of the snakes and the adrenaline triggered by fear is said to have a positive impact on the customer's metabolism.
A masseuse prepares pythons for a massage.
A python slinks up a staff member's back at the spa.
Customers take pictures of a staff member receiving a snake massage.
Snakes move across a man's back at the spa.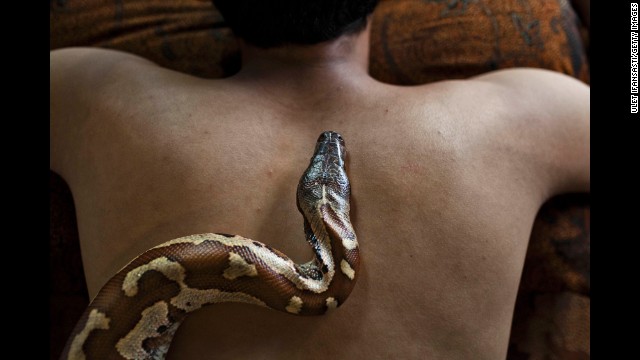 Photos: Jakarta's snake massage
But this one was something even for the grizzled crew of snake runner-acrossers.
"Needless to say, when you get one this big, it raises eyebrows," Smith said. "It's just such a large animal. They have no predators. They'll eat anything, even alligators. They are ferocious creatures."
The work crew came across the snake Tuesday in wooded uplands near wetlands a few miles north of Everglades National Park, Smith said.
They called in the agency's python coordinator, who killed the snake with a shot to the head, Smith said.
Despite the snake's size, it's not the biggest recorded in Florida. That distinction goes to an 18-foot, 8-inch specimen killed by a Florida man who spotted it sticking out of bush in Miami-Dade County in May 2013, according to the Florida Fish and Wildlife Conservation Commission.
Before that, the largest python captured in Florida measured 17 feet, 7 inches.
40 pythons seized from Ontario motel room
Pythons aren't poisonous -- they squeeze their prey and humans aren't a frequent target.
But they are killing rabbits, raccoons, opossums, bobcats and other native species and wreaking havoc with the south Florida ecosystems where they've taken hold, according to research published in 2012.
Pythons are such a problem that the Fish and Wildlife Conservation Commission held a contest last year to see who could capture and kill as many as possible.
Hunters turned in 68 of the snakes, the longest measuring more than 14 feet long.
Willing to capture a crocodile in Florida? Apply now