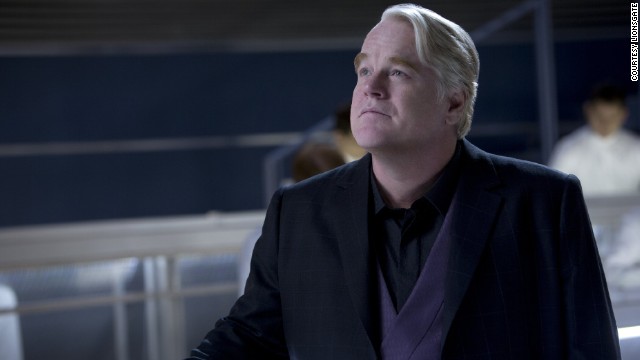 Philip Seymour Hoffman appears in 2013's "The Hunger Games: Catching Fire." Hoffman played the role of Plutarch Heavensbee, the head gamemaker in the film. He was expected to appear in more films of the "Hunger Games" franchise, but he was found dead in his Manhattan apartment on February 2. Hoffman died of
acute mixed drug intoxication
, the New York medical examiner's office said. Click through the gallery for more highlights of his career.
He told the Huffington Post
that "I really got into the violin thing, because it's not acting, and I got off on that."
Hoffman appears in 2012's "A Late Quartet." He reportedly learned how to play the violin during his role as a member of a string quartet.
Hoffman appears with Joaquin Phoenix in "The Master" (2012). He received Oscar and Golden Globe nominations in the supporting actor category for his work in the film.
told TMZ Sports
he didn't blame Hoffman. "He was just playing the part he was given," Howe said.
Hoffman plays manager Art Howe in the 2011 hit "Moneyball." The real Art Howe was reportedly not pleased with how he was portrayed in the film but
Hoffman plays a DJ known as The Count in 2009's "Pirate Radio."
In 2008's "Doubt," Hoffman plays Father Brendan Flynn, a Catholic priest accused of having an inappropriate relationship with a male student. This was yet another film that got Hoffman supporting actor nominations for the Oscars and the Golden Globes.
actor told AOL
at the time that while an action film was not usually his type of role, "it was just one of those things where all the ingredients seemed right."
Hoffman plays Owen Davian in 2006's "Mission: Impossible III." The
Hoffman plays the title role in 2005's "Capote." He won the Oscar for best actor in a leading role for his performance as Truman Capote, who wrote "In Cold Blood." Hoffman also won a Golden Globe for the role.
Hoffman plays a phone sex-line supervisor and mattress store owner in 2002's "Punch-Drunk Love."
Hoffman plays Lester Bangs in 2000's "Almost Famous." He delivers one of the film's most memorable scenes when he advises Patrick Fugit's character, William Miller, that "the only true currency in this bankrupt world is what we share with someone else when we're uncool."
Hoffman appears with Rebecca Pidgeon in 2000's "State and Main." He plays a screenwriter suffering from writer's block.
Jude Law and Hoffman share a scene in 1999's "The Talented Mr. Ripley." Hoffman was hailed as a scene stealer in the psychological thriller set in Italy.
Hoffman in 1998's comedy-drama "Happiness."
Hoffman plays Brandt, Mr. Lebowski's personal assistant, in the 1998 cult comedy hit "The Big Lebowski."
Hoffman played the slightly creepy production assistant Scotty in 1997's "Boogie Nights," with Mark Wahlberg and John C. Reilly.
Hoffman plays George Willis Jr. in 1992's "Scent of a Woman." He is credited as Philip S. Hoffman in the movie.
Philip Seymour Hoffman: Master of film
Philip Seymour Hoffman: Master of film
Philip Seymour Hoffman: Master of film
Philip Seymour Hoffman: Master of film
Philip Seymour Hoffman: Master of film
Philip Seymour Hoffman: Master of film
Philip Seymour Hoffman: Master of film
Philip Seymour Hoffman: Master of film
Philip Seymour Hoffman: Master of film
Philip Seymour Hoffman: Master of film
Philip Seymour Hoffman: Master of film
Philip Seymour Hoffman: Master of film
Philip Seymour Hoffman: Master of film
Philip Seymour Hoffman: Master of film
Philip Seymour Hoffman: Master of film
Philip Seymour Hoffman: Master of film