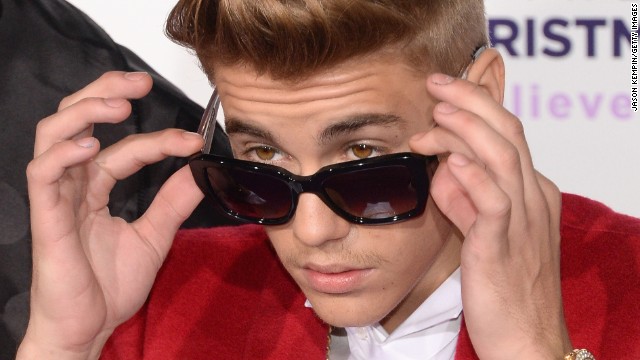 NBC is reporting
that the pilots of a private jet that flew Justin Bieber from Canada to New Jersey recently were allegedly forced to wear oxygen masks because of the overwhelming marijuana smoke on board. Several celebrities have been open about their love of the whacky weed...
says in the March 2014 issue of W magazine
that "I love weed. I just love getting stoned ... I just want it to be back to where it's, like, organic, good weed." Here she lights up during the MTV Europe Music Awards in Amsterdam in November 2013. Whether or not she was actually smoking marijuana onstage has not been confirmed.
Miley Cyrus
"Rolling Words: A Smokable Songbook,"
a book of lyrics ... printed on rolling papers. You can even light a match on the book's spine.
Snoop is such a fan, he's created
420 Magazine
in 2008 about why he thought marijuana should be legalized: "I do smoke, but I don't go through all this trouble just because I want to make my drug of choice legal. It's about personal freedom. We should have the right in this country to do what we want, if we don't hurt anybody."
Woody Harrelson talked to
responded
: "We went to high school together. ... He wore lots of ponytails and I'm pretty sure I bought weed from him."
When Cameron Diaz appeared on "Lopez Tonight" in 2011, George Lopez asked her if she knew Snoop growing up in "the LBC." The "What to Expect When You're Expecting" actress
High Times
that he drew from his own experience when playing a stoner in 2008's "Pineapple Express." "Everyone's been with someone who's bought weed or knows someone who's sold weed or gone and bought weed themselves," he said.
Funnyman Seth Rogen told
During an interview with "60 Minutes," Lady Gaga said: "I smoke a lot of pot when I write music. ... I drink a lot of whiskey and I smoke weed when I write. I don't do it a lot because it's not good for my voice."
Marie Claire
in 2009, "and yeah, I didn't touch pot till I was in my 20s. I didn't get flat-out drunk until I went to college. But I think that's a good thing in many ways."
"OK, so I didn't really go to high school parties," Natalie Portman told
Parade
about his early days in the biz: "I liked to smoke a bit of grass at the time, and I became very sheltered. Then I got bored. I was turning into a damn doughnut, really."
In 2009, Brad Pitt told
Britain's GQ
, Megan Fox said, "I can't tell you how much bulls*** I've been through because I will openly say that I smoke weed."
In a 2009 interview with
Details
in 2010. "I loved it. But I cut myself to once a month. That was my rule. ... That's my drug of choice."
"When I was in high school, I loved smoking weed," Joseph Gordon-Levitt told
marijuana charge
in his hometown Plano, Texas, in 2010.
"Gossip Girl" actor Chace Crawford was arrested on a
Justin Bieber
Miley Cyrus
Snoop
Woody Harrelson
Cameron Diaz
Seth Rogen
Lady Gaga
Armie Hammer
Natalie Portman
Brad Pitt
Megan Fox
Joseph Gordon-Levitt
Chace Crawford