STORY HIGHLIGHTS
Familiar names are early possibilities for the 2016 presidential race
Hillary Clinton is the overwhelming favorite among Democrats
Jeb Bush is among the top GOP possibilities so far
Neither says they are running, but both promise a decision this year
Washington (CNN) -- American voters under 40 share a simple reality -- for most of their lives, a Bush or Clinton has been President.
The 20-year streak began with Republican George H.W. Bush's inauguration in January 1989 and ran through two terms for Democrat Bill Clinton and then two for Bush's son, George W., until Barack Obama took office in January 2009.
Now the latest polling indicates the next presidential election in 2016 may again offer familiar choices.
A CNN/ORC International survey released Monday showed Hillary Clinton -- the former first lady, U.S. senator and secretary of state -- way ahead of any other potential Democratic challenger, with Jeb Bush -- the former two-term Florida governor who is son of one president and brother of another -- among the top Republicans.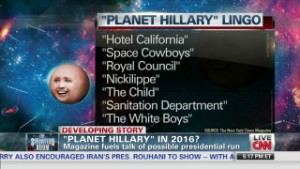 "Planet Hillary" and 2016 speculation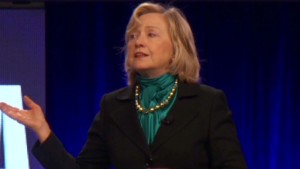 Hillary Clinton out of touch?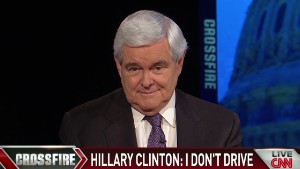 Newt on Hillary's 'I can't drive'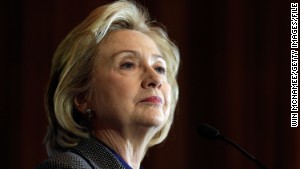 Benghazi reactions from the left, right
No one can say for sure if either will even run, and anything can happen in the more than two years before either would actually get nominated.
Poll: If not Clinton, then what kind of Democrat?
But if such a race happens, it would mean that at the end of the winner's first term in 2020, either a Clinton or a Bush would have occupied the Oval Office for 24 of the previous 32 years.
Even Barbara Bush, Jeb's mom, thinks that's too much. She told C-SPAN last month that "if we can't find more than two or three families to run for high office, that's silly."
Family spokesman: Barbara wasn't telling Jeb not to run
Both candidates boast strong pedigrees due to their names and experience. The question is whether their political lineage will be a boon or a burden two years from now.
The early thinking is that Clinton's historic goal to be the first woman President better immunizes her from what analysts call possible name fatigue among voters.
"It is a good bet that women would propel Hillary forward, while Jeb Bush would be left behind," said Wendy Schiller, a political scientist at Brown University. "Both Clinton and Bush would be saddled with last names that incite mixed emotions among current voters, but she has a natural demographic constituency that he lacks."
In particular, "women vote in greater numbers than men and there is an 11% gender gap in favor of Democrats, which means that even Clinton fatigue can be overcome in a presidential election," Schiller added.
Hillary Clinton's understudy waits in the wings
A Jeb Bush candidacy would make its own history, noted CNN Polling Director Keating Holland.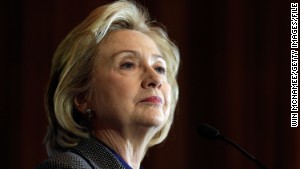 Benghazi reactions from the left, right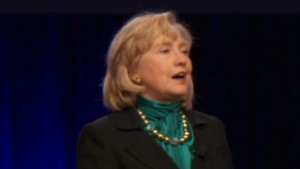 Hillary Clinton: I regret Benghazi attack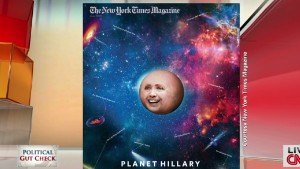 'Being a planetary body seems respectful'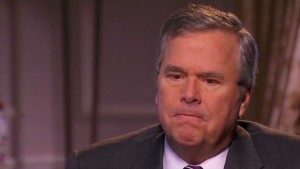 Mom hopes Jeb Bush won't run
"There have been plenty of presidential candidates whose fathers also ran for President, and a few whose brothers have been candidates," Holland said. "But if Jeb Bush throws his hat in the ring, he will be the first candidate in history who fits into both categories. Does that help because the Bush 'brand name' is well known, or hurt because Jeb would be judged by the public based on things he did not do himself? Historically speaking, there is no way to tell."
Jeb Bush on 2016 decision: 'Can I do it joyfully?'
He said one difference between Hillary Clinton and Jeb Bush involves final impressions of their familial White House predecessors.
"Clinton's husband was fairly popular in his last year or so in office and that wasn't true for Bush's brother or his father," Holland said.
Incumbent George H.W. Bush got thumped by Bill Clinton in the 1992 election, due to breaking a pledge against new taxes as well as the third party candidacy of Ross Perot who got 19% of the vote to presumably siphon off GOP support. George W. Bush had an approval rating in the mid-30s when his second term ended amid two wars and a recession.
After generally refusing to acknowledge any interest in a White House run, Jeb Bush last week suddenly said he would think about it.
"I'm deferring the decision to the right time, which is later this year," he said. "And the decision will be based on can I do it joyfully, because I think we need to have candidates lift our spirits."
"Something switched in Jeb," noted CNN Chief National Correspondent John King, pointing out that instead of distancing himself from the question, Bush now offered a timetable for a decision and a thematic basis that "you have to be joyful, you have to get uplifted, you've got to be optimistic."
His shift in stance coincided with political woes facing New Jersey Gov. Chris Christie, the early Republican favorite now facing multiple investigations over suggestions officials in his administration abused their power.
Frum: GOP race for 2016 is wide open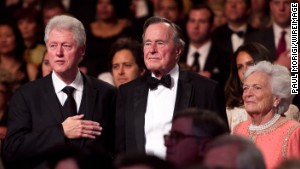 Barbara Bush: I love Bill Clinton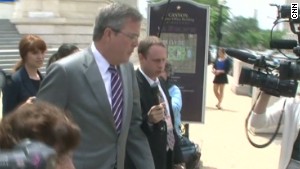 Jeb Bush responds to Barbara's comments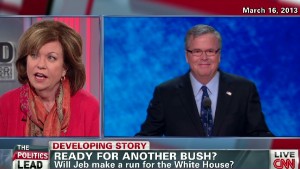 Jeb, Christie, Hillary: Breaking down 2016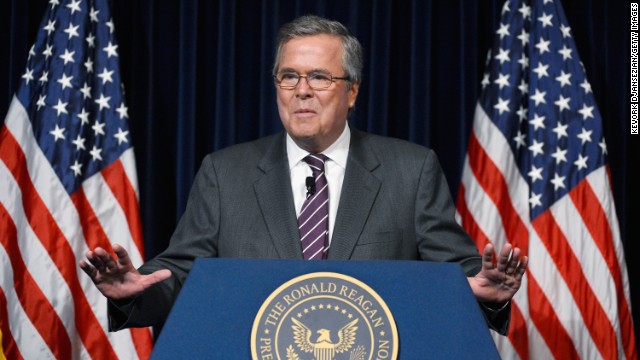 Former Florida Gov. Jeb Bush has said his decision to run for the Republican nomination will be based on two things -- his family and whether he can lift America's spirit. His father and brother formerly served as President.
Gov. Scott Walker of Wisconsin, recently re-elected to a second term, is considered a possible Republican candidate.
Republican Texas Gov. Rick Perry announced in 2013 that he would not be seeking re-election, leading to speculation he might mount a second White House bid.
Mitt Romney probably won't be running for president again in 2016. He has suggested the chances of a third run are close to a million to one. But that hasn't kept some Republicans from encouraging him to enter the race if another legitimate candidate doesn't step up. Ann Romney, for her part, is not excited at the prospect. She told the LA Times Oct. 14th that she and her husband are "done done done" with running for office. Romney is still a draw on the campaign circuit. He is shown here stumping for senate candidate Joni Ernst in Iowa Oct. 11, 2014. (Photo by David Greedy/Getty Images)
Hillary Clinton continues to have an overwhelming lead over other possible 2016 Democratic presidential candidates. Although the former first lady and secretary of state has not said whether she'll run, a group of PACs and advocacy organizations have begun the process of raising money and aiding a hypothetical campaign.
Vice President Joe Biden has twice before made unsuccessful bids for the Oval Office -- in 1988 and 2008. A former senator known for his foreign policy and national security expertise, Biden made the rounds on the morning shows recently and said he thinks he'd "make a good President."
Sen. Marco Rubio, a Republican rising star from Florida, was swept into office in 2010 on the back of tea party fervor. But his support of comprehensive immigration reform, which passed the Senate but has stalled in the House, has led some in his party to sour on his prospects.
New Jersey Gov. Chris Christie has fallen out of the top spot among potential Republican presidential candidates with a political scandal roiling his administration.
Rep. Paul Ryan, a former 2012 vice presidential candidate and fiscally conservative budget hawk, says he's "keeping my options open" for a possible presidential run but is not focused on it.
Sen. Rand Paul has said that he was seriously considering a run for president in 2016. If the tea party favorite decides to jump in, he likely will have to address previous controversies that include comments on civil rights, a plagiarism allegation, and his assertion the top NSA official lied to Congress about surveillance.
Texas Sen. Ted Cruz plans to travel to states that factor into the early nomination process. The first-term Republican and tea party darling is considered a gifted orator and smart politician. He is best known in the Senate for his marathon filibuster over defunding Obamacare.
Maryland Democratic Gov. Martin O'Malley released a "buzzy" political video in November 2013 in tandem with visits to New Hampshire. He also headlined a Democratic Party event in South Carolina, which holds the first southern primary.
Louisiana Gov. Bobby Jindal said recently it's too early to announce whether he'll run. Jindal has said he wants to focus on "winning the war of ideas" before making a decision on his presidential ambitions.
Former Pennsylvania Sen. Rick Santorum, a social conservative, gave Mitt Romney his toughest challenge in the nomination fight last time out and has made trips recently to early voting states, including Iowa and South Carolina.
Political observers expect New York Gov. Andrew Cuomo to yield to Hillary Clinton should she run in 2016, fearing there wouldn't be room in the race for two Democrats from the Empire State. Should she not jump in, Cuomo would then be a potential candidate.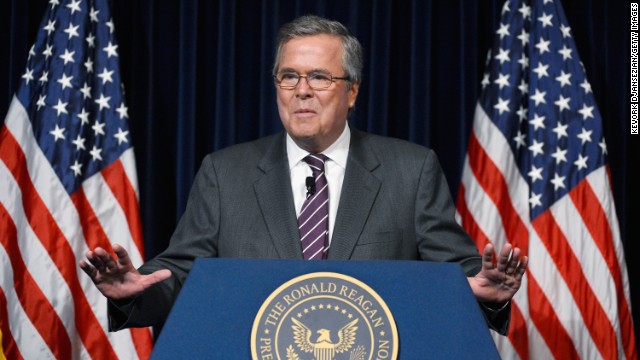 Potential 2016 presidential candidates
The CNN/ORC poll showed a pack of potential GOP contenders in a statistical dead heat so early in the process, including former Arkansas Gov. Mike Huckabee, Sen. Rand Paul of Kentucky, Bush and Christie, closely trailed by Sen. Marco Rubio of Florida and Rep. Paul Ryan of Wisconsin, the GOP vice-presidential nominee in 2012. As recently as November, Christie had an 11-percentage-point lead.
CNN chief political analyst Gloria Borger said Bush likely feared name fatigue when he decided against mounting a presidential bid in 2012.
"So the question is, if you skip ahead, four more years, will there still be Bush fatigue?" Borger wondered, adding: "We just don't know."
To Schiller, a Bush campaign would bring calls by his GOP rivals for fresh blood.
"You can bet that within the Republican Party, every other remotely viable candidate, from Paul Ryan to Rand Paul to Ted Cruz and maybe still Chris Christie will adopt a campaign slogan that calls for new leadership, and a brand new last name in the White House," she said.
Ryan: 'Not closing my options' on 2016
Clinton, meanwhile, has her own political baggage that GOP strategists will attempt to exploit fully, including her husband's affair with a White House intern while in office and the September 2012 attack in Benghazi, Libya, that killed the U.S. ambassador and three other Americans on her watch as secretary of state.
Clinton spokesman says tweet was '100% humor'
Hillary tweets viral Super Bowl joke, right blitzes back
Conservatives relentlessly attack her over the lack of sufficient security in Benghazi as well as the failure to respond in time to save American lives. They also accuse the Obama administration of trying to deceive the American public by first blaming the attack on a spontaneous protest instead of a full-fledged terrorist assault.
Clinton's biggest regret at State: Benghazi
Senators: Benghazi attack 'likely preventable'
Obama faced tough grilling on the matter before Sunday's Super Bowl in a live interview with Fox News host Bill O'Reilly, with the President eventually saying that some people believe what he called the false notion of a politically inspired cover-up "because folks like you are telling them that."
According to the CNN/ORC poll, 62% of respondents approve of the job Clinton did at the State Department, down 4 percentage points from December 2012 -- a month before she stepped down as America's top diplomat.
"If the election were held in 2014, I think both Clinton and Bush would suffer from name fatigue stemming from an overall high level of dissatisfaction with government and all who have been part of it," Schiller said, citing a recent Gallup poll that found 65% of respondents dissatisfied with how well the government works.
"It is not a malaise," Schiller added, calling it "a more energetic level of discontent, and anyone viewed as establishment on the left or the right is vulnerable to it."
Bush's biggest problem may be his own mother.
"I hope he won't," Barbara Bush said in the C-SPAN interview about a possible Jeb run, reiterating the theme she sounded last year on NBC when she said: "We've had enough Bushes."
CNN's Kevin Bohn, Paul Steinhauser and Dana Davidsen contributed to this report.