Lazio president Claudio Lotito inundated with 'death threats' from fans
updated 8:32 AM EST, Tue February 4, 2014
STORY HIGHLIGHTS
Lazio president Claudio Lotito receives death threats from fans
Fans reacted angrily after Lotito sanctioned the sale of Hernanes to Inter Milan
Hernanes joined Lazio in 2010, going on to make over 100 appearances
The Brazilian was out of contract at the end of the current season
Follow us at @WorldSportCNN and like us on Facebook
(CNN) -- Troubled by racism and corruption, Italian football's image took another turn for the worst after Lazio president Claudio Lotito revealed he had received "death threats" from scores of fans after selling star player Hernanes to Inter Milan.
Hernanes, the Brazilian who arrived at Rome-based Lazio in 2010, swapped the Italian capital for Milan at the end of the January transfer window.
"Yesterday, I received between 50 to 70 to 80 telephone calls from pseudo-fans, in which they asked me to leave Lazio and made death threats against me," Lotito told reporters.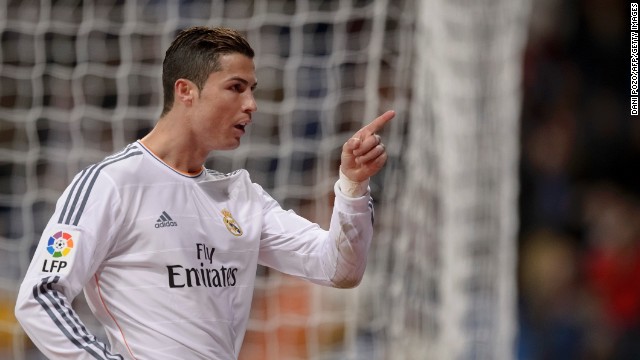 For the ninth straight year Real Madrid are ranked as the world's richest club with a total revenue of $702 million. Their global reach allows the Spanish club to make millions in commercial revenue, both domestically and internationally, thanks to marketable stars like Cristiano Ronaldo -- recently crowned the world's best player.
Barcelona are second in the list, $47 million behind Real, and can also generate huge sums commercially on the back of players like Lionel Messi. The Argentina striker is their talisman and has helped them to win the Spanish league title four times in the last five years.
No-one could hold a candle to Bayern Munich in terms of silverware in 2013, the German champions winning an incredible five titles, including the European Champions League. They have usurped Manchester United in third spot and recorded a 17% growth in revenue to hit $585m.
English champions Manchester United fell to fourth in the money list -- the first time they've been outside the top three in 17 years. Despite revenue growing to $574 million they were overtaken by Bayern, and fortunes on the pitch have wavered since former manager Alex Ferguson left the club in May after 27 years at the helm.
The stature of French champions Paris Saint-Germain as a European force under their Qatari owners was evidenced by their ability to attract big stars like Sweden striker Zlatan Ibrahimovic. They nudged their way into the top five after almost quadrupling their revenue since the 2010/11 season -- the highest ever placing by a French side.
Manchester City leapfrogged Arsenal and Chelsea to become the second richest English Premier League club in the list. City, owned by Sheikh Mansour bin Zayed al Nahyan from Abu Dhabi, saw their total revenue rise to $428.3 million.
Chelsea, led by Portuguese manager Jose Mourinho, drop two places to seventh in the 2014 list. Backed by Russian billionaire owner Roman Abramovich, the London club actually saw a drop in revenue, from $437 million to $411 million.
Arsenal currently sit top of the English Premier League as they go in search of a first trophy since 2005. They flexed their muscles in the transfer market with the purchase of Germany international Mesut Ozil, at a cost of $70 million and saw a small drop in revenue, to $385m.
Juventus have cemented their place as the dominant force in Italian football by winning the last two Serie A titles. Their move to a new stadium in 2011 helped boost revenue and they made the most money out of the European Champions League in 2013 despite only reaching the quarterfinals. They saw a big rise in total revenue to $369 million.
AC Milan, who can boast star names like Italy striker Mario Balotelli among their ranks, dropped two places to tenth in Deloitte's list after a modest rise in revenue saw them record $357m overall.
Borussia Dortmund -- champions of Germany in 2011 and 2012 -- lost to Bayern Munich in the European Champions League final in May last year and are set to lose star striker Robert Lewandowski to their rivals at the end of this season. They saw a significant hike in revenue up from $266.4 million to $347.1 million.
English club Liverpool, led by Uruguayan striker Luis Suarez, dropped out of the top ten for the first time since 1999/2000 despite seeing a 9% rise in revenue to $325.9 million. The club haven't qualified for the lucrative European Champions League since 2009.
German club Schalke move up two places from last year's list, after their revenue went up to 268.5 million.
Tottenham Hotspur are the sixth English Premier League club to feature in Deloitte's list. They stay in 15th spot with a revenue of $233 million.
Italian giants Inter haven't secured any silverware since 2011 and they drop four places from last year's rich list. Revenue fell by $43 million to $228.6 million overall.
Turkish champions Galatasaray move up three places from the 2013 list after revenue rose to $212.6 million. The Istanbul-based outfit have Ivory Coast striker Didier Drogba and Dutch playmaker Wesley Sneijder in their ranks and will face Chelsea -- with whom Drogba won the 2012 European Champions League crown -- in the last 16 of the competition.
Hamburg are the fourth German team in the list. They moved up three places with a revenue of $183.4 million.
Fenerbahce join fellow Turkish side Galatatsaray in the top 20, making it the first time since 2005/06 that two clubs outside the recognized top five in Europe -- Spain, Italy, Germany, England and France -- have appeared. Their revenue grew to $171.2 million.
Italian club Roma, led by their talisman Francesco Totti, are another new entry to the list thanks to revenue of $168.5 million.
Atletico Madrid, city rivals to Real, are currently second in the La Liga table behind Barcelona -- largely thanks to the goalscoring exploits of Diego Costa. They are another new entry to round off the list but trail way behind Real in terms of revenue, on the comparatively modest figure of $162.5 million.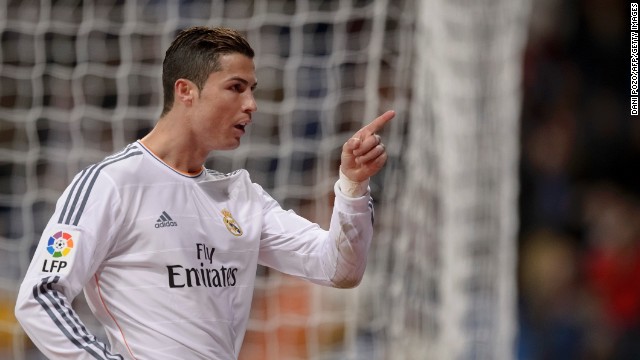 Football's Rich List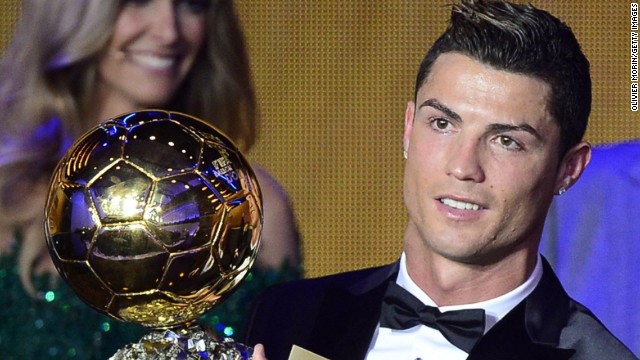 Cristiano Ronaldo raises the Ballon d'Or, after being crowned FIFA's best for the second time in his career.
While the Portuguese star is overcome by emotion, his son Cristiano Ronaldo Jr cannot hide his glee at his father's prize.
For the first time in five years, Lionel Messi - seen here alongside partner Antonella Roccuzzo - is no longer the world's best in FIFA's eyes. The Argentine, who scored 42 goals in 45 games in 2013, paid a price after suffering an injury during voting time.
This was not a repeat of Zinedine Zidane's headbutt in the 2006 World Cup, but a warmer embrace as the Frenchman hands Bayern Munich's Franck Ribery his FIFA/FIFPro World XI award. Once tipped to win the main prize itself, Ribery eventually finished third despite winning five major trophies in 2013.
Now-retired Jupp Heynckes receives the Coach of the Year award after leading Bayern Munich to a Champions League, Bundesliga and German Cup treble in 2013.
Zlatan Ibrahimovic addresses the audience after winning the FIFA Puskas award for best goal, with the Swede's overhead strike against England deemed better than efforts by rivals Nemanja Matic of Serbia and Brazil's Neymar.
Brazilian legend Pele cries as he is handed an honorary FIFA Ballon d'Or, with the three-time World Cup winner having been ineligible to win the award during his playing days because he did not play in Europe.
FIFA president Sepp Blatter speaks during a tribute to the late Eusebio, with the Portuguese forward -- who died earlier this month -- having won the Ballon d'Or in 1965.
Having saved two penalties in a 1-0 win over Norway in the final Euro 2013, German goalkeeper Nadine Angerer was crowned the best women's player in the world ahead of Brazi's Marta and American Abby Wambach. She becomes the first goalkeeper to win the female crown.
Former Dutch footballer Ruud Gullit and Brazilian actress, model and TV presenter Fernanda Lima compered the evening at the Kongresshalle in the Swiss city Zurich.
Another Brazilian -- three-time World Footballer of the Year -- Ronaldo was also in attendance, alongside girlfriend Paula Morais. The former forward now works on behalf of Brazil's 2014 World Cup committee.
Afghanistan Football Federation president Karim Keramuddin receives FIFA's Fair Play award after his nation staged its first home international in 10 years. Played in August 2013, the game ended with the hosts beating Pakistan 3-0.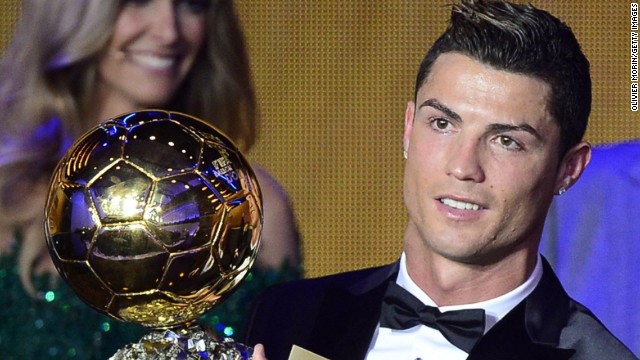 Fifa Ballon d'Or gallery
"I live under escort," he added. "The supporters are part of the club but now they have overstepped the mark."
Hernanes became a firm favorite among Lazio fans after joining the club from Sao Paulo; making over 100 appearances and helping the team win the 2013 Coppa Italia.
But, with his contract expiring at the end of the current season, Hernanes would have been able to switch clubs without Lazio commanding a transfer fee, leaving Lotito with no choice but to sell the player.
"It was Hernanes' decision to leave, so what could I do?" added Lotito. "He had an agreement with Inter. If he had stayed, he would have been unhappy.
"He would have stayed here unhappy until June, then gone off to the World Cup, then come back for a few months and left on a free transfer.
"If you want to leave, you've got to say so."
In recent years Italian football has been troubled by racist chanting towards black players, while supporters use football as an excuse to play out long-running spats between different parts of Italy's cities as well as its regions.
Match fixing has also blighted Italian football with leading club Juventus relegated to the second tier over the Calciopoli scandal in 2006.
Lotito himself was banned from football for two-and-a-half years for his involvement in the Calciopoli scandal.
Hernanes, who has played 23 times for his country, will hope to be part of Luiz Felipe Scolari's squad when Brazil hosts the World Cup later this year.
Read: Chelsea ends Man City's home run
Read: Spain mourns "tiki taka" master Aragones