STORY HIGHLIGHTS
Rescue workers call off search again, say disaster officials
The eruptions Saturday sent plumes of billowing into the sky
Hot ash up to 700 degrees raced down the mountain's slope in just a few minutes
Jakarta, Indonesia (CNN) -- Search and recovery teams have again halted their perilous task of looking for victims from the recent volcanic eruptions of Indonesia's Mount Sinabung, disaster officials said.
The death toll currently stands at 15 after plumes of ash spewed more than a mile into the sky Saturday and descended in superheated clouds.
Scalding ash up to 700 degrees in temperature raced down the slope in just two to three minutes, engulfing Sukameriah, a village close to the volcano's crater.
A funnel of smoke, visible from kilometers away, has continued to shoot up from the North Sumatra mountain, turning the sky above the color of murky gray ash.
Recovery teams -- a mixture of local rescue workers, military personnel and police -- ventured into the affected area Sunday and Monday, before calling off their search because conditions became unsafe.
The teams were conducting search operations within a 3-kilometer radius of the volcano, Taufik Kartiko, a disaster mitigation agency official, told CNN on Monday.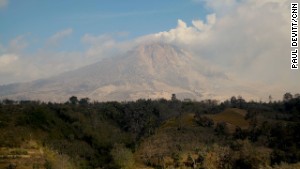 CNN reporter: `I can feel and taste the ash'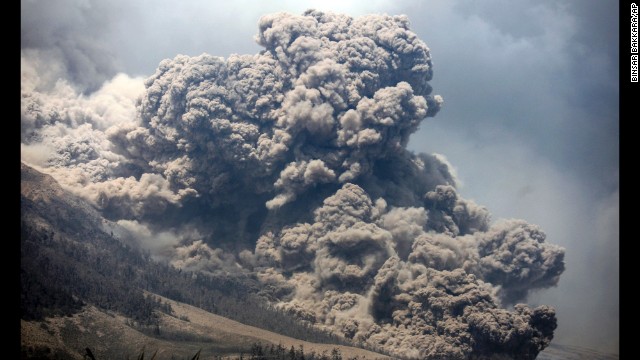 Mount Sinabung releases ash into the sky during an eruption as seen from Payung village in North Sumatra, Indonesia, on Monday, February 3. Sinabung erupted in 2010 and has been emitting gas since September.
Indonesian soldiers ride in a truck in Payung village on February 3 to search for victims of the eruption.
Rescuers search for victims of the eruption in Suka Meriah in North Sumatra, Indonesia, on Sunday, February 2.
Mount Sinabung fills the sky over Karo, North Sumatra, Indonesia, with smoke and ash as it erupts on Saturday, February 1.
Villagers flee as Mount Sinabung erupts on February 1, in North Sumatra, Indonesia.
A villager looks for belongings among debris at a house damaged by ash and mud from eruptions of Mount Sinabung on January 12.
Women evacuate with their children to a temporary evacuation center on January 8 after their village is hit by ash.
People watch as Mount Sinabung smokes.
Hot lava runs down Mount Sinabung, one of Indonesia's highest mountains, from a lava dome on January 5.
Mount Sinabung spews ash and lava during an eruption.
Crops were damaged and covered in ash.
Mount Sinabung spews ash into the air on January 7.
A village is covered in ash.
Villagers harvest tomatoes from fields covered in ash.
A man helps children onto a truck as residents are evacuated.
A man holds his son at a temporary evacuation center.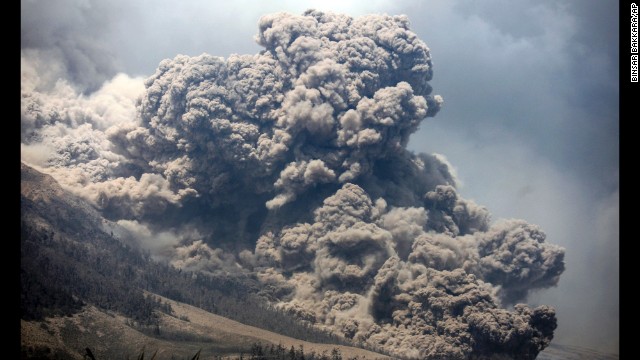 Volcano erupts in Indonesia
All of the dead, and at least three injured people, were found in Sukameriah, authorities said over the weekend.
It was the first time Mount Sinabung's volcanic output had resulted in deaths, the Jakarta Post reported.
Active volcano
Eruptions at Mount Sinabung are becoming common. After about 400 years of minimal volcanic activity there, Sinabung erupted in 2010. It has been emitting gas since September.
The volcanic volatility has meant an itinerant existence for those who live in this region a 2½ hour flight from Jakarta. Last month, intensifying volcanic activity forced 22,000 people into temporary camps, but more than half were allowed to return home on Friday.
The latest volcanic activity has forced people to evacuate 16 villages, the Jakarta Post reported. At least 30,000 people have been temporarily housed at 42 evacuation centers, according to Billy Sumuan, the emergency response director in Indonesia for the humanitarian group World Vision.
Saturday's victims lived within a 3-kilometer radius of the volcano. Some were there checking on their homes or were there just to watch the eruptions, Nugroho said. Others were students and volunteers in the region to help its beleaguered people, Sumuan said.
The government had issued the highest level of alert for the latest eruptions, and Sumuan noted that no one was supposed to go inside a 5-kilometer zone around the volcano.
Several government agencies and nongovernmental humanitarian groups were on the scene Sunday helping those affected, including World Vision, which Sumuan said was helping children with their trauma and hygiene. The government and local churches handed out masks to everyone to mitigate breathing problems, he said.
READ: What you need to know about volcanoes
READ: Mount Sinabung eruption intensifies
WATCH: Live video of the volcano
Kathy Quiano reported from Jakarta, and Jethro Mullen wrote from Hong Kong. CNN's Paul Devitt and Mark Morgenstein contributed to this report.